Published on October 9th, 2013 in: Concert Reviews, Horror, Movies, Music, Obituary, Reviews, Soundtracks and Scores |
By Jeffery X Martin
All photos by Hannah Martin
Asheville, NC
October 3, 2013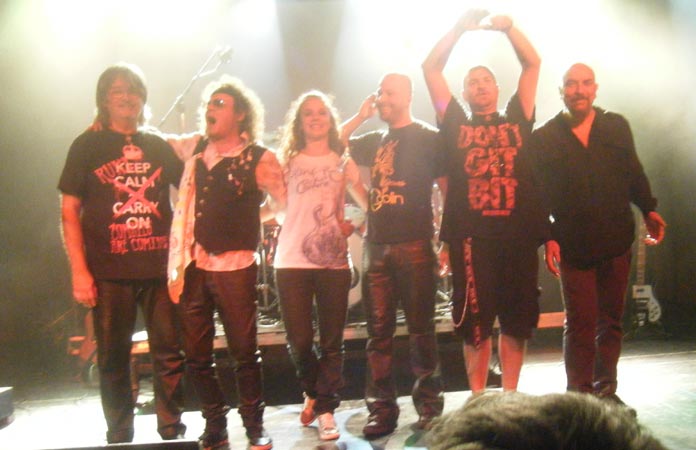 It takes a special kind of nerd to drive to a different state to see a band best known for their soundtracks for horror movies directed by one guy, mostly, and they're all Italian. This is a niche, you understand. It isn't like saying, "Oh, we're going to see Lynyrd Skynyrd."
Being a Goblin fan takes commitment.
When Goblin played the Orange Peel in Asheville, NC on October 3, it was the second night of their first North American tour ever. This is a band that's been around over 40 years. For horror score fans, this was Geek Zeppelin.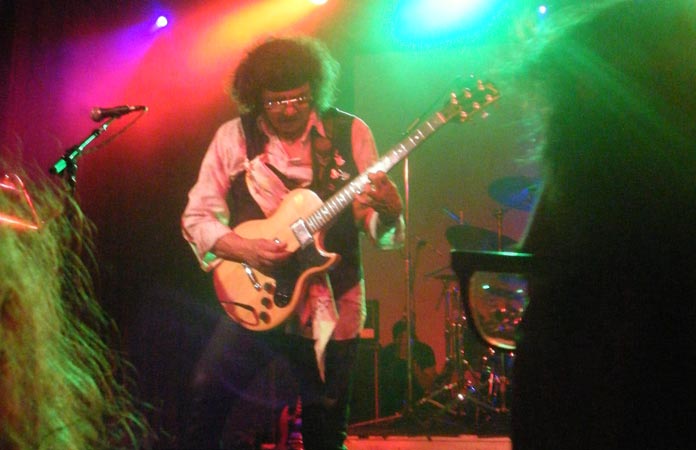 Look at this guy. Massimo Morante, the guitar player, looks like he could be your grandfather, if your grandfather was the coolest motherfucker on the planet. This guy did every rock star pose in the book, except for spitting whiskey all over the audience. He played perfectly against new bass player Bruno Previtali (who looks like the lovechild of Chris Daughtry and Vin Diesel) feeding off the energy of the audience and demanding to be turned up louder in the sound mix. Drummer Titta Tani held center court, pounding the kicks and snares so hard it felt like there a wormhole was opening in the center of the club.
Overseeing all, off to each side, were original members Maurizio Guarini and Claudio Simonetti. Guarini, the bald stoic, cracked a smile once during the evening. Simonetti, however, clowned around with the crowd, making goofy faces and taking the adulation of the crowd in stride.
The hardcore fans were pleased to hear such old prog-rock favorites, such as "Roller," "Goblin," and "Aquaman." Everyone in the crowd was happy to hear their favorite pieces from Dario Argento's horror classics, like "Mad Puppet" from Deep Red and the main theme from Suspiria.
Every concert—every good concert, anyway—has a lose-your-shit moment. Mine came when Goblin ripped into the music from one of Argento's lesser known films, Non Ho Sonno, featuring a driving riff from Morante and a pensive, seductive keyboard part from Simonetti. It was an unexpected delight.
The band seemed to be having as good a time as the audience, frequently pausing in between songs to take pictures of the audience or grab some quick video of all the applause, screaming and rock-god-devil-horns being thrown. Bass player Previtali seemed particularly bewildered and amused by the crowd's reaction, often laughing to himself and turning away, almost embarrassed.
Even though scenes from the movies were shown as Goblin played selections from the scores, hearing that old familiar music live imbued it with an intensity and timeliness; no longer were the songs simply stingers or musical cues. They became vibrant and chilling pieces of brave heaviness, filled with a brutal life outside of their filmic restraints.
Opening the show was Secret Chiefs 3, a band led by Trey Spruance, formerly of Mr. Bungle. Their weird free-form psychedelia was an swirling mix of prime Frank Zappa and System of a Down. They played instruments I had never seen before. I'm pretty sure at some point they played a mongoose. I think it was a mongoose. It may have been an ocelot. They opened with a monstrously oppressive version of John Carpenter's iconic theme from Halloween that left me wide-eyed and slack-jawed. It's the new standard for that piece of music, and the rest of their set was just as gleefully insane.
The historical importance of this tour can't be underestimated. The musical mastery of a band whose core members have been together (on and off) for this long cannot be overstated. Shows like this don't come around often.
Sure, nine inch nails is touring this fall. So are Fall Out Boy, the Eagles, and the Zac Brown Band. It makes no difference. The Goblin tour is the can't-miss-event of the season. Make every effort to attend.
Tour Dates:
Oct 9 Boston, MA/ Sinclair SOLD OUT
Oct 10 Montreal, QC/ Le National
Oct 11 Toronto, ON/ Opera House
Oct 12 Pontiac, MI/ The Crofoot
Oct 13 Chicago, IL/ Metro
Oct 15 Denver, CO/ The Gothic Theatre
Oct 17 Vancouver, BC/ The Rickshaw Theatre
Oct 18 Seattle, WA/ Neumos
Oct 19 Portland, OR/ Hawthorne Theatre SOLD OUT
Oct 20 San Francisco, CA/ The Regency Ballroom
Oct 21 Los Angeles, CA/ Egyptian Theater SOLD OUT
Oct 22 Los Angeles, CA/ Egyptian Theater SOLD OUT
Oct 23 Los Angeles, CA/ Egyptian Theater SOLD OUT
Oct 25 Austin, TX/ Housecore Horror Film Festival
Oct 27 Austin, TX/ Housecore Horror Film Festival