Published on October 8th, 2013 in: Current Faves, Music, Music Reviews, New Music Tuesday, Reviews |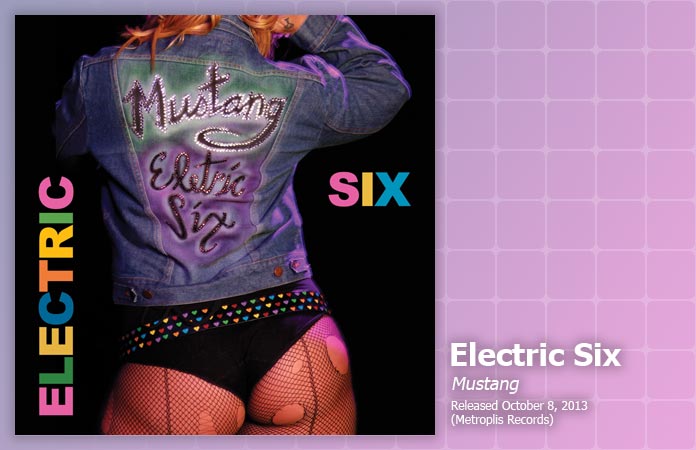 Are you imagined or real?
Or somewhere in between?
—Electric Six, "Show Me What Your Lights Mean"
How do you solve an enigma like Electric Six? The unflattering, often condescending reviews of their albums seem to indicate that music critics only listen to them once or twice before discounting them altogether. I hate to bring up the song that rhymes with "Ray Jar," but not because it's a bad song. After all, it does bring legions of fans to their shows (though they frequently are, admittedly, drunken and annoying bros who don't seem to grasp that the band traffics in irony just as well as it does in impossibly addictive music). Yet it illustrates what most people think of when they think of Electric Six. It's sort of like describing James Spader as "that guy who was in Pretty In Pink."
Keep in mind this next statement comes from a diehard, committed fan: Electric Six albums are almost always immediately off-putting and it's only after listening to them several times that their insidious brilliance wraps itself around you like a mental illness. Mustang is no different, but it's not Fire, Part 9 by any means.
As usual, Dick Valentine's lyrics are bizarre and mystifying rants that make a strange kind of sense and "Nom de Plume" proves this immediately. Not many can do this and do it well (though JG Thirlwell comes to mind), so kudos to you, Mr. Valentine. On the other hand, "Jessica Dresses Like A Dragon" is about exactly what the title would imply. Who else writes songs like this? I mean, for adults?
Valentine also frequently sings about being in relationships that are doomed or just plain self-destructive, but "Show Me What Your Lights Mean," which describes a raunchy alien sex fantasy, might be the pinnacle of this lyrical motif.
"Adam Levine" feels sonically and spiritually similar to the previous song but is as scathing and unhinged as all the best scathing, unhinged E6 tunes are, plus ridiculously funny. Listening to it evokes a deliciously evil feeling of schadenfreude. Not that they repeat themselves ever (and inserting "solo" into songs at various junctures doesn't count), but if anything could define "Classic Electric Six" it would be "Cranial Games," with its fantastic assault of drums, synths, and saxophone, and of course, sardonic wordplay.
Electric Six does a lot of things very well, and one of those is reconstructed disco. "The New Shampoo" opens with a bassline straight out of a Chic tune (take that, Daft Punk) and throws in falsetto vocals and the repeated, distorted line, "Wang! Wang! Commodore Wang!" (just in case you thought you knew where the lyrics were headed). Contrast all that with the downright classy saxophone solo and electric piano and it's no wonder that your average person doesn't get this band. They are the hardest working American band after all; they can't be expected to explain everything to you, too.
Mustang includes two songs with the word "dragon" in the title and two with the word "iron" in the title, so "Iron Dragon" feels like a logical confluence. How does one even begin to describe this song without using the words "overwrought" and/or "ridiculous," especially with that recurring guitar twang that goes from funny to annoying to incredible within the span of four minutes? Then, at the end, there's a "We Are The World" sidebar that transforms the whole thing into some kind of performance art.
More nonsensical genius comes in the form of "Late Night Obama Food," a subtle commentary on right wing politics and the First Lady's fight against obesity (I think). Whatever. It's fucking awesome. It also includes a mouth harp. (It's totally okay if you get a little verklemmt during the line "we are dancing on the greasy floor.")
Sometimes songs don't live up to their titles, but "I Never Fucked Her" is not one of those songs. The acoustic guitar intro, all "Bron-Yr-Aur Stomp," swiftly shifts to classic rock à la Boston before Valentine blurts out the title with such sincerity it's hard not to be a little awed. One can visualize synchronized guitar moves and headbanging in the chugging riff that permeates throughout. I don't know that I've enjoyed a song about incest and/or death row confessions so much.
I still don't know what "Miss Peaches Wears An Iron Dress" is about, but that's okay; sometimes that's what happens with Electric Six. It's still a good song, and almost lighthearted. You probably won't have any clue what "Unnatural Beauty" is about, either, but Google the words "Hartlepool" and "monkey" and wait to have your mind blown. Musically, it's one of the heavier, hookier tracks on Mustang, with a fuzzed out, freight train guitar intro. You're going to sing along, too, especially during the chorus, which somehow sounds more like a bridge.
"Gimme The Eyes" begins with a quasi-Prince spoken word intro, before gleefully lapsing into a synth line that is eerily akin to the one in "B.C." by Sparks. It's a frenetic bit of fun, complete with a call and response between a guitar riff and "Hey!" repeated for maximum effect. There's absolutely no way you can predict the bridge in this song, even after hearing it ten times.
Once you listen to Electric Six long enough you will be able to understand things that don't make sense to most mortals. "Skin Traps" is one of those things. I hesitate to use the word "soaring" when describing E6, but yeah, the vocals do just that and, along with the guitar, totally sell it. There is an added bonus in the lyric: "When you go to shoot the messenger/it's like you're sending your own message/To the person who sent the original message."
Another thing Electric Six does very well is tie up their albums with a surprisingly poignant tune and "Cheryl vs. Darryl" is no exception. The rare Electric Six song that follows a relatively straightforward narrative, it is positively tragic, showing off Valentine's remarkably elastic voice, something for which he should receive far more accolades than he does.
Most Electric Six albums have a lot going on, but Mustang seems more jam-packed than usual, with a preponderance of synths, crazy guitar riffs, background harmonies, and melodies that fall out from under you like a broken roller coaster. If you're new to the band, Mustang is as good of an introduction to their Electric Six-ness as anything they've released thus far, possibly even better. If you're not new to the band, I can already hear you nodding in agreement.
Mustang is out today from Metropolis Records. It is also available from iTunes.
Tour Dates:
Oct 08: Memphis, TN – Newby's
Oct 09: Little Rock, AR – Stickyz
Oct 11: Austin, TX – Austin City Limits
Oct 12: Baton Rouge, LA – Spanish Moon
Oct 13: Atlanta, GA – The Earl
Oct 14: Carrboro, NC – Cat's Cradle
Oct 15: Columbus, OH – The Basement
Oct 16: Cleveland, OH – Grog Shop
Oct 17: Lansing, MI – The Loft
Tour dates for the UK and Europe (and Russia!) can be found on the band's website.