Published on October 7th, 2013 in: Current Faves, Music, Music Reviews, Reviews |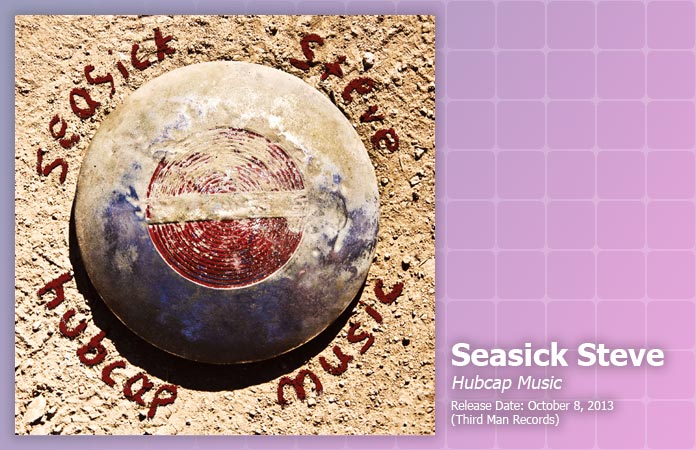 Seasick Steve is an analog man in a digital world. He makes guitars out of hubcaps and garden implements, and makes rustic, bluesy music that feels pulled from the earth itself. The irony here is that I only have his music digitally, save for a 45 that I probably should play on a hamster powered Victrola.
Hubcap Music is Seasick Steve's second album for Third Man Records, and he's a perfect fit for Jack White's label. He's doing something different and interesting, and it's fascinating. Besides, Hubcap Music begins and ends with the sound of a tractor, and how could that be anything but interesting?
"Down On The Farm" kicks off the record with said tractor, and is a stomping paean to the joys of a farm, including coffee and hay, and I believe, Coffeemate, but I might have misheard the lyric. The guitar is dirty and delicious and Seasick Steve is joined by John Paul Jones on bass. John Paul Jones contributes more to the record, popping up on mandolin and Hammond organ as well.
Seasick Steve's warm and weary croon on "Over You" is as comfortable as a well-worn leather jacket. It's gorgeous and atop virtuoso acoustic guitar. When he lets loose on the driving "Heavy Weight," full-throated and from the chest, his voice is marvelous and powerful. There's a great repeated riff here and excellent chorus.
The down and dirty groove on "Self Sufficient Man" is vaguely threatening and totally impressive. He sings like a hopped up dimestore preacher mated with Iggy Pop. Drummer Dan Magnusson propels "Keep On Keepin' On"—a slide grunge guitar over Seasick Steve's fast talking, empowering lyrics.
The smoky barroom, low down blues of "The Way I Do" is loaded with sinuous swagger. He's joined by Jack White with an instantly identifiable guitar solo. "Home" is propulsive and moving, but bittersweet as well.
Hubcap Music ends with a wild departure: Hammond organ and horns. "Coast Is Clear" is a shift from Seasick Steve's typical lo-fi sound, but it works brilliantly. He slips into falsetto beautifully and his backup singers are outstanding. It's quite surprising and quite wonderful.
Seasick Steve is known worldwide, and is quite famous in the UK. It's bewildering that he's not more well known in the US, because he's fantastic and honest and writes songs that are catchy as can be. He can make a guitar out of virtually anything, and then coax gut-busting, stunning noises from it. That is a gift. Perhaps Hubcap Music will be a huge breakthrough and we will all sing songs about his tractor over the winter. I, for one, am good with that.
Hubcap Music will be out October 8 from Third Man Records.