Published on October 7th, 2013 in: Current Faves, Music, Music Reviews, Retrovirus, Reviews |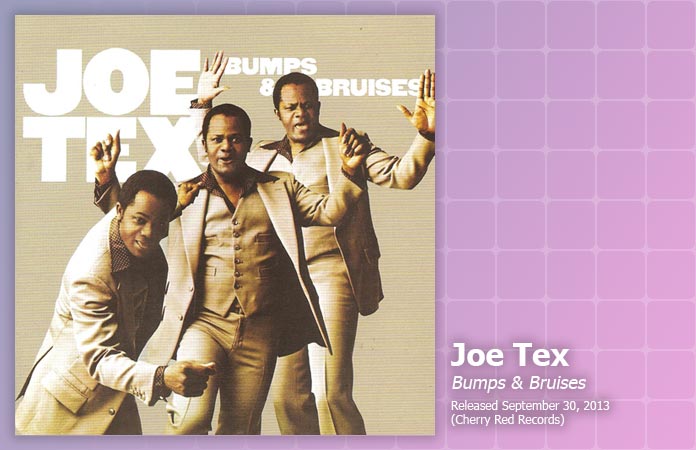 For a while, Joe Tex billed himself as "The Clown Prince Of Soul." He was a gifted mimic and on one occasion, annoyed James Brown so badly that Brown tracked Tex to a club and shot it up while Joe Tex hid outside. That part isn't so funny. The collection of songs on BBR's reissue of 1977's Bumps & Bruises, however, is often hilarious.
Joe Tex converted to Islam at the height of his career, while still riding high from 1972's chart success of "I Gotcha." He quit recording for five years and came back during disco fever. Bumps & Bruises is disco filtered through Tex's unique sense of humor and funk.
"Ain't Gonna Bump No More (With No Big Fat Woman)" was Joe Tex's last big hit. The backing track is pure shimmering disco and the lyrics are hysterically funny as Tex complains that the "big fat woman" broke his hip and wore him down. "Be Cool (Willie's Dancing With A Sissy)" is forward thinking for 1977. While it begins with Tex's best Southern preacher tones, it shifts to blistering horns and the Tex, who is initially worried that Willie is dancing with someone who is clearly homosexual, concludes "Let me hush my mouth, because that might be Willie's bag."
The pure soul of "Leaving You Dinner" tells the story of a woman making her man a last meal before she leaves him for good. She must be quite a kind woman, because she's even doing the dishes before she leaves. Tex sells it with his husky tenor. "I Mess Up Everything I Get My Hands On" is funky and lively, but has awfully sad and somewhat gruesome lyrics. He's found a wonderful woman, but he messes things up by cheating, so he wants to get his hands cut off because he messes up everything he gets his hands on. Get it?
"I Almost Got To Heaven Once" is a funk opera in about three minutes. It begins slinky with dirty funk (and was sampled by Ice Cube on "I Wanna Kill Sam"), then transmutes to swoony blues with a chorus of female "oooh"s, then shifts again to a gritty funk explosion. It's wonderful.
"Jump Bad' is the humorous tale of a hustler/thug named "Run Down" who tries to rob a sweet little old lady (voiced by Joe Tex in a delightful little old lady timbre). She promptly "busts him upside the head" and hijinks ensue. Surely R. Kelly heard this before crafting Trapped In The Closet.
The gospel inflected "We Held On" is very sweet. A song about a couple facing adversity and their critics, it's powered by a chootling sax and bass combo and Tex's soulful outbursts. The single versions of "We Held On," "Ain't Gonna Bump No More," and "Hungry For Your Love" finish the record.
Joe Tex was a perfect combination of soul and grit, with a wicked sense of humor. Bumps & Bruises is slight, but still pleasing. It's a disco era album that actually stands the test of time, because Joe Tex's funk wrestled the demons of disco into submission. It's got disco elements, but Bumps & Bruises is charming.
Bumps & Bruises was released by Big Break Records through Cherry Red Records on September 30.