Published on October 7th, 2013 in: Current Faves, Music, Music Reviews, Retrovirus, Reviews |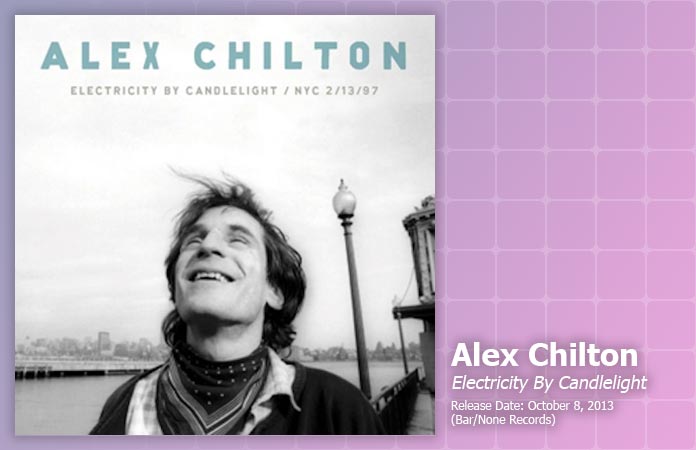 Electricity By Candlelight is the kind of record that music nerds dream of. Imagine your favorite musician playing an acoustic set of his favorite songs, things by the artists who influenced him, to a very intimate, engaged crowd. Imagine that he is playing in a venue where a storm has knocked out the electricity, and he's playing in a nearly pitch black room, illuminated by only three table candles. And you have had the foresight to bring your trusty tape recorder, which is great, because if you hadn't documented it, no one would believe it even happened.
On February 13, 1997, Alex Chilton and his band were scheduled to do two sets at the Knitting Factory in New York City. After the first set, the power went out and the club management announced that the second set was canceled and refunds would be given. Some fans, however, stuck around, hoping to at least catch a glimpse of their hero. Alex Chilton obliged, borrowed an acoustic guitar from an audience member, and what started as a four song set, swelled to over an hour of acoustic music, audience banter and many enthusiastic sing alongs. Chilton was joined midway through by drummer Richard Dworkin, and the performance was captured by fan Jeff Vargon.
This widely bootlegged tape is reproduced on CD and digitally for the first time by Bar/None records and it still has that bootleg sound. Taken directly from the source tape, the audio is scratchy and low-fi, but that's okay. It reflects the immediacy of this remarkable set.
Alex Chilton rolls through a wide ranging set of songs by other songwriters, avoiding his own. He slides into songs, engages with the audience, takes requests, tells jokes, drops bits of musical knowledge. It's remarkable and warm.
The Tammy Wynette chestnut "D-I-V-O-R-C-E" becomes a sing along, and the audience helpfully supplies lyrics to "Let's Get Lost." "The Girl From Ipanema" is surprising, loose and collaborative. He struggles with the lyrics to Joni Mitchell's "A Case Of You," but he gives it his all. A trio of Brian Wilson songs are a sweet spot, covering "Wouldn't It Be Nice," "Surfer Girl" and the obscure "Solar System." He points out after "I Walk The Line" that it "changes keys six times."
While the audience sings along and claps (sometimes out of time) and engages directly with Alex Chilton, Loudon Wainwright's "Motel Blues" is a solo proposition. He good-naturedly calls out the audience for singing along, and seemingly sings the song for himself. It's warm and witty, and the closest thing to singing anything he was known for (Big Star frequently covered the song live). It's so intimate that it feels a bit intrusive to listen to.
Electricity By Candlelight probably won't convert a newbie to the cult of Alex Chilton. But, if your bootleg cassette has worn out, or you're wondering how one man becomes a power pop juggernaut, it's a treat. A gift, even.
Electricity By Candlelight will be out on October 8 via Bar/None Records.