Published on October 5th, 2013 in: Current Faves, Music, Music Reviews, Reviews |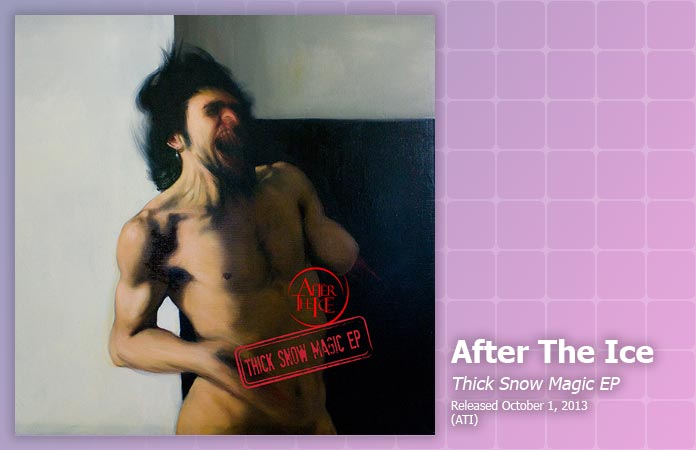 It isn't often that a band like After The Ice comes my way, so when it happens, it is the best kind of surprise. Their new EP, Thick Snow Magic, starts with a tight, classic metal sound but subtly transforms into something more akin to Radiohead, and then back again to metal. What's most remarkable is that the shift doesn't feel abrupt but completely natural.
With a sound like theirs, it's even more impressive that After The Ice is just a trio, comprised of singer/guitarist Paul Lisak, drummer Tomek-Tomek, and bassist Hamzah Bashir. Lisak has an amazing metal wail and a terrific vibrato but he doesn't overuse either. Oh, and his guitar licks are hot.
In the opening track, "Wake Up," I love how Lisak matches his vocals to the percussion melody. And you gotta love a song with a line like this: "You look so good when you fandango, baby."
"Tea and Cake" is a slower, seductive track with amusing lyrics that remind me a bit of Pulp's "Acrylic Afternoons" (of all things) and a too-good-to-be true chorus that will kick your ass.
The sinuous groove of "Mesmerized" is astonishing and will push all your buttons. It needs to be in the soundtrack to a horror movie or at least a TV show like True Blood or Supernatural. It also shows that Lisak has incredible range in both vocals and guitar.
"Thick Snow Magic" fulfills the need that all metal fans have for lyrics about ancient rituals and pagan gods with mysterious, powerful melodies to match. And Lisak's screech will give you chills.
Thick Snow Magic is a searing collection of four songs that only increases my appetite for a full-length release. This is essential listening, people.
Thick Snow Magic was released on the band's own ATI label on October 1. Check out the band's website to buy a copy of the EP.