Published on October 5th, 2013 in: Comedy, DVD, DVD/Blu-Ray Reviews, Movie Reviews, Movies, Reviews |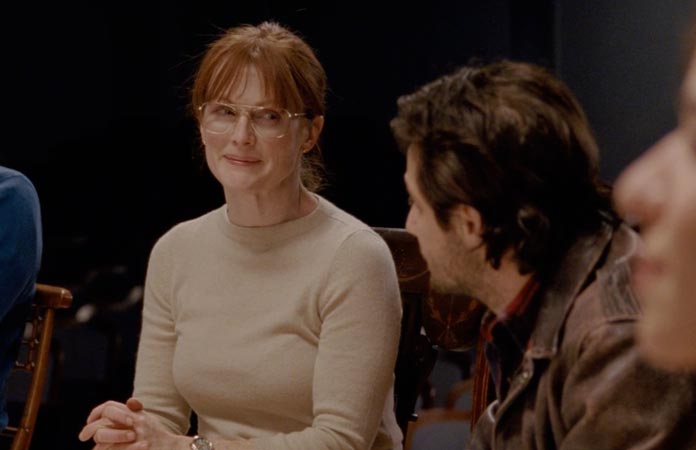 Withing the first ten minutes of The English Teacher, I thought, "This is a good, light-hearted comedy." It's the tale of Linda Sinclair (Julianne Moore), a high school English teacher who decides to help her former student, a failed playwright suffering from a crisis of confidence, produce his play with the help of the high school's drama teacher Carl (Nathan Lane).
The film immediately sets up Linda's character as a single, middle-aged woman—plain but pretty—who watches A Room With A View at home while eating organic food, and its clever voice over narration won me over. Then things got weird. I don't mean David Lynch weird, but The English Teacher was definitely not the movie I thought it was going to be.
At first, many of the characters seem like the likeable, if vaguely neurotic, folks we normally see in romantic comedies and sitcoms. But even when they do things that are outright unacceptable, the tone of the movie doesn't match their transformations. The music is frequently reminiscent of Elmer Bernstein's Ghostbusters score, but The English Teacher never successfully attains that skilled blend of sarcasm and sweetness.
In fact, The English Teacher is difficult to pin down, which should be a good thing, but instead left me vaguely confused. It feels like it can't decide whether it wants to be a sharp-edged satire or a heartfelt romantic comedy of errors. It presents Linda as a kind of feminist who is aware of sexist double standards, but even when those double standards are exposed, she's still the one who suffers. In a romantic comedy, we're conditioned to expect and accept that the heroine will find love in the end, but when it happens, it feels like a bit of a let down considering all that has come before (this is probably why I don't like most romantic comedies).
What the film does do well is establish Linda as someone who tries to live vicariously through others but never lives for herself. It also recalls comic bits from earlier in the movie to great effect. There is quite a bit of dialogue that's funny without being corny and as Linda, Julianne Moore is so good that I actually got weepy when she cried and laughed out loud at her physical comedy bits. The film doesn't pull the whole "when the librarian takes off her glasses" schtick, instead opting to keep Linda in her frumpy glasses.
The English Teacher was released by TVA Films on October 1.