Published on October 3rd, 2013 in: Current Faves, Music, Music Reviews, Reviews |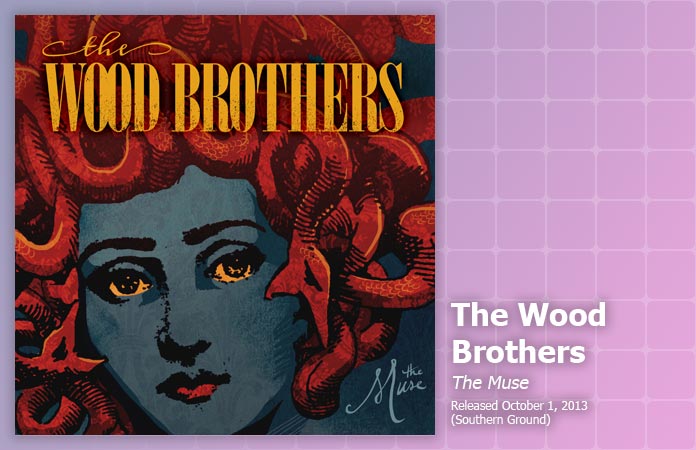 I'll just put this out there now: I think I'm in love with The Muse. The Wood Brothers' new album is pure auditory bliss and I might never stop listening to it. Recorded "the old fashioned way," with the band circled around microphones and all in the same room, The Muse has warmth and analog coziness. There's a loose-limbed, ramshackleness to it that is delightful.
Chris Wood is a founding member of jazz/experimental group Medeski, Martin and Wood, and his brother, Oliver played guitar with Tinsley Ellis. Together, though, they make gritty and true Americana, pulling from these past experiences and making something truly wonderful.
What is unexpectedly wonderful about the recording process are the bits of imperfection that slip through. The funky "Wastin' My Mind" has interesting harmonies—not quite perfect, "nearmonies," if you'll indulge me—and boozy bursts of horns over honky tonk piano, supplied by drummer Jano Rix. "Who The Devil" traffics in sinister guitar and rambunction, with tight harmonies on a smart chorus.
Chris Wood's bass line on lively "Keep Me Around" is engaging; it's disarmingly sweet, and chugs along. The title track, "The Muse," is enormously heart-felt and terribly moving. It's autobiographical and made this reviewer get a bit misty.
Oliver Wood has an unusual, charming voice. It's endearing and plaintive on the rootsy "Firewater," and lush with palpable sadness. On "Neon Tombstone" he sings "When I die I wanna be sent back to try, try again/I'm not ready to let go of the pain/I'm not ready for heaven so let me off of this train" and it is impossible not to sing along with him. The band sounds gigantic and powerful.
The helter skelter piano on "Losin' Streak" added to the interesting percussion and blurts of piano go delightfully well with Chris Wood's lead vocals. He takes the lead again on the quiet "Sweet Maria," with gorgeous harmonies.
"Honey Jar" has it all: great lyrics, slow burn funk, back up vocals from the McCrary sisters, and a super crisp drum sound. It's brilliant, barroom dirt floor funk and offers great turns of phrase like, "hard candy green eyes" and "spoonful of honey where your heart should be" as well as this one that I plan on using for nefarious purposes, "left-handed letter." It's pure poetry over sweet, sweet music.
The Muse was produced by country music veteran Buddy Miller, and he's done it well. It's sharp and immediate and captivating. The Wood Brothers have achieved something amazing here; it's an old-fashioned album that sounds utterly modern.
The Muse was released through Southern Ground on October 1 and can be purchased from the band's website.
Tour Dates:
Sun 10/06: San Francisco, CA; Hardly Strictly Bluegrass Festival
Fri 10/11: Charlotte, NC; Verizon Wireless Amphitheatre (Opening for Zac Brown Band)
Sat 10/12: Virginia Beach, VA; Farm Bureau Live (Opening for Zac Brown Band)
Sun 10/13: Bristow, VA; Jiffy Lube Live (Opening for Zac Brown Band)
Tue 10/15: Ashland, VA; Ashland Coffee and Tea
Wed 10/16: Chapel Hill, NC; Local 506
Thu 10/17: Wilmington, NC; Ziggy's by the Sea
Fri 10/18: Greensboro, NC; Blind Tiger
Sat 10/19: Charleston, SC; Southern Ground Music and Food Festival
Sun 10/20: Asheville, NC; The Orange Peel
Thu 12/05: Steamboat Springs, CO; Chief Theatre
Fri 12/06: Boulder, CO; The Fox Theatre
Sat 12/07: Englewood, CO; Gothic Theatre
Sun 12/08: Aspen, CO; Belly Up Aspen
Tue 12/10: Lawrence, KS; The Bottleneck
Wed 12/11: Tulsa, OK; The Vanguard
Thu 12/12: Dallas, TX; The Prophet Bar
Fri 12/13: San Antonio TX; Sam's Burger Joint
Sat 12/14: Austin, TX; The Parish
Sun 12/15: Houston, TX; Fitzgerald's Upstairs