Published on October 3rd, 2013 in: Current Faves, Feminism, Music, Music Reviews, Reviews |
By Less Lee Moore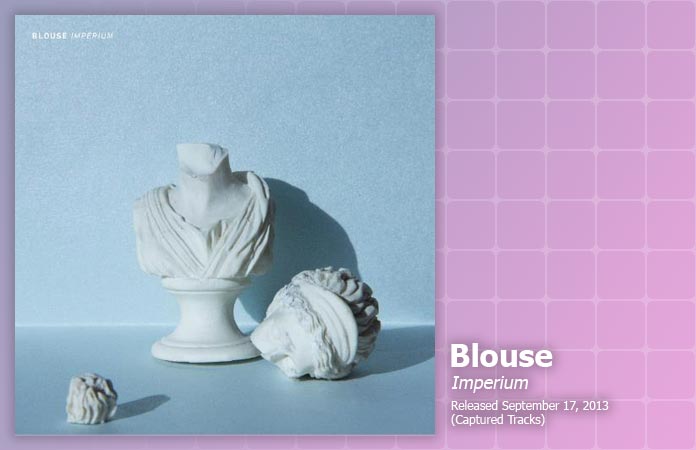 Not sure how Blouse's debut passed me by, but I'm certainly glad to know of them now. Their second album, Imperium, is a shoegazer's daydream: echoey, deadpan vocals and layers upon layers of reverbed guitars and bass. From a lyrical perspective, Imperium is fixated on looking and seeing, themes that recur frequently in the band's clever lyrics.
Imperium oscillates between outright lovely melodies and downright hooky ones. At times, the songs sound like a tribute album to a '77-era punk band, but slowed to a glacial pace. Other times, there's a distinctive Shonen Knife quality. At their core, Blouse remind me of very early Cure but filtered through a lush, late 1960s psychedelia, an intriguing mix that should make fans of both take notice.
"Capote" is particularly gorgeous, with a vaguely Morricone guitar break and singer Charlie Hilton's hushed vocals evoking Os Mutantes' "O Relogio." There's also a great drum and guitar break in "In A Glass," along with double entendres. "Happy Days" is another stunner, the kind of song in which you could easily get lost. The brash, brisk "Arrested" contains a great couplet: "If you could be arrested for taking up my mind/I would call the cops on you because you're there all the time."
The only weakness on Imperium is the tendency for the songs to become overly repetitive, which is most obvious on "1,000 Years," a song that comes across as clunky compared to the rest of the album.
Regardless, Imperium is a worthy addition to your shoegaze catalog, and something to keep you warm during the chilly weather ahead.
Imperium was released on September 17 via Captured Tracks.