Published on October 3rd, 2013 in: Concert Reviews, Music, Reviews |
By Less Lee Moore

Toronto, ON
October 1, 2013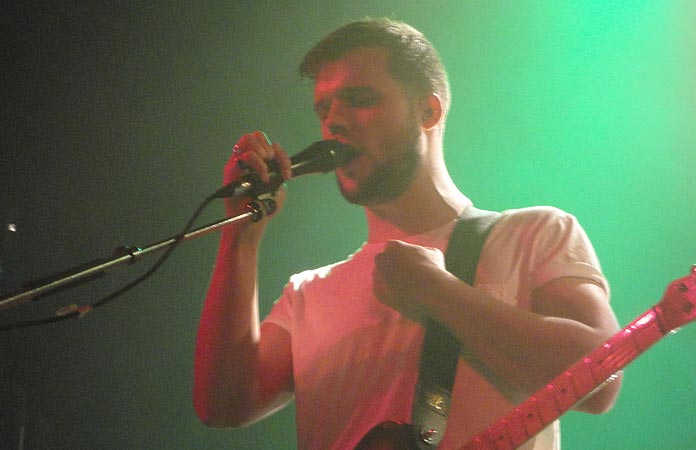 Waiting for White Lies to take the stage on Tuesday, I think I might have been trembling just a bit. If you've heard me raving about their recent (and third) album Big TV then it won't surprise you (review). If you haven't, then you need to hear the album immediately, but only if you love sweeping, mildly melancholic pop with damn-near-poetic lyrics.
Opening act In The Valley Below had a cool look and a sound to match. The male members of the band were dressed in shirts, pants, and leather suspenders, while singer Angela Gail showed off a stunning white prairie dress and a black hat. She and guitarist/singer Jeffrey Jacob had lovely, mournful harmonies and their music was just dark enough to provide a nice appetizer for White Lies.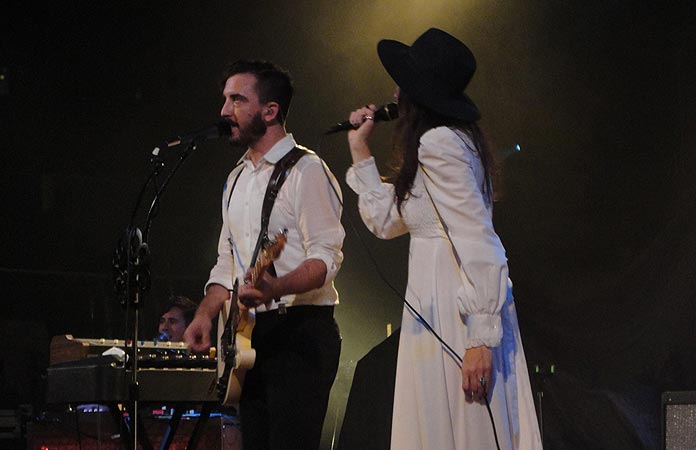 By the time White Lies arrived on stage, The Opera House was packed and a wave of cheers and applause washed over them as they picked up their instruments, clearly thrilled by the adulation. It was well deserved.
Splitting their 90-minute set between songs from To Lose My Life and Big TV, with a sprinkling of selections from Ritual made sense, since from a production perspective the new album comes across like a bit of a sequel to their debut.
They opened with "Getting Even," which sounded as great live as it does on the album. Other Big TV tracks included the first single "There Goes Our Love Again" (and I confess I had to stop taking photos a few times just to dance and smile like a madwoman) and upcoming single "First Time Caller." Singer/guitarist Harry McVeigh apologized in advance for potentially fucking up the lyrics to "Be Your Man" but it went off without a hitch.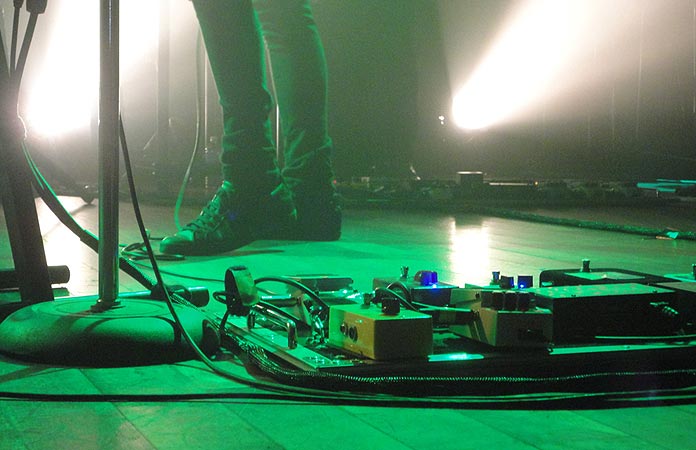 McVeigh received a round of cheers every time he smiled, but who could blame us when his smile is so charming and his voice so stunning? Instrumental and vocal whiz Charles Cave played occasional keyboards and bass and if you don't think he's skilled on the latter, you've clearly never seen the band live, as his fingers blur like insect wings over the instrument. Most exciting was the louder drum sound from Jack Lawrence-Brown this time around, which made all the songs flow beautifully together.
Once again, Rob Lee and Tommy Bowen expertly filled out the band's sound with extra keyboards, guitars, and harmonies. After an encore of "Big TV" and "Bigger Than Us," they were gone, leaving us all smiling, giddy, and wanting more.
For more photos of the show, click on the thumbnails below.
Setlist:
Getting Even
To Lose My Life
There Goes Our Love Again
A Place to Hide
Mother Tongue
Streetlights
Farewell to the Fairground
Be Your Man
E.S.T.
The Power & the Glory
Unfinished Business
First Time Caller
Death
Big TV
Bigger Than Us
Tour Dates:
Oct 03: Bowery Ballroom; New York US
Oct 04: Bowery Ballroom; New York US
Oct 05: Paradise Rock Club; Boston US
Oct 07: Metro; Chicago US
Oct 09: Great American Music Hall; San Francisco US
Oct 10: El Rey Theatre; Los Angeles US
Oct 12: Corona Capital Festival; Mexico City MX
Nov 07: Paradiso; Amsterdam NL
Nov 08: Effenaar; Eindhoven NL
Nov 09: LMH; Cologne DE
Nov 11: Gibson Frankfurt; DE
Nov 12: Theaterfabrik; Munich DE
Nov 13: Gasometer; Vienna AT
Nov 15: Komplex; Zurich CH
Nov 16: Magazzini; Generali Milan IT
Nov 17: Lucerna; Prague CZ
Nov 19: MTP; Posnan PO
Nov 20: Stodola; Warsaw PO
Nov 23: Sentrum; Oslo NO
Nov 25: Vega; Copenhagen DK
Nov 27: Grosse Freiheit; Hamburg DE
Nov 29: AB (Sold Out); Brussels BE
Nov 30: AB Brussels; BE
Dec 01: Trianon; Paris FR