Published on September 28th, 2013 in: Current Faves, DVD, DVD/Blu-Ray Reviews, Found Footage, Horror, Movie Reviews, Movies, Reviews |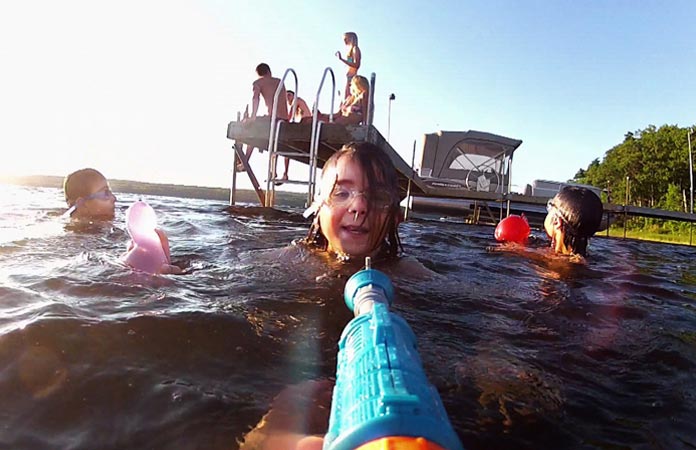 Here's a fun experiment to try! Sit ten people around a campfire on a moonless night and start telling scary stories. Everyone takes a turn. What you'll find quickly enough is that not everything scares everybody. One person may be frightened by ghost stories. Another may be terrified of demonic possession tales. One never knows.
That's the joy—and the potential for failure—found within any horror anthology film. They're all scattershot. Even the most ambitious of them (I'm thinking The ABCs of Death) have sections that miss the mark completely (although "D is for Dogfight" was a harrowing piece of storytelling).
2012's V/H/S was the most consistently enjoyable of the new wave of anthologies, gathering together a conclave of great directors, such as Ti West and Adam Wingard, and letting them do what they do best: scare the shit of people. There are some genuinely unsettling moments in the film (that final sequence, directed by Radio Silence, still haunts my thoughts).
This year's sequel, V/H/S/2, is better in every regard. The framing device is tighter, the stories are better and the scares are more frequent and more intense.
"Phase I Clinical Trials," from Adam Wingard (You're Next), tells the story of a man whose eye is replaced with a robotic one. The eye is connected to a hard drive that records everything the guy sees. Unfortunately, the things the man sees aren't exactly of this realm. It's an effective bit, with the kind of dark humor we've come to expect from Wingard's work, and a nice way to kick off the movie.
Eduardo Sànchez (who directed one of my favorite horror movies, Lovely Molly) and Gregg Hale contribute "A Ride in the Park," which is pretty self-explanatory. A man straps a camera to his helmet and goes for a bicycle ride in a local park. He meets a woman on the trail. She's hungry. It goes downhill from there. "A Ride in the Park" swiftly and efficiently gets past the zombie-as-cultural-icon trappings and reminds us why we were afraid of the undead to begin with.
"Safe Haven" is a disturbing segment about an Indonesian cult. An investigative news team arrives to film an exposé on the cult's beliefs and practices. Every cult has a theory about the end of the world. Imagine the reporters' surprise when the cult announces that it's time for the end, right now. This segment, from The Raid director Gareth Evans and Timo Tjahjanto, hits a lot of primal fear buttons and hits them hard.
"Safe Haven" has gotten the lion's share of attention when people talk about the individual sections of V/H/S/2, but in my opinion, the real show-stopper is the final segment, Jason Eisener's "Alien Abduction Slumber Party." It sounds like a crappy Roger Corman movie from the early Eighties. There are teenagers. Yes, there's a slumber party. Yes, there are aliens. There's also a streak of ruthlessness and brutality running through the segment that only adds to the tension. As director of the Street Trash homage, Hobo with a Shotgun, Eisener understands brutality. Any sense of humor implied by the first two minutes or the silly title is quickly dispelled. What remains is the most horrifying alien movie since Eduardo Sànchez's Altered. It's a powerhouse.
The framing device, known as "Tape 49," not only serves to connect the short films, but packs a couple surprises of its own. Suffice to say, watch what you watch.
While all the shorts are in found-footage format, there's nothing experimental here. Everything is tightly edited and straightforward. The directors use the genre to serve the stories, not the other way around. Eisener's segment in particular, with its surprisingly effective conceit of strapping the camera to a dog, scared me badly, in a good way.
Filled with more "Oh, shit!" moments than a bad night with Indian food, this movie is an unexpected treat. Lacking the pretension found in some of the recent anthologies, V/H/S/2 is all killer, no filler. Horror fans, do the right thing.
V/H/S/2 is available on Blu-Ray, DVD, and iTunes from Magnet Releasing. Special features include featurettes on all the segments, behind-the-scenes photos, and a commentary track.