Published on September 27th, 2013 in: Canadian Content, Current Faves, Music, Music Reviews, Reviews |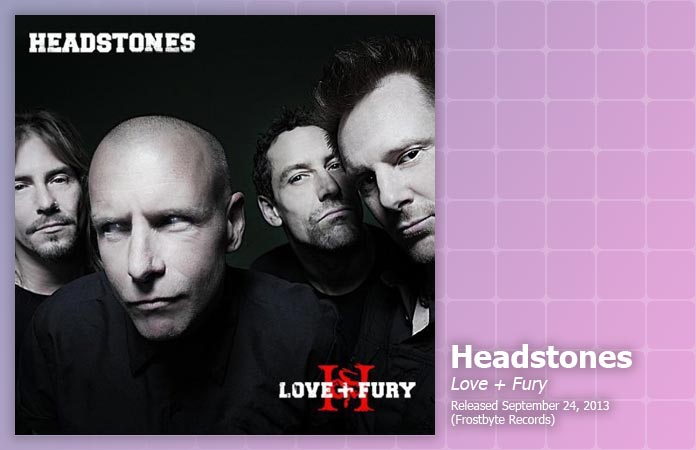 Canada's Headstones are back after a long hiatus and their return is welcome. Their brand of straightforward, damn the torpedoes and hang-on-to-your-wigs-and-keys rock is refreshing in this age of . . . well, you know the state of popular music today.
Love + Fury opens with the strangely produced "changemyways" (get used to these titles; the Headstones have no space bar). Frontman Hugh Dillon's vocals are pushed so far back in the mix that the result is strained and pinched, but Tim White's loping bass line is great.
Fortunately, that's the only wonky track on Love + Fury. Bluesy guitar courtesy of Trent Carr kicks off the filmic and dystopic "longwaytoneverland," which is epic but not cheesy. The song just wails, in a good way. Trent Carr's buzzsaw guitar comes front and center on "don'tfollowtheleader," all gritty with Dillon's fast-talking rap.
Things get a bit more introspective with "astronaught." Dillon's world-weary croon is excellent, as is the otherworldly guitar solo. It's not a ballad, though. That honor goes to the piano driven album closer, "midnightofthislife." The song is raw and honest, and hushed and melodic as can be. Hugh Dillon seems to be channeling the great Leonard Cohen here, and carrying loads of regret. It, like most of the other songs on the record, are songs written by and about grown-ups; grown-ups with problems and sadness and fury and hopelessness.
That's not to say that Love + Fury is a soul-crusher. "gobacktheotherway" is a full-frontal rock assault, gut crunching with spat out lyrics. Arena-ready "farawayfromhere" builds to power and urgency with a compelling chorus and seriously chunky guitar.
Besides, Love + Fury turned me on to something I didn't know I wanted, but desperately needed: Headstones doing ABBA. A punk-influenced version of "S.O.S.." The guitar line is sweet and ABBA as punk works amazingly well. I've never felt the potency of the song until I heard this version.
Love + Fury is a powerful, dynamic return for Headstones. They're older and wiser, and still pretty damn angry, but hopeful. I will be happy to donate to their next Kickstarter to buy them a computer that has a spacebar.
Love + Fury was released on September 24 in the US through Frostbyte Records and can be purchased from the band's website.