Published on September 26th, 2013 in: Eulogy, Music |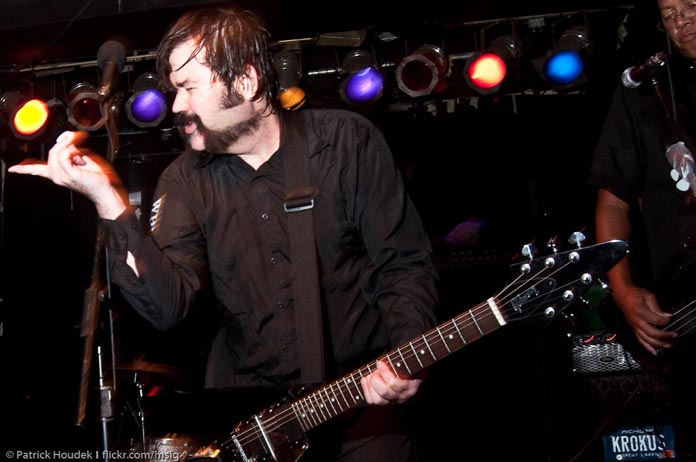 Photo by Patrick Houdek
When I heard the news that Bill Bartell had died, I felt like I'd been kicked in the guts. I don't think I'll ever get used to a world without him in it.
I first met Bill in 1994, when White Flag played a show in New Orleans. The exact date and location escapes me (but no doubt, Bill, with his insanely proficient memory would remember). I went with a friend and we both wore Redd Kross T-shirts in an attempt to "impress" him. Haha, if only I had known.
The first thing Bill did when he saw us was shout, "You realize Redd Kross is NOT going to be here tonight!" He tried very hard to be annoyed with us, but we wouldn't let him. He was aghast that we did not actually own any White Flag merchandise and insisted that we buy copies of the Thru The Trash Darkly retrospective that they were selling at the show. And T-shirts. And he reminded us that White Flag's cover of "Deuce" predated the Redd Kross one we probably loved so much.
It was a great show, but what I remember the most is what happened afterwards. We helped the band—at that time, Bill, El Fee, Doug, and Trace—load their gear into a van and escort them to the La Quinta Inn in Kenner where they were staying. I distinctly remember having to sit on Bill's lap in order to fit everyone in my friend's car and listening to him make fun of the song that was playing on the stereo. For the record: it was The Runaways' "Right Now," which Bill kept singing as "Lite Brite, makin' things with light."
We also went to Denny's with them and Bill was his hilarious, obnoxious self well into the wee hours. He emphatically ordered Caffeine Free Diet Coke with a twist of lime. When it took the waiter forever to get to us, he jumped up and huffed, "Stewardess, is there going to be any service on this flight?!" Somewhere out there is a photo of me, behind a plate of waffles and whipped cream, smiling at the camera while Bill pretends to fall asleep on my shoulder.
After having been successfully won over, he wrote his address down on a scrap of paper (which I still have). No doubt he soon came to regret it because many "care packages" of T-shirts, toys, dolls, and other crap was sent to that address for years to come. There was even a mixtape that included Iggy Pop's "African Man" and weird sound effects from some Halloween-themed tape.
Eventually, I think all the obsessive and crazy attention freaked him out a bit, but to quote Buzz from Melvins, "Obsessive and crazy? It takes one to know one." I was relieved and honored to finally catch up with him on MySpace years later and find out that he didn't hate me but thought fondly of me. When everyone moved from MySpace to Facebook, Bill was there, too, and his near-constant stream of Facebook posts were a source of both endless delight and frustration (and I can't believe I'll never see him rant about Rand Paul's greasy wig ever again.)
Of course, after I had purchased Thru The Trash Darkly, I became a lifelong White Flag fan and ended up getting a bunch of their singles as well as the magnificent Wild Kingdom, featuring the peerless "Stone Alone." I even made a mixtape for my mom with their covers of "I'm Down" and "In A Different Light" on it. I still listen to and enjoy White Flag's music, and some of Bill's lyrics still crack me up, such as "I'm out of touch/I'm out of time/You talk too much/I forced a rhyme" from "Jungle" and all of "Shattered Badge."
I was lucky enough to talk to Bill on the phone for several hours a few years ago. The bulk of the conversation was transformed into an interview that was originally published on Popshifter in May of 2010. I am republishing it because everyone needs to read it.
It would be impossible to contain all that is Bill Bartell in a few lines of text, but to me, he was hilariously funny, intelligent, compassionate, an ingenious songwriter, and a diehard left-wing firebrand who could be a huge pain in the ass but was also one of the most sincere and good people you would ever meet. His fandom of the things he loved was unmatched. He loved to talk about music down to its tiniest, most miniscule details and I'll always associate him with The Shaggs, The Beatles, KISS, Cheap Trick, Yoko Ono, The Damned, Shonen Knife, Os Mutantes, and lot of other good bands (the last two I wouldn't even know about it if it weren't for him).
I will never not laugh thinking about his deconstruction of an ancient photo of Rick Nielsen from Cheap Trick. Or that story about Paul Stanley, the lunch meat, the copy of Lady and The Tramp, and a KISS press conference. So many stories to tell! Like when he was Courtney Love's date at the Fleetwood Mac reunion concert on VH1 and his appearance on Remote Control. Everything involved with the Tater Totz and that infamous "Live Hate at Beatlefest" single. That hysterical interview with him and the Melvins in Flipside where he was dressed as a Mountie (wish I still had that).
Everyone who knew him knew of his encyclopedic knowledge of music and the sheer number of musical pies he'd had his fingers in over the last few decades. He was the biggest unsung hero in music, punk rock or otherwise. I will miss him forever.
This one is for you, Bill.