Published on September 25th, 2013 in: Current Faves, Music, Music Reviews, Reviews |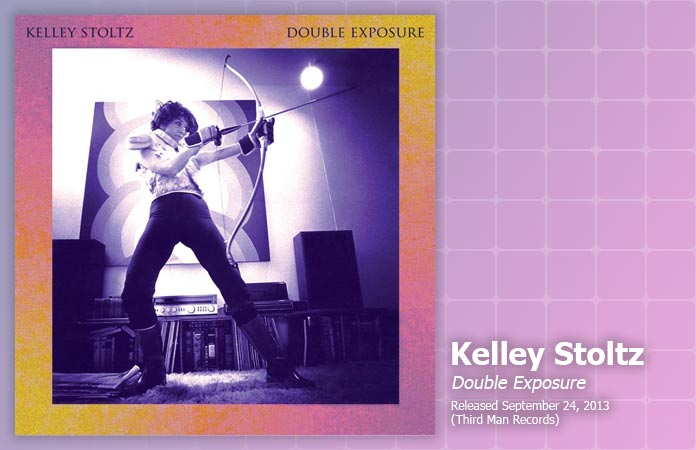 San Francisco's Kelley Stoltz has made the jump from SubPop to Third Man Records and has embraced the garage rock ethos fully—Double Exposure was recorded in his garage. Not a mere garage this: it goes by the name of Electric Duck Studio and houses vintage synths, an amp used by a Stooge, and a tape machine used by The Residents.
Double Exposure is garagey in the best way. It's full of exploration and experimentation, and all kinds of noises not naturally occurring in nature. It's reminiscent of the '60s psychedelia revival from the '80s ala the Fuzztones and Fleshtones and their brethren, awash in handclaps and harmonies.
The title track sounds like a Devo throwback with scuzzy guitar. It has very visual lyrics (in this reviewer's head there was a full '80s video with neon and shiny black vinyl. But I digress). "Storms" is perfectly '60s down to the handclaps, with layers of sound not unlike a deranged Phil Spector, and a tidy guitar riff that is echoed by a sax. The fuzzy guitar on the fadeout is keen.
The echoey, swinging "Your Face" features a flute line so subtle that I missed it initially, but what I really dug was the sound of a reel-to-reel tape player's tape flapping in the end. Very clever. The production of "Are You My Love" is rich and full, with reverb-drenched, chiming guitar (which must have been hard to pull off) and the delightful line "do we have the blessing of Venus and Mars?"
"Inside My Head" is sonic pleasure; layered echoey effects with a nifty descending piano riff. It is also rather long. It is followed by another rather long one (the previous tracks clocking in under four minutes). "Still Feel" that opens with what sounds like a cheap keyboard drum track. It layers in surfy guitar, Stoltz' laconic voice, voluptuous production, a guitar solo that sounds ripped from "Eight Miles High" by the Byrds, and ends on a fadeout not unlike Gary Numan's "Cars." There's a lot to hear.
The aurally rich single, "Kim Chee Taco Man," has layers upon layers of harmonies, some just a little off. Trippy and awash in synthesizers, it's summery in a non-annoying way and the guitar sound reminded me of the noises Jamie West-Oram used to wrest from guitars in the Fixx. Or possibly a lost Echo and The Bunnymen tune.
"Marcy" is so pretty it hurts. The lyric "Cast your little spell/rung your bicycle bell passing through" is just a taste of the glorious retro sweetness.
One-man band Kelley Stoltz wears his influences on his finely tuned sleeves. He loves some nice reverb, and backwards guitar and old synthesizers. Double Exposure is the perfect summer album (though it's being released in the autumn) that makes you want to put the top down and drive to the beach for one last night of revelry.

Double Exposure was released on September 24 via Third Man Records.
Tour Dates:
October 3rd – Grass Valley, CA – Grass Valley Arts Center w/ Make Make
October 5th – Portland, OR – Mississippi Studios w/ Old Light
October 6th – Vancouver, BC – Electric Owl w/ Old Light
October 7th – Seattle, WA – Chop Suey w/ Old Light