Published on September 24th, 2013 in: Current Faves, Music, Music Reviews, New Music Tuesday, Reviews |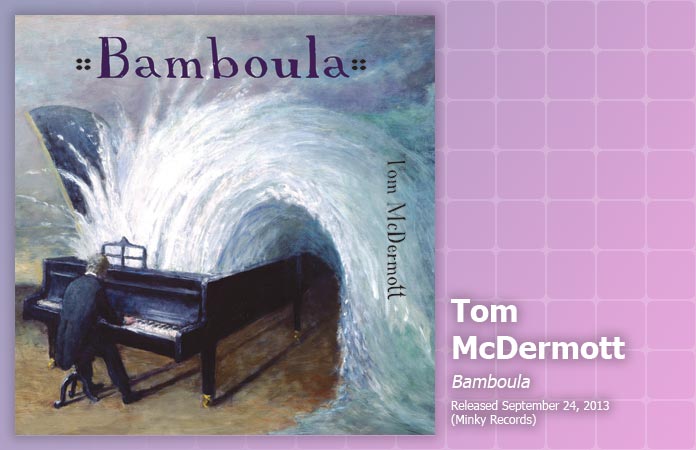 The veritable Van Dyke Parks has curated a collection culled from New Orleans-based piano god Tom McDermott's previous albums. Bamboula is pure sonic pleasure from the first note.
Parks elaborates on just what makes McDermott's playing and composing so astonishing: "As a composer, Tom's compositions each read like a good short story, filled with motifs, anecdotes, and suspended sub-plots that all resolve in conclusion." As I listened to Bamboula, I was struck by the visual nature of Tom McDermott's music. Each song became the music for a movie I wanted to see or possibly be in, richly layered and fascinating. It's transporting in a way that you long for music to be.
To choose a best track or even my favorite track is ridiculous. Each one is like a perfect little gem (and I realize that I am getting hyperbolic, but the record is that good). The title track is Cuban-accented, percolating, spun-glass gorgeousness with layers of horns, clarinet, guitar, and McDermott's stunning piano falling over one another. The gears shift entirely for "Musette in A Minor" and whisk us to France with passionate, swirling accordion, of which you can hear the gentle changing of its keys, resolving in a surprising ending.
"For Brenda" is precisely the sort of song one wants written for them, an elegant dance over the keys. "Casa Denise," on the other hand, is urgent and thrilling, whimsical but not twee.
Tom McDermott dances in and out of styles and genres gracefully. Noirish "The Big Man" is loneliness with a wee bit of tango in song, while the dynamic "Santa Teresa" is a bubbly, wild cha-cha—it sounds as if it might explode at any minute as it propels itself along. The ragtime gloriousness of "Irresistivel" with its chiming piano riff brings to mind a bustling city street.
Bamboula is gorgeously produced. The instruments blend and don't fight for your attention; rather they scamper together playfully. While the star is, of course, Tom McDermott, his backup players deserve notice: Patrick Harrison lends his vibrant accordion, Evan Christopher wails on the clarinet and Aurora Nealand sings on the soprano sax.
Tom McDermott's Bamboula is vivacious and alive. Each song is a little journey, waiting to be taken and enjoyed. From the exquisite interplay of the soprano sax and piano of "Opulence," to the subtle pauses of "Le Manege Rouge," it's the kind of album that leaves you leaning forward, waiting for resolution. Bamboula is an absolute delight.
Bamboula is out today through Minky Records.