Published on September 21st, 2013 in: Blu-Ray, Current Faves, DVD/Blu-Ray Reviews, Movie Reviews, Movies, Retrovirus, Reviews |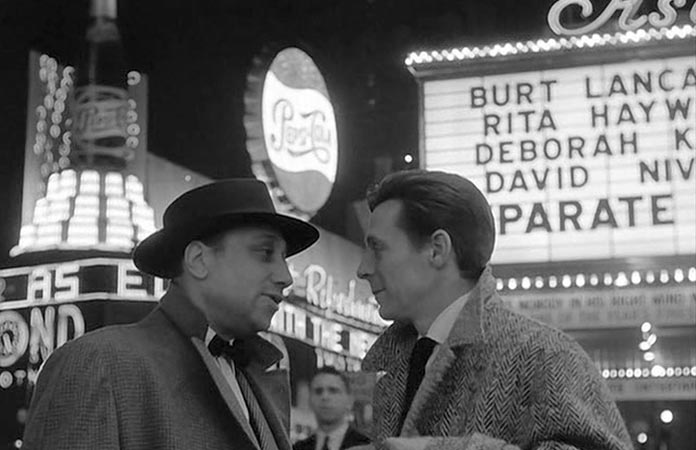 There's a quote from Quentin Tarantino on the Blu-Ray case for Two Men in Manhattan: "Jean-Pierre Melville is to the crime film what Sergio Leone is to the western." Those who've not yet heard of the French filmmaker might expect his films to be as brash and blood-soaked as Tarantino's. Although Melville's milieu was far more restrained, it's no less exciting to watch.
Two Men in Manhattan was released in 1959, on the brink of the decade so lovingly recreated in Mad Men. Despite being shot in black and white, Melville's film is far more in love with New York than Matthew Weiner's TV show. The camera pans slowly across Times Square and Rockefeller Plaza and up and down the edges of skyscrapers. The city is in the background of nearly every shot, from movie theater marquees to taxis. There's a brothel in Manhattan, a burlesque club in Brooklyn, even an NYPD officer in an all-night diner, where the owner kvetches "these Frenchies make me meshuggah."
It's easy to get distracted by all of this when the initial plot—the French delegate to the United Nations misses a session and French press agent Moreau is sent to find out why—seems so unimportant at first. At first. Melville wouldn't waste such glorious cinematography on a movie about nothing, and the noir look of the film—right down to canted angles and chiaroscuro lighting—isn't just homage.
Indeed, the film sneaks up on you, and all those little details become deadly interesting before you even notice that you're hooked. Two Men in Manhattan is as relevant now as it was in 1959, perhaps even more, because we see how far we've come (or not). There were no cell phones then, no social media, but the sleaze always finds a way to show itself, with Delmas the photographer serving as the conduit for a nascent tabloid journalism that we are all too familiar with now.
And the dialogue! "You're the Sorcerer's Apprentice!" Delmas tells Moreau (played with sad-eyed subtlety by Melville himself). "You can't stop it now." Moreau's boss, Rouvier, has different ideas. "Reporting is not just saying and showing everything," he insists, his mouth a firm line that cannot be crossed.
Two Men in Manhattan is a gorgeous movie and this new Blu-Ray transfer is impeccable. If you've never seen a Melville film, do yourself a favor and check this one out. You won't be disappointed.
Two Men in Manhattan was released on Blu-Ray by the Cohen Film Collection on September 17.