Published on September 17th, 2013 in: Music, Music Reviews, New Music Tuesday, Reviews |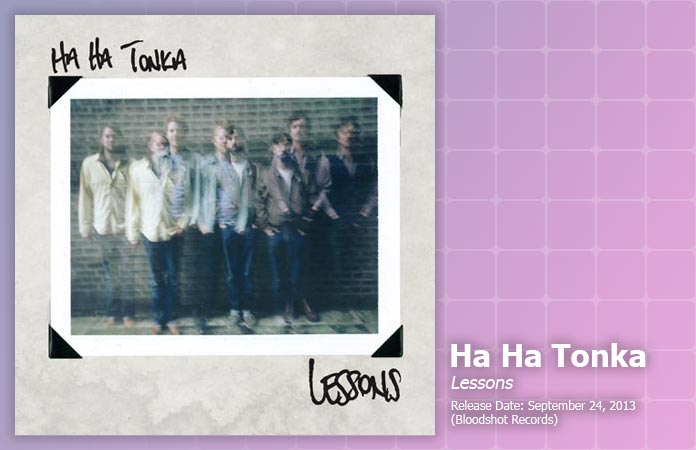 The delightfully named Ha Ha Tonka (named after a gorgeous state park in Missouri, replete with a crumbling mansion/hotel) are clearly at a crossroads. Their latest effort, Lessons, is a departure from their previous more stripped-down records, and is chock full of soul-searching, thinky lyrics. I'm not sure the change in direction was a good move.
Lessons starts off engagingly enough with fine harmonies and swirling piano on "Dead To The World." Lead singer Brian Roberts has a delightful rasp and the production is clever—bare in places you'd expect to be more aurally full. It's is a great lead off track; it makes you want to hear more.
When Ha Ha Tonka are good, they are amazing. "Arabella" is vast and yearning and breaks into fuzzed out guitar. It feels like a classic song a la Kansas—epic without being overblown—and damn great. "Rewrite Our Lives" is heavy with regret in such a hopeful sounding song. It's wonderfully produced and hits all the right notes. The delicate "Cold Forgiver" is gorgeous and sounds like water rushing over rocks in a river with the added bonus of lovely harmonies.
I have a huge soft spot for "Pied Pipers" which evokes my (and Ha Ha Tonka's) native Missouri. It has a strong sense of place and time, and the open dustiness of a back road party, the aimlessness of a Saturday night in any small town. It made me nostalgically homesick. It would be a great single.
The flaw I found in Lessons is the repetitiveness of the lyrics. I get choruses, and that those are indeed, repetitive. But the issue here lies in songs like the sinuous title track "Lessons," which could have been great but uses the continuous repetition of the line "I can't keep learning the same lessons over again" ad infinitum until the listener wonders if perhaps they ran out of time to finish the song and just left in placeholder lyrics. "Lessons" is also mired in ill-advised echoiness and production trickiness, perhaps to hide weak songwriting. It does end on a nice bastard-son-of-Gary-Wright vibe. The repetitiveness rears its ugly head again on "Terrible Tomorrow" wherein despite name-checking Mary Todd Lincoln, it sounds like the singer found a phrase he likes and sings it forever because he couldn't think of anything else to say.
At their best, Ha Ha Tonka treads the line between Americana and classic AOR. There's something about Lessons that feels timeless and firmly rooted in the Midwest. The production is dodgy in places and the lyrics, while introspective and often thoughtful, take the easy way out and repeat like a skip on a record. These things can be fixed. These things can be better. Ha Ha Tonka have such potential for greatness and they've just not quite reached it with Lessons.
Lessons will be released on September 24 via Bloodshot Records.
Tour Dates:
9/26: Cincinnati, OH @ Midpoint Music Festival
9/27: Columbia, MO @ Forrest Rose Park
9/28: Lawrence, KS @ The Bottleneck
10/2: Las Vegas, NV @ LVCS
10/3: San Diego, CA @ Casbah *
10/4: Los Angeles, CA @ The Satellite *
10/5: San Francisco, CA @ Thee Parkside *
10/7: Portland, OR @ Doug Fir *
10/8: Bellingham, WA @ Wild Buffalo House of Music *
10/9: Seattle, WA @ Tractor Tavern *
10/11: Salt Lake City, UT @ Garage On Beck *
10/12: Denver, CO @ Hi-Dive *
10/18: Springfield, MO @ Lindberg's
10/19: Ozark, AR @ Mulberry Mountain – Harvest Music Festival
10/22: Iowa City, IA @ The Mill *
10/23: Minneapolis, MN @ 7th St. Entry *
10/24: Green Bay, WI @ Crunchy Frog *
10/25: Milwaukee, WI @ Club Garibaldi *
10/26: Louisville, KY @ Headliners Music Hall *
11/8: Columbus, OH @ Rumba Cafe *
11/9: Cleveland, OH @ Beachland Tavern *
11/11: Toronto, ON @ Horseshoe Tavern
11/13: Cambridge, MA @ TT The Bears *
11/14: New York, NY @ The Studio *
11/15: Philadelphia, PA @ Milkboy *
11/16: Washington, DC @ Rock N Roll Hotel *
11/18: Knoxville, TN @ Barleys *
11/19: Atlanta, GA @ The Earl *
11/20: Nashville, TN @ High Watt *
11/21: Little Rock, AR @ Stickyz Rock n Roll Chicken Shack *
11/22: Dallas, TX @ Club Dada *
11/23: Austin, TX @ Stubbs Jr *
11/29: St. Louis, MO @ Plush
* Samantha Crain supporting