Published on September 12th, 2013 in: Current Faves, Film Festivals, Movie Reviews, Movies, Reviews |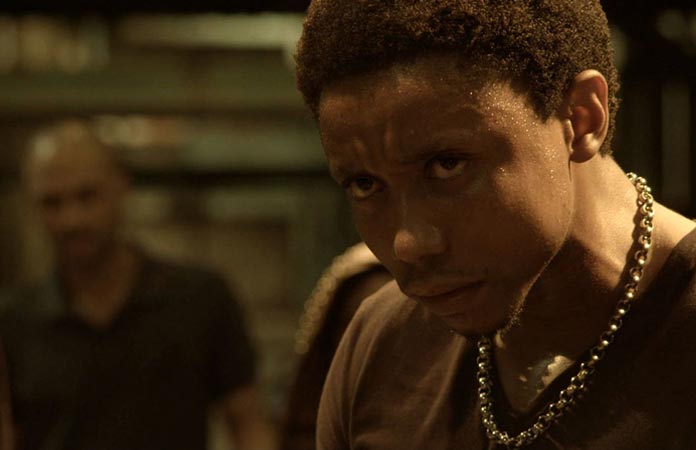 iNumber Number is a thoroughly enjoyable heist film from writer/director Donovan Marsh. There's not a bit of flab to be found in its taut 96 minutes, all of which crackle with tension.
The film opens with quick edits and extreme close-ups that immediately drag you into its world. Some cleverly placed exposition via a cell phone conversation in the opening scenes, along with the gritty, sympathetic performances from the two lead actors (S'dumo Mtshali and Presley Chweneyagaea, as Chili and Shoes), ensure that iNumber Number is off and running with no time to waste.
Chili and Shoes are cops and partners sick of doing too much work for too little pay and even less recognition. Police corruption runs rampant and Chili, who works undercover, convinces an extremely reluctant Shoes to participate in a heist with him so they can earn some desperately needed money.
We are introduced to the members of the heist crew through well-crafted scenes reminiscent of The Usual Suspects and Ocean's 11. In a humorous nod to Mtshali's past as a reality show winner, one of the members of the crew, Kenny, is an actor, while another, Slim, doesn't understand that Kenny's TV character "Dex" is just a role he plays.
The thugs in this crew—who the boss Mambane calls "dogs"—cannot go five minutes without fighting with each other, and this already simmering pot threatens to bubble over with paranoid suspicions and potential double crossing. DP Tom Marais utilizes voyeuristic camera angles to make you feel like you're spying on the action from a hidden vantage point, which helps ratchet up the suspense. There's also judicious usage of slow motion and time lapse photography to provide insight into the inner emotions of Chili.
iNumber Number does a great job of crosscutting between the actual robbery and Shoes's attempt to escape after he's held hostage by one of the members of the crew. There is an excellent reversal of the film's opening scene towards the end using a different kind of technology that further establishes the friendship between Chili and Shoes.
The music, credited to Ma Orange, is outstanding. It's bombastic when it needs to be but not overpowering during the quieter scenes of dialogue and slow-burn suspense. Chili and Shoes even have their own theme song, which plays over the end credits.
With iNumber Number, Marsh proves that an action film can pack an emotional punch without sentimentality and that a heist movie doesn't need suave criminals in suits to be thoroughly engaging. iNumber Number might have been influenced by North American films, but those same filmmakers should take notes on its beautiful execution.
iNumber Number makes its Toronto International Film Festival premiere Thursday, September 12. The film will also screen on Friday, September 13 and Saturday, September 14. For showtimes, theater locations, and tickets, check the TIFF website.