Published on September 11th, 2013 in: Current Faves, Music, Music Reviews, Reviews |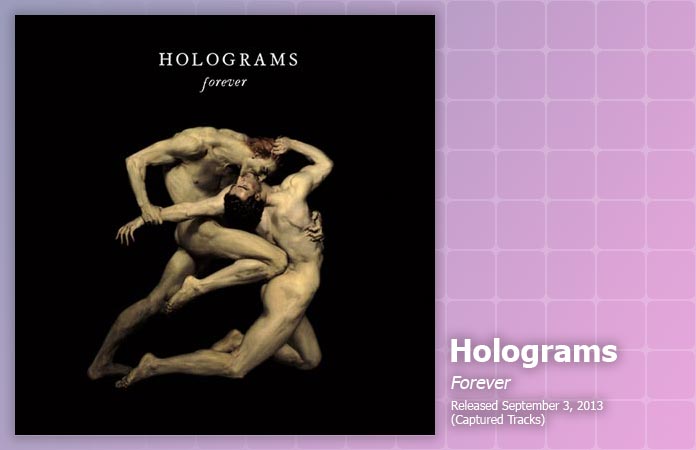 The first time I heard Holograms' second album Forever, I got goosebumps. It was like being transported back to 1985, listening to college radio late at night, rushing to press the RECORD button on my stereo, waiting for the DJ to reveal the name of the band. But Holograms is not a post-punk ripoff.
The album takes off like a rocket with "Sacred State": booming drums, bass dancing around the jagged guitar edges, and enormous vocals from singer Andreas Lagerström. The frenetic energy is undeniable. It's tempered only slightly by a instrumental bridge towards the end that prepares you for a melodic assault of guitar slowly building to an intense emotional peak before the vocalized chorus joins in again. And that's just the first song.
Every song on Forever is anthemic, and at a time when that word has been corrupted so thoroughly, I'll beg your forgiveness for using it. It's true, though. Even "Flesh and Bone," which starts off with spare instrumentation and singing, makes the heart beat faster in time with the syncopated drums. Here the music takes precedence over the vocals in the chorus and adds in subtle synths. By the end, your heart is aching, yet still you want more.
"Meditations" dispatches some of the bombast for speed, with a driving beat and a wrenching chorus and Anton Spetze's guitar solo, which rips through the song like fire through a forest.
The lyrics of "Ättestupa" reference "a steep precipice where elderly people during Nordic prehistoric times are said to have thrown themselves, or were thrown, to their deaths. According to legend, this was done when the old people were unable to support themselves or assist in a household." The song is beautiful, with the same kind of dark, fractured melodies of Killing Joke. The repeated "I'm so tired" chorus is the kind that seeps into your blood.
"Luminous" opens with buzzy keyboards that are joined by dense, pounding beats and a tremendous "la la la la" vocal bridge while "Rush" contrasts its rapid-fire drums and keyboard melody with cavernous segments that highlight both Lagerström's vocals and skills on the bass. There's also a chanted vocal chorus with the words "together" and "forever" over the top at the end.
There's more chanting on "Wolves," this time of the wordless kind. Like "Ättestupa," the references here feel primeval, with lines like "There's no pride/there's no honour/we shamed our land/and our fathers" seeming to point to the past even as they make reference to a post-apocalyptic society.
If you thought things were slowing down you'd be wrong, because "Laughter Breaks The Silence" waits but a few seconds before it propels you into another rousing melody, albeit one interspersed with a recurring, austere guitar riff and a delicate overlay of synths. Lagerström's vocal phrasing here is exquisite, matching the propulsiveness of the melody with passion.
The raw, incendiary guitar opening of "A Blaze Upon the Hillside" will no doubt remind you of U2's "I Will Follow," and the barrage of vocals intensifies this effect. There's another terrific, reverb-heavy guitar solo from Spetze and a siren-like keyboard that ends in a thrilling climax. "Lay Us Down" is a hopeful dawn chorus, finding joy in the preparation for the afterlife and ending the album on a high note.
Forever is extraordinary, a wonderfully confident album full of vitality and incredible musicianship. Freed from the shackles of traditional verse/chorus/verse, the songs are kinetic and invigorating, even as they display obvious technical prowess. It is also an inspiring declaration of youthful exuberance that simultaneously feels wise beyond its years. Forever reminds us that this why we're alive and this is why we listen to music.
Forever was released by Captured Tracks on September 3.
Tour Dates:
EUROPE
10/12 – Sweden – Stockholm – Debaser Strand
10/15 – Denmark – Copenhagen – Loppen
10/17 – Germany – Cologne – Stereo wonderland
10/18 – Luxembourg – Luxembourg – Exit07
10/19 – Belgium – Liege – Les Heures In-D @ caserne fonck
10/21 – UK – London – The Lexington
10/22 – UK – Manchester – Soup Kitchen
10/23 – UK – Bristol – Start the Bus
10/24 – Netherlands – Amsterdam – subbacultcha @ OT301
10/25 – Belgium – Brussels – Beursschouwburg
10/26 – France – Paris – Cite De La Musique
10/29 – Spain – Madrid – Sala Siroco
10/30 – Spain – Barcelona – Sidecar
11/01 – Italy – Milan – Ohibo club
11/02 – Italy – Padova – Movement @ Bastione Alicorno
11/03 – Switzerland – Lausanne – Le Romandie
11/04 – Germany – Munich – Strom Munich
11/06 – Germany – Berlin – Monarch
11/07 – Germany – Hamburg – Molotow
11/22 – Sweden – Gothenburg – Pustervik
11/23 – Norway – Oslo – Revolver
NORTH AMERICA
12/04 – Washington, DC – DC9
12/05 – Philadelphia, PA – Boot & Saddle
12/06 – Brooklyn, NY – 285 Kent Ave
12/07 – Montreal, QC – Il Motore
12/08 – Toronto, OM – The Garrison
12/09 – Detroit, MI – Magic Stick Lounge
12/10 – Chicago, IL – Schubas Tavern
12/11 – Minneapolis, MN – 7th St Entry
12/14 – Seattle, WA – Chop Suey
12/15 – Vancouver, BC – Electric Owl
12/16 – Portland, OR – Holocene
12/18 – San Francisco, CA – Bottom of the Hill
12/19 – Los Angeles, CA – Echo
12/20 – San Diego, CA – Soda Bar
12/21 – Santa Ana, CA – Constellation Room