Published on September 9th, 2013 in: Current Faves, Film Festivals, Movie Reviews, Movies, Reviews |
"Rich people design it; poor people build it."
—João in Brazilian Western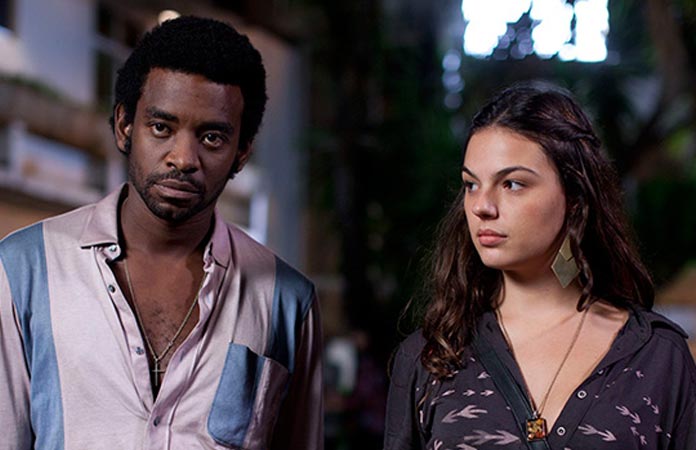 If you've heard the song "Faroeste Caboclo" by Legião Urbana, the storyline of Brazilian Western will be familiar to you. For those who haven't, it follows the song's same storyline: a poor young man named João moves to the city for a better life, becomes a drug dealer, and falls in love, only for his life to end in tragedy.
Revealing this information won't ruin your enjoyment of the film. From the opening scenes—which are very much in the style of a Western—we already know the ending is a sad one. Watching the events unfold is what makes Brazilian Western worth seeing.
"Faroeste Caboclo" was written in 1979 and released in the mid-'80s, the same time frame during which the film version takes place. This was also the time that Brazil was gradually being released from the shackles of a military dictatorship that had been in place since 1964. Additionally, during the 1980s, police corruption and brutality in Brazil was notoriously rampant, particularly with respect to the illegal drug trade. These factors play a big role in the film.
The disparity between wealth and poverty as well as the racism of the white majority against the black minority also play important roles in Brazilian Western. Although João (Fabrício Boliveira) is black and Maria Lúcia (Ísis Valverde) is white, they are not presented as archetypes representing their respective races or economic classes. What makes the movie compelling is that both characters are passionate, but flawed. João stretches the truth; Maria falls prey to hypocrisy. Both possess an idealism that their reality can never match, not because they don't deserve happiness, but because they have no other way out of their individual situations.
Revenge drives many of the actions in the film, some of which become more clear as it progresses, and as a deeper understanding of João's motivations are revealed in flashbacks. Director René Sampaio cleverly arranges these to feel naturalistic both within the narrative and the time flow of events. The film looks wonderfully organic, filled with warm tones and subdued lighting. Both Boliveira and Valverde are fantastic, bringing their characters to life with believability. Their chemistry together is palpable. It also makes their inevitable tragic endings that much more profound.
Brazilian Western recreates a specific time in history by presenting engaging characters to us that bring the events of that time into vivid focus. It forces us to confront the idea that people should not be reduced to a classification, but viewed as individuals with their own failings, desires, and dreams. It also reminds us that life can be, as Hobbes remarked in Leviathan, "solitary, poor, nasty, brutish, and short."
Brazilian Western makes its Toronto International Film Festival premiere on Tuesday, September 10. The film will also screen on Thursday, September 12 and Saturday, September 14. For showtimes, theater locations, and tickets, check the TIFF website.