Published on September 9th, 2013 in: Action Movies, Blu-Ray, Current Faves, DVD/Blu-Ray Reviews, Movie Reviews, Movies, Retrovirus, Reviews, Science Fiction |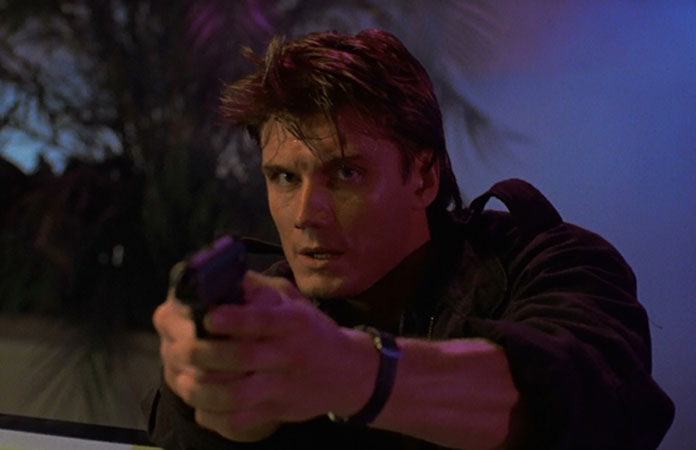 Just when I thought Scream Factory has outdone themselves, they have the balls to release Dark Angel (a.k.a. I Come In Peace). I honestly don't know where to begin with a film like this. First, it has Dolph Lundgren. Second, it has Dolph Lund . . . wait. It doesn't matter what else it has; this film is insanely badass.
Like I've said before, as a kid I would rent movies from our local video store about two or three times a week. I would usually ignore the new release wall, go straight to the horror and action sections, and spend an hour or so picking out flicks. My mother would actually leave me at the video store while she went grocery shopping to give me time to peruse the shelves for my latest tape. I can't recall the day I rented Dark Angel (I Come in Peace), but I do remember watching it. After viewing the film, I immediately became a fan of Lundgren and tried to watch his entire catalogue of films.
I Come in Peace has a very unique plot, granted it isn't genius or anything, but considering the other run of the mill action flicks that occurred around the same time, this film was unique. Lundgren plays Detective Jack Caine who is out to stop Victor Manning, the leader of a massive drug trade operation. Upon the death of Jack's partner, a new enemy comes into play but he isn't from this planet. This new enemy uses heroin against the people on earth to create a drug that is only found in the brain and Jack has to stop him. Deep? Not really. It might seem that way in that description but all in all it is pretty straightforward.
The transfer feels and looks a little different on this flick. Nothing bad at all, but it just seems like a 1080p VHS transfer, if that makes any sense whatsoever. When I first put it in, I got an instant movie boner. It looked like a souped-up VHS but with incredible sounding sounds coming out of my sound system. Sounds. I say this because once the enemy starts firing his hand cannon, you might flip your shit. Sounds.
The specials features are limited on this release but are still pretty sweet. This includes interviews with director Craig R. Baxley and actors Brian Benben and Dolph Lundgren. Nothing major, but cool nonetheless.
This is a film for fans of films like Split Second and The Hidden; if you enjoyed films like that, I can guarantee that this will be up there with them. Even if those films are not on your radar (they should be), I think any film fan will enjoy the hell out of I Come In Peace . . . or Dark Angel, whatever the hell you want to call it. It will always be I Come In Peace to me.
So get ready to have your face melted by Lundgren and enjoy a great piece of cinema.
I Come In Peace (Dark Angel) was released by Scream Factory on August 27.