Published on September 5th, 2013 in: Pro Wrestling, Sports |
By Paul Casey
"Fantasy is hardly an escape from reality. It's a way of understanding it."
—Lloyd Alexander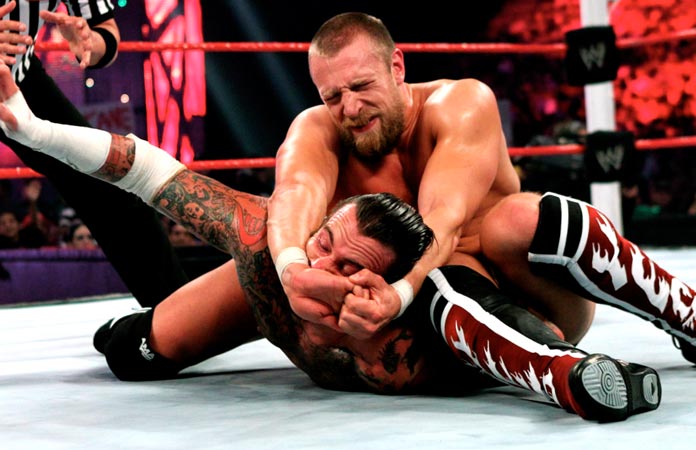 Daniel Bryan
If you've read any of my wrestling based writing over the last couple of years, you know that I believe professional wrestling/sports entertainment is as good as place as any for creativity. I am not a casual fan and have devoted many hours and dollaroos, and on occasion have even attempted to apply a figure-four leg-lock to humans and actually make it hurt (unfortunately impossible to do).
I am not a purist, either. I do not believe that all wrestling needs is a return to longer matches, or to adopt more elements from Mixed Martial Arts. Wrestling is not just what happens in the ring, and attempting to associate it with MMA in the hope of grabbing some additional realism kudos is foolish. Some of the best things about this strange business are those times when you mix some absurd comedy with extreme violence or when you get a character with enough charisma to make you remember that reality is not what you want.
A lot has happened in WWE over the last few months that show good progress is being made to establish a new identity for wrestling. The first is the success of Daniel Bryan. Daniel Bryan is one of the greatest wrestlers in the world but also a good measure shorter and lighter than WWE's usual. Consider how a man of Bryan's height and weight would fair in an MMA contest if matched up with someone a hundred pounds heavier and a foot taller, regardless of how well he can kick. In wrestling though, Bryan can match up with these people and win! He can win in such a way that displays his incredible physical ability.
Daniel Bryan is now one of the biggest attractions in wrestling. He headlined SummerSlam a few weeks back, and is the most important part on the weekly TV shows. He follows CM Punk—who also battled through a good measure of prejudice to secure his position as a permanent main eventer—as being another former Indie wrestling God to finally make the entire world aware of his skills. People like Daniel Bryan and CM Punk have changed the tone of WWE, but not just because of their wrestling style.
Wrestling allows Daniel Bryan to be a hero, in the same way that it allowed Hulk Hogan to be a hero. Every time Bryan defeats an opponent who towers over him, he defeats reality and reminds us why wrestling is not just a failed attempt at legitimate sports. In that way Daniel Bryan is just as unreal as Hulk Hogan or the Ultimate Warrior or any of the other huge stars who were not mat technicians. Wrestling is collaboration. Wrestling is improvisation. Wrestling is protecting your opponent, even while you make it look like you are breaking his neck. Wrestling is about making the absurd sublime. As long as WWE and wrestling in general is able to look at someone as talented as Daniel Bryan and say, "To hell with his size, he's too damn talented not to be a star," then we will continue to see wrestling at its best. For every person like Bryan who defies the standard and succeeds, the more varied talent pro-wrestling will attract.
As good as Bryan is, though, the most exciting part of recent WWE shows has been The Wyatt Family. When I talked about my frustration with wrestling not being able to cut loose from reality in how they deal with characters and do something truly different and strange, this is what I imagined. Sure, there is a connection to what CM Punk did with the Straight Edge Society, Undertaker's Ministry of Darkness and those vampire fellows in The Brood. The execution is unique, however, and in my estimation has resulted in some of the greatest video segments in the history of WWE. "We're here," and in comes the lamp. As powerful an entrance as has ever happened and full of the theatricality and flavor that has been missing for so long.
Bray Wyatt formerly known as ahem, Huskie Harris, is the son of Mike Rotunda (Irwin R. Schyster) and the nephew of Barry Windham. His talent in the ring has not yet been fully displayed but that is a side issue as to whether The Wyatt Family finds long term success. The Wyatt Family is something that can only really happen in wrestling. This is not just a character on the screen but one who can step down and interact with the audience. They have touched exactly the kind of areas that wrestling fans are least comfortable with: religion, belief in a higher power, Satan. If things continue to escalate as they have done, we may see The Wyatt Family entering that hallowed place of post-kayfabe (the protection of the illusion) characters able to provoke the audience in such a way that bypasses their knowledge of the fiction. This is a very good thing. For as much as WWE needed to be shaken from their apathy, so do the fans.