Published on September 4th, 2013 in: Music, Waxing Nostalgic |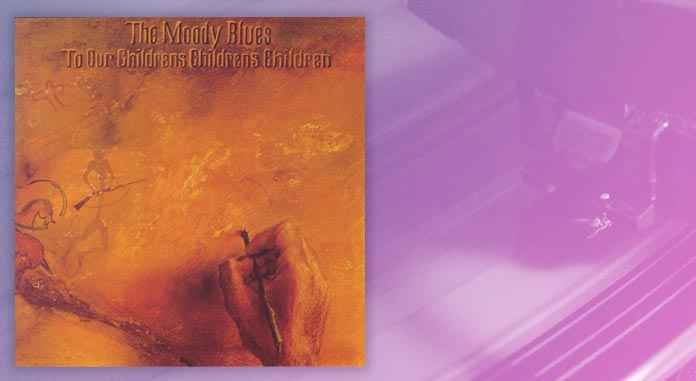 I can't remember the first song I ever heard. It seems like very few people would. I can remember the first song I remember hearing, but I know that's not the first song I ever actually heard. There's no way to divine the actual first piece of music I ever heard, but I can get close.
From what I'm able to gather, the first album my parents bought after I was born was To Our Children's Children's Children by The Moody Blues. That record came out in November of 1969. I came out in June.
The Moodies were a staple in our house. They played a strange style of progressive rock, mildly psychedelic, relying heavily on half-explored concepts and spoken word. Instead of churning out endless guitar solos, the Moody Blues created orchestral soundscapes, using an early synthesizer called the Mellotron. The music alternates between being soothing and having a dark, frightening tone. Angels one minute, demons the next.
Pretentious? You bet. Some of the poetry is horrible, ostentatious high-school drivel, replete with "o'er" and "ne'er." The choir-like harmonies drip with sweet self-indulgence. But I can't deny the effect their music had on me, theirs being some of the first music I've ever heard. When you grow up listening to progressive rock, it gets into your head and moves things around a little.
Case in point: "Eyes of a Child, Part I" (because you can't just write an entire song at the same time). Harps and acoustic guitars, snowflakes and dandelion puffs, tambourines. In the center of it, like a black hole, is a minor turn with oboes and a final low note that, with big enough speakers, will rattle the floors like a demon with diverticulitis. It sounds like a lullaby with a monster hidden inside.
Think of the Moody Blues as a gateway drug. One day you're listening to "Nights in White Satin," the next day you're buying the entire Jethro Tull catalog. You wind up on the streets, holding a sign that says, "Will work for Emerson, Lake & Palmer."
I knew all the words to "Eyes of a Child, Part I" without having to look them up, and I have not listened to it in years. It's in my brain. It lives there now. I guess it always has.