Published on September 3rd, 2013 in: Current Faves, Music, Music Reviews, New Music Tuesday |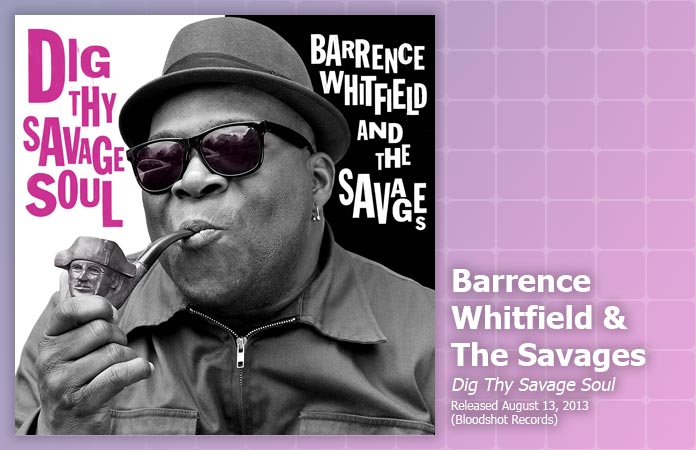 The legendary Barrence Whitfield cut a curious figure during Boston's college rock boom of the '80s. As the frontman for the Savages, Whitfield attracted a diverse audience with his raucous live shows. The man could rock a high noon set at a street fair like it was a tiny, sweaty juke joint, and his cover of "Stop Twistin' My Arm" lit up left-of-the-dial rock stations like WBCN. Sadly, no recording studio could quite represent Whitfield's talent and energy. The kindest thing one can say about the compressed, high-endy production on his previous albums is that he stayed away from synth charts and gated drums.
Whitfield's shows with the Savages won him the Best Live Act award from the Boston Phoenix, and he frequently embarked on well-attended tours of Europe. In the past fifteen years or so, though, he's remained more visible as a clerk at the Record Exchange in Salem, MA, than on the concert stage. With labels like Third Man, Dap-Tone, and Bloodshot releasing new material by R&B legends, an interest in new material from Whitfield seemed inevitable. And so it came to pass that the venerable Barrence Whitfield and the Savages would release Dig Thy Savage Soul, an all-new record, in 2013, showing listeners around the world how it's done.
Whitfield sings in an expressive, rough-around-the-edges baritone, with comically crisp diction and passionate glottal asides. His voice serves his material well, and his vibrant enthusiasm for the material overcomes his vocal imperfections. Though the album races out of the gate with the high-spirited "Corner Man" and rarely flags in energy, Whitfield is adept at editing his vocalisms and just selling the song. (I'd be curious to hear him have a go at a ballad.) On Dig Thy Savage Soul, he reunites with guitarist Peter Greenberg and bassist Phil Lenker, who appeared on many of the Savages' original records. The chemistry between these guys puts your grandparents' happy marriage to shame.
Dig Thy Savage Soul was recorded over an 18-hour period, which comes through in the band's urgency and pleasingly loose performances. The songs "read" as traditional 1950s R&B on a cursory listen. Much like your mom's chicken gumbo, though, a closer listen reveals some unexpectedly tasty ingredients. I loved how Lenker's basslines mirrored the Farfisa charts on many of the songs, which made them sound like the soundtrack to the best spy movie ever.
During the '80s and '90s Barrence Whitfield made the Boston music scene a little better with the sheer joy of his live performances. His comeback album sounds like running into the old friend you haven't thought of for years. Enjoy Dig Thy Savage Soul, and be sure and catch him when he comes to your town this fall.
Dig Thy Savage Soul was released on August 13 through Bloodshot Records and can be purchased from the label's website.
Tour Dates:
Sep 06: Cafe Nine; New Haven, CT
Sep 07: The Middle East; Cambridge, MA
Sep 10: The Loving Cup; Rochester, NY
Sep 12: Milk Boy; Philadelphia, PA
Sep 13: The Bell House; Brooklyn, NY
Sep 14: Websters Café; State College, PA
Sep 20: Motr Pub; Cincinnati, OH
Sep 21: Motr Pub; Cincinnati, OH
Sep 25: Blues Kitchen; London, United Kingdom
Sep 26: Blues Kitchen; London, United Kingdom
Sep 27: The Haunt; Brighton, United Kingdom
Sep 28: Garage; Bergen, Norway
Sep 29: dB's Studio; Utrecht, Netherlands
Oct 02: Fleche D'Or; Paris, France
Oct 04: LE ROCHER DE PALMER; Cenon, France
Oct 05: L'Etage; Rennes, France
Oct 11: La Rodia; Besancon, France
Oct 12: Le Poste à Galène; Marseille, France
Oct 13: Secrete Place Montpellier, France
Oct 15: Los Picos Whisky Bar; El Mercadillo, Spain
Oct 16: Cigarreras; Alicante, Spain
Oct 17: Loco Club; Valencia, Spain
Oct 19: Ficoba; Irún, Spain
Oct 20: ShowCase Time; Pau, France
Oct 21: Connexion Café; Toulouse, France
Oct 23: Hiroshima Mon Amour; Turin, Italy
Oct 24: SinisterNoise; Rome, Italy
Oct 25: Locomotiv; Bologna, Italy
Oct 26: bloom; Mezzago Monza E Brianza, Italy
Nov 14: Tip Top; Grand Rapids, MI
Nov 15: Mayne Stage; Chicago, IL
Nov 16: Wood House Concerts; Clayton, MO