Published on August 31st, 2013 in: Culture Shock, Current Faves, Music, Music Reviews, Retrovirus, Reviews, Underground/Cult |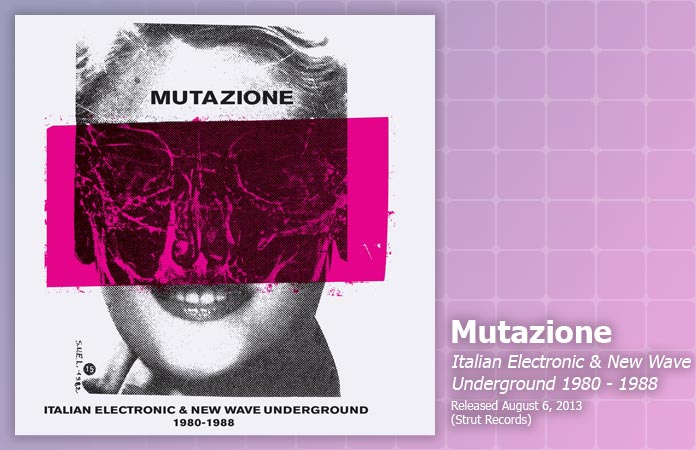 For those of us who still listen to much of the same post-punk music we listened to in the '80s, discovering new bands from that time is as exciting as hearing those new bands who are obviously influenced by those same sounds. The recent release of Mutazione by Strut Records is cause for celebration. Mutazione is a fabulous, two-disc compilation with 26 tracks of Italian post-punk music from 1980 – 1988. The arrangement of the songs is superb, like an excellent mixtape made by a music-savvy friend. For that we can thank Alessio Natalizia of Walls, who curated the collection.
Many of the stylistic characteristics of the music I loved in my teens are found here: repetitive beats, minimalist textures, synthesizers, drum machines, staccato vocals, and unusual song structures, such as musical motifs and melodies serving as wordless bridges and choruses. One will be able to recognize the influence of more familiar bands on the artists represented here, but all of these musicians are distinctive enough for any criticisms about blatant rip-offs to be wholly unwarranted.
You'll hear traces of Yello and The Fall in Neon's "Informations of Death," while Gaznevada's "Going Underground" feels a bit like The Nails. Both "Jacho's Story" (2 + 2 = 5) and "Waiting For September" (Suicide Dada) are reminiscent of Gang Of Four, but in different ways. There's some Siouxsie in Giovanotti Mondani Meccanici's "Back and Forth" as well as "Please" by Rats. The anti-music qualities of "1984 – 1985" from L'Ultimo Arcano shares the dissonance of some of Coil's work. Severed Heads' tendency to mix electronica with samples is present in La Maison's "Critical Situation" and the spacey, free form "Against The Odds" by A.T.R.O.X. provides the same off-kilter pleasure of Richard Bone. When listening to La 1919's "Senza Tregua," it's difficult not to think of Bauhaus. "Romero's Living Dead" by Spirocheta Pergoli has a similar effect, even as it veers into early Sonic Youth-style walls of pure noise.
Reading the excellent liner notes from music journalists Andrea Pomini and Alberto Campo, it quickly becomes clear that a spirit of rebelliousness and experimentation, particularly from a political point of view, is a unifying thread through much of the music on Mutazione. This forward-thinking mentality is manifest in the art collective TRAX, which included artists throughout Europe, as well a squat known as Traum Fabrik which originated in Bologna and was inspired by Andy Warhol's Factory. Performance art aesthetics and multimedia sensibilities are also common among these artists. The use of both new technology and the reconfiguration of current or old technology are often found side by side within the same bands, which gives much of the music a retro but still fresh—or even futuristic—quality.
The selections on Disc 1 are especially memorable, even when the music is at its most minimalist. While every song is great, "Maritime Tatami" by Victrola is a wonderful discovery. The deadpan vocals contrasted against shimmery synths and heavy basslines would have blown my mind had I heard it back in 1983, and it certainly does so now in 2013. Baciambartali and Winter Light's "Kill Myself 2" is another standout, one that possesses the same daring spirit of Tones on Tail's earliest tracks.
While the second disc is more diverse and ultimately more challenging, it's still full of amazing music, particularly "Deep Skanner" by La Bambola Del Dr Caligari. The sultry music and vocals are quite unlike anything else on the compilation.
If you have even a passing interest in post-punk, new wave, experimental and/or electronic music from this time period, Mutazione is a must. These two discs will demand repeated listening and before long, you'll be scanning the Internet for more music from these remarkable bands.
Mutazione: Italian Electronic & New Wave Underground 1980 – 1988 was released by Strut Records on August 6, 2013 and can be purchased on Amazon.