Published on August 31st, 2013 in: Current Faves, Music, Music Reviews, Reviews |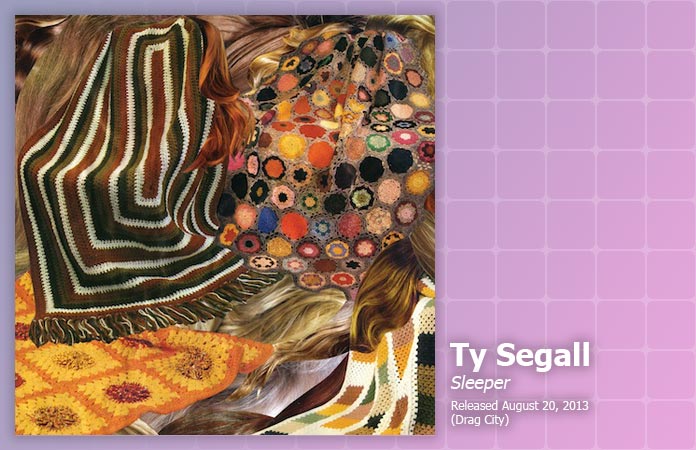 Ty Segall's music frequently shreds, so one wonders what the contingent of stage divers at his shows must think of his newest release Sleeper. Perhaps it's the sonic antithesis to Fuzz, the upcoming project from Segall, guitarist Charlie Moothart, and bassist Roland Cosio, whose name describes the band accurately. Sleeper is mostly acoustic, but "Ty Segall Unplugged" it is not. There are amps and distortion, although both are kept to a minimum.
It may take a few listens to acclimate your ears to the softer side of Ty Segall, but once you've adjusted to Sleeper, there's much to appreciate. A good song creates music where there is none, and both "The Keepers" and "Crazy" have bits where the vibrations between the notes take on a life of their own.
The John Lennon/Ty Segall comparison aren't going to go away anytime soon after a song like "She Don't Care," with its beautiful harmonies and almost orchestral feeling. Both this and the title track benefit from what sounds like a violin, but it's subtle enough not to transform the songs into something akin to Mumford and Sons.
It wouldn't be a Ty Segall album if it didn't have his lovely harmonies on it, and Sleeper is full of them. The vocal back ups in "what you gonna do?" in "6th Street" give the goosebumps, while "Come Outside" features a harmonic line whose exquisite quality is intensified by the fact that it only appears twice.
Both "Come Outside" and "The Man Man" could be easily translated into something heavier and louder. The former features a good, meaty bass line and bongo drums, while the latter incorporates some restrained fuzz guitar at the end. Both are perfect examples of how good Ty Segall is at being himself. The "ooooooh so long" chorus is a case in point. And if you're looking for his familiar falsetto, it's all over Sleeper.
While Segall has a style of his own, it's hard not to notice the Tyrannosaurus Rex qualities in the chorus of "Crazy" or the T. Rexitude in the catchy stomp of "Sweet C.C." There is a Led Zeppelin III feel to the riffs in "The West," even though overall, it sounds like a traditional American campfire song to which everyone knows the words but no one recalls the original singer.
It might not make you want to start a pit, but Sleeper is a very good album regardless. If "Gold On The Shore" from last year's Twins didn't convince everyone already, Sleeper proves that Ty Segall is not merely guitars turned up to eleven, but a damn fine songwriter.
Sleeper was released by Drag City on August 20 and is available from the label's website.
Tour Dates:
Sat. Aug. 31 – Chicago, IL @ Logan Square Auditorium w/ Axis: Sova, Running
Mon. Sep. 2 –San Francisco, CA @ Great American Music Hall w/ Mike Donovan
Wed. Sep. 4 – Big Sur, CA @ Fernwood Tavern w/ Mike Donovan
Thu. Sep. 5 – Oakland, CA @ New Parish w/ Mike Donovan
Fr. Sep. 6 – Portland, OR @ MusicFest NorthWest (Ash Street Saloon)
Sat. Sep. 7 – Seattle, WA @ Neumo's w/ Mike Donovan
Sun. Sep. 8 – Boise, ID @ Neurolux w/ Mike Donovan
Mon. Sep. 9 – Reno, NV @ Holland Project w/ Mike Donovan
Sun. Dec. 1 – Camber Sands, UK @ All Tomorrow's Parties Festival