Published on August 29th, 2013 in: Art, Canadian Content, Cartoons, Comics, Concert Reviews, Conventions/Expos, Gaming, Horror, Movies, Music, Science Fiction, Toys and Collectibles, TV, Underground/Cult |
Another year of FanExpo Canada has come and gone. As usual, the four-day event was jam-packed with people and panels, photo ops and paraphernalia. With so many things happening and so many attendees, there are bound to be a multiplicity of experiences. Here are mine.
Day One: Thursday, August 22
The doors opened at 2:00 p.m. and as usual, there was already a line-up. I don't like to brag, but I enjoy being able to go through the Media entrance and not wait in the lines outside. Although, never fear, non-media folks: I still have to wait in a line to get onto the exhibition floor like the rest of you. (I do think it would be nice if media got to go in about an hour before the show opens, just to prepare for photos and video shoots.)
This year, due to the addition of the Sports segment and the expected increase in attendance, FanExpo took up multiple floors in both the South and North buildings. This meant a bit more walking across the bridge between buildings, but it also made for less cramped conditions (at least on Thursday, Friday, and Sunday; I didn't attend Saturday).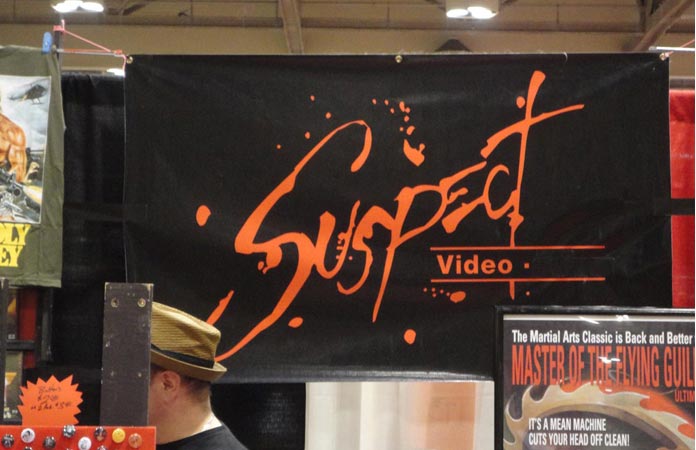 Unfortunately, an overall decrease in DVD sales and the expense of maintaining a brick-and-mortar location meant that My Big Fat Independent Video Store was not around this year, having shuttered their doors last December. However, Suspect Video was there with DVDs, magazines, pins, T-shirts, and other horror swag. Plus, they're always fun to chat with. I learned about Prometheus: The Giftbearer Edition, which is a fan edit of the film that incorporated deleted scenes and recut the entire movie. As much as I love the original Prometheus, I am intrigued.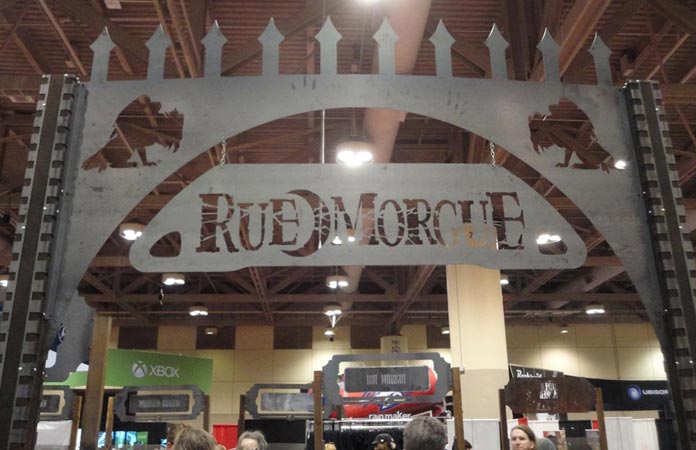 Right across from Suspect was the stunning Rue Morgue Festival of Fear section, with a giant banner hanging from the ceiling and a gorgeous series of cemetery-style archways denoting the different special guests. Goodbye table with copies of Rue Morgue magazine; hello bookshelves!
Possibly the most exciting thing to happen? I got to meet a fellow Fannibal! I saw Hailey's flower crown and I had to ask her what character she was portraying. And of course, she said, "Will Graham." She looked great and I have the photo to prove it.
While checking out the TIFF booth, I met the fun and friendly Aaron, who was promoting the upcoming David Cronenberg Project multimedia exhibit. He not only gave me a card that was good for a discount on admission, but also a bunch of cool buttons, including one that says LONG LIVE THE NEW FLESH. This has a double meaning for me. It's both the tag line for Cronenberg's Videodrome and a line from Wiseblood's song "0-0 (Where Evil Dwells)," which is about killer Ricky Kasso.
I also met Adele, who told me all about the upcoming Toronto After Dark Film Festival. This year, there will be screenings in advance of the official festival program (which runs from October 17 – 25 at the Scotiabank Theatre). The first of these pre-festival spotlights will be a screening of Bad Milo on August 29 (it premiered at the Karlovy Vary Film Festival in June).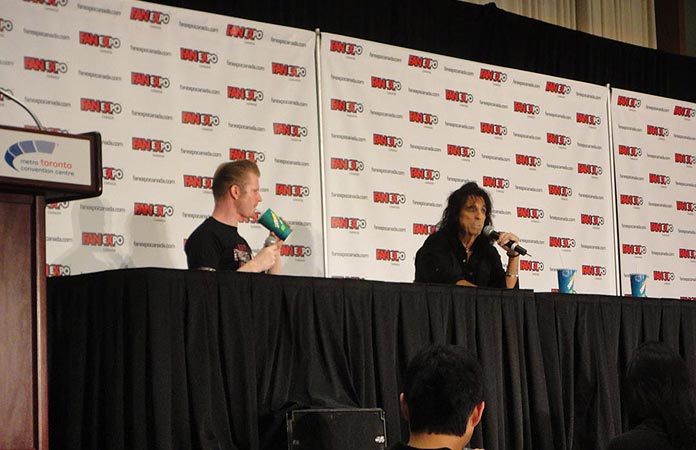 After a few hours of wandering around, checking out the sights, and talking to people, it was time for my first panel, The Godfather of Shock Rock with Alice Cooper. Moderated by Rue Morgue's Aaron Von Lupton, an obvious die-hard fan of Alice, it was a most enjoyable hour. Alice Cooper is a terrific storyteller and not shy about discussing his career, both the lows and the highs. I could have sat there for another hour and listened to more stories. My two favorite things he said, and trust me, they're still funny out of context:
"Who brings a chicken to a concert?"
Quoting Bob Ezrin: "You gotta be dumber than that to get on the radio."
At 8:15, I attended Ghoulish Gary Pullin's Horror Artists' Workshop. Gary had a cool visual presentation that showcased not only his own art, but his inspirations and advice for improving your art and breaking into the business. He provided examples of what NOT to do (the poster for Urban Legend is a no-no) and took questions afterwards, where we learned even more cool stuff. I would love to see a panel featuring Gary and other horror artists in the future.
If you saw Transformers Hot Rod and Arcee wandering around the convention floor, you were probably one of the dozens who stopped and asked them if you could take a photo. They were there repping Nerd Noise Night and their contribution to the evening, The Cybertronic Spree, a band who plays the original soundtrack to the 1986 animated Transformers movie. (Nerd Noise Night also included Nerds With Guitars, Brentalfloss, More Or Les, Wordburglar, and Coins, but more on that later.)
Day Two: Friday, August 23
I won't lie. It was rough getting up early in the morning and as a result I missed the Q&A with Don Coscarelli. Fortunately, he was signing at the Rue Morgue booth, reminding me that he directed a movie I've likely seen 50 times: The Beastmaster. (If you've seen it, you know why. If you haven't, please go find it ASAP.)
I did, however, catch the EP Daily panel. Maybe I'm biased since these folks are my friends, but it was a good overview of the current state of the gaming industry and where it's headed. I'm not a gamer, but it's clear that movies and TV are traveling along similar trajectories in terms of how they are made and consumed, particularly in terms of social media and transmedia.
While walking around I managed to meet another Fannibal named Jill. Unfortunately I was so excited that my photo of her was a bit blurry. Sorry Jill!
Rue Morgue's Gore-Met was presenting a screening of the werewolf/Dr. Jekyll and Mr. Hyde classic called (what else?) Dr. Jekyll y El Hombre Lobo. It is one of actor Paul Naschy's MANY portrayals of a werewolf.
I should try and get a copy of this movie one day so I can do a proper review, but here's a quick rundown. Dr. Jekyll y El Hombre Lobo veers from straight-up '70s Euro-Gothic horror into Ilsa She Wolf of the SS territory, only without actual Nazis. It's also a feast for fashionistas, especially Waldermar's turtlenecks and blazers (rendering Naschy a dead ringer for Abe on Mad Men) and his uber-Goth Dr. Jekyll ensemble. I also must mention the character of Justine, portrayed by Shirley Corrigan as Tilda Swinton doing David Bowie cosplay. Watching this movie was the only logical way to cap off my day.
Day Three: Saturday, August 24
Although I didn't attend FanExpo that day (far too crowded), I did attend Nerd Noise Night. I don't even know how to describe it except for BEYOND YOUR WILDEST IMAGINATION. Nerds With Guitars and Brentalfloss kicked things off (and the place was already full) and then More Or Les and DJ Peter Project hit the stage for raps about Doctor Who. I don't even know much about Doctor Who and it was impressive. Wordburglar (with More Or Les as his DJ) introduced a new song, "Rap Viper," which featured Cobra Commander as his hype man. Cobra Commander later passed out prizes to the audience. At this point, it was announced that Nerd Noise Night had completely sold out. Later this was confirmed by people telling us they were turned away at the door.
If you've never seen a giant robot play dance music, then you've never seen COINS. He played a seamless set of his own creations from behind a lighted sign with his name on it.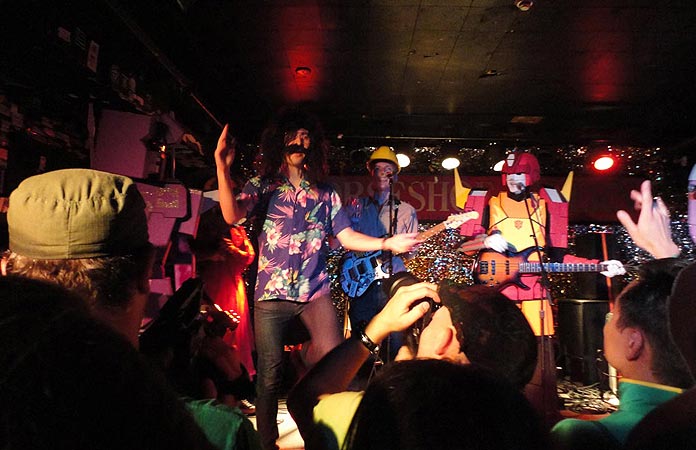 Then it was time for The Cybertronic Spree, who were introduced by Billy "The Rocketeer" Campbell. Each member came on the stage to insane amounts of applause and screaming from the audience, but even so, we weren't prepared for how fantastic they sounded. "You Got The Touch" was first, segueing directly into The Transformers theme song, then "Instruments of Destruction" featuring Iron Maiden-style vocals from Arcee. "Nothing's Gonna Stand In Our Way'" was next and believe me, you haven't lived until you've seen Unicron shred on guitar. They were joined by a Quintesson for the rest of the set, which included "Autobot/Decepticon Battle" and "Hunger," my personal favorite. If that wasn't enough, someone called Strange Albert joined them for a rousing rendition of "Dare To Be Stupid." My voice hurt from shouting the lyrics and my arms hurt from fist pumping.
Day Four: Sunday, August 25
Being up until 3 a.m. rocking out is not conducive to waking up early enough to see The Walking Dead cast panel, but neither are buses that run a half hour late. Due to this, I also missed the #1 Reason Why Women in Gaming panel. This displeased me greatly. However, I did finally figure out that it was J.P. Manoux and not Jim Rash who was attending FanExpo as a Cartoon Voice Actor guest.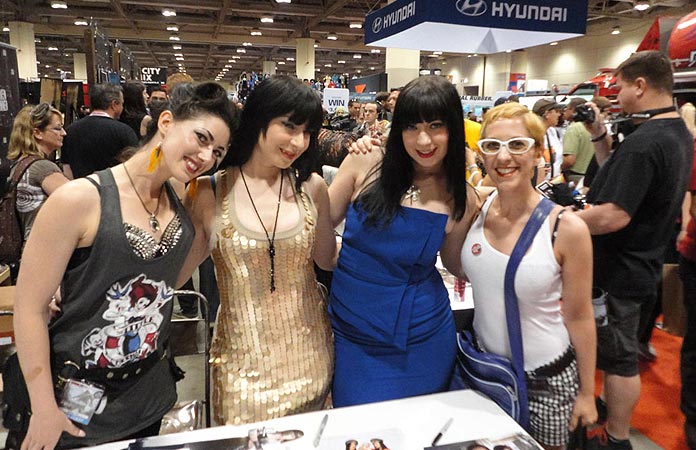 Although I was late, I wasn't too late to meet Tristan Risk and Jen and Sylvia Soska at the Rue Morgue booth, where they signed my American Mary Blu-Ray and posed for a photo. Trust me, these ladies are even cooler in real life. They are so genuinely happy to meet and chat with their fans. It's impressive, especially in a world full of folks who can't be bothered.
Although Manborg director Steve Kostanski wasn't at FanExpo that day, I did pick up a copy of the Manborg comic and got it signed by artist Matthew Therrien. (I'm not even going to insult you by asking if you've seen Manborg. I'll just assume that you're cool enough that you would respond in the affirmative, or to quote Manborg, "AW YEAH!")
I also checked out Artists' Alley, where I saw quite a bit of Fannibal art. I've mentioned this on Twitter, Tumblr, and Facebook, but I'll say it again. Considering the show is filmed in Toronto and has such a massive following, the lack of any Hannibal presence by NBC affiliate City is a real bummer. I know that the DVD/Blu-Ray of Season 1 isn't out until September, but there definitely should have been someone there with some kind of cool giveaways.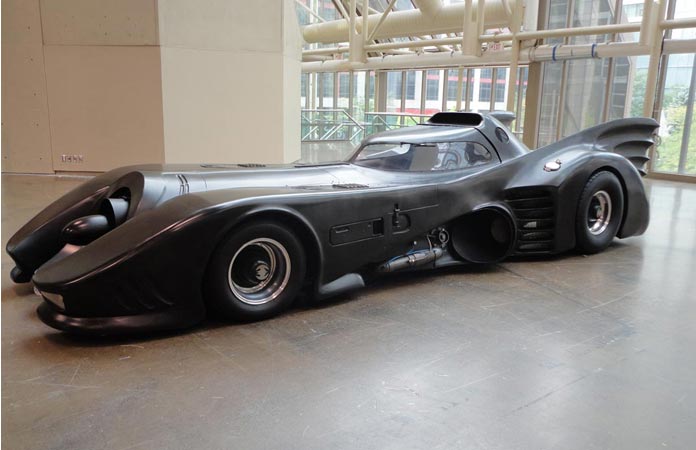 Where does the time go? Lots of walking, talking, and taking photos. I'm so pleased that both Rue Morgue and Toronto After Dark had women's small T-shirts available. I'm also grateful that there was free WiFi available and I had great cell phone reception. Finally, I consider myself lucky to have witnessed two KITTs and a Batmobile drive away at the end of the day.
See you all next year!
For more photos from FanExpo Canada 2013, click on the thumbnails below.