Published on August 27th, 2013 in: Current Faves, Music, Music Reviews, New Music Tuesday, Reviews |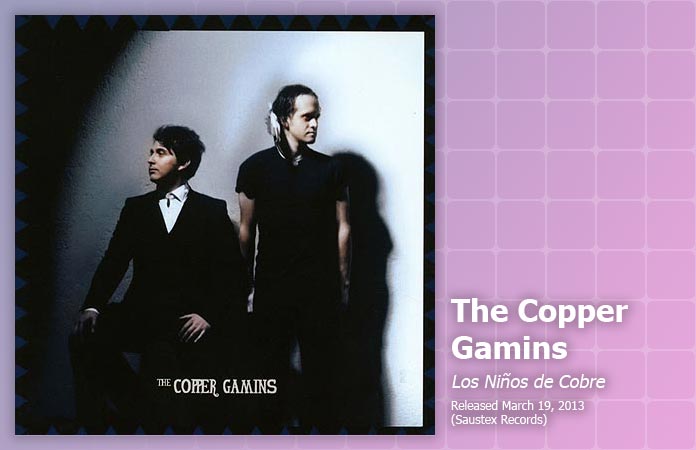 Critics sometimes use the phrase "more fun to talk about than to listen to" when describing an album that plays with new ideas and approaches to music. The inverse—that an album is more fun to listen to than to review or discuss—doesn't come up as frequently. Los Niños de Cobre is an album that would live up to the inverse of that phrase. The qualities that make it compulsively listenable—its straightforward simplicity and the band members' passion and skill—also make it an elusive subject for review. The Copper Gamins have created an album that makes an ideal soundtrack to long walks in the early-morning magic hour and humid, sleepless nights. When I listen to it, I feel as though I'm under a spell, but finding words to match the shimmering music on this disc is like chasing balls of mercury with my bare hands.
At first glance, The Copper Gamins might seem like another neo-blues outfit in the style of The Black Keys or White Stripes. All three bands feature only two members, have similar names, and perform songs that recall early blues efforts. While both The Black Keys and The Copper Gamins write the kinds of percussive riffs that stick in your head for days, the Gamins' vulnerable lyrics and singer Jose Carmen's trembling vocals contrast with Dan Auerbach's sinewy approach to the blues. Likewise, the skilled, unfussy drumming of Claus Lafania sets the Gamins apart from the White Stripes' busy beats.
The duo instead takes a classic approach to songwriting and recording that suggests they skipped right past Led Zeppelin and went straight to 78s by Son House and Robert Johnson. Carmen and Lafania have an eerie, intuitive chemistry that you can hear in their riffs and in the interplay between the vocals and guitar. Their songs open with Carmen's guitar sliding around Lafania's steady beat and curlicuing through the silences like ivy. Many of the songs play with the loud/quiet/loud dynamic in interesting ways, making the choruses quiet and the verses loud, for example, or amplifying parts of the songs that slow down.
Production on Los Niños de Cobre has an eclectic bent, ranging from muddled four-track recordings to more polished sounds that give the band a demystifying sense of clarity. The low-fi cuts work better since they balance the sound and keep the band from getting too high-endy. Because the production values have an inconsistent quality, the album sometimes sounds more like a greatest-hits compilation than a statement of purpose from a rising band.
The fluctuation in production qualities also emphasizes Carmen's songwriting formula, which focuses more on rhythm than on melody. The Copper Gamins' rhythms are intoxicating, and the unexpected way they play with the beat sounds less like sex than like kissing. Towards the tail end of the disc, though, the songs do start to run together. I'd love to hear a follow-up in which Carmen and Lafania balance their nimble abilities with riffs, rhythms, and lyrics with a stronger melodic skill.
The 17 songs on Los Niños de Cobre provide an intriguing appetizer, and I for one can't wait to hear their next course.
Los Niños de Cobre was released by Saustex Records on March 19 and is available on the label's website.
Tour Dates:
Oct 7: Harlow's Restaurant and Nightclub; Sacramento,
Oct 10: Various Venues in LA; Los Angeles, CA
Oct 13: South Moe's; Englewood, CO
Oct 21: Tremont Music Hall; Charlotte, NC
Oct 23: The Orpheum; Tampa, FL
Oct 24: Rehab; Tallahassee, FL
Oct 29: Club Dada; Dallas, TX