Published on August 26th, 2013 in: Current Faves, Music, Music Reviews, Retrovirus, Reviews |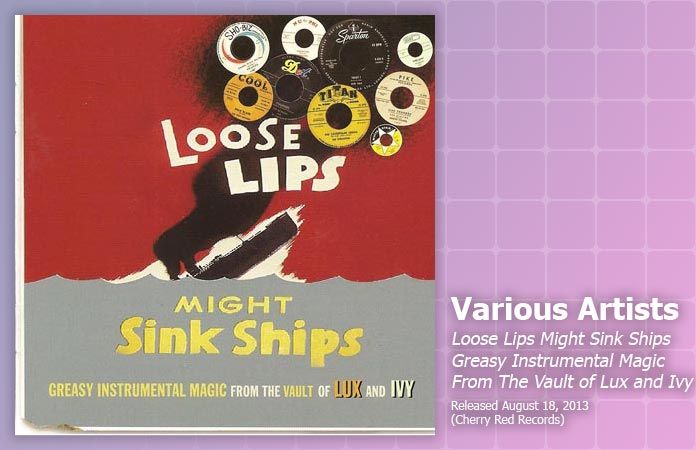 If you were to give Quentin Tarantino a copy of Loose Lips Might Sink Ships—Greasy Instrumental Magic From The Vault Of Lux And Ivy, he could probably pull a movie out of it, or the soundtrack to one at the very least. It's a tidy, brief collection of pockets of unheralded instrumental awesome, and it may as well have been subtitled "All your guitar vs. sax needs are covered here." Like it says on the tin, these are tracks culled from Lux Interior's Purple Knife Show and they cover the gamut of early rock with twangy guitars, dirty sax, and surfy beats.
You can hear the early inspirations for the Cramps here, too (Lux and Ivy, of course, being the only permanent members of the Cramps, for all you young folk out there). "Moon Dawg" by The Gamblers could be proto-Cramps, all surftastic and vaguely harmonious "aahhs" (that peter out a bit in the end) over howling. Literally, howling. So too, could "Road Block" from The Teen Rockers, a band name that gets right to the point. It's garage-y, with a drummer that POUNDS along, limited by his kit, but giving it hell just the same.
Excellent band names abound here. Link Wray and the Wraymen turn in the tambourine-punctuated and rocking "Comanche," replete with distorted guitar. The Vi-Kings with "Desert Boots" have neat stop-on-a-dime breaks with their trio of guitar, piano, and sax. The winners of the best-named band, however, would have to be Ron Thompson His Rowdy Guitar And The Brougham's. Ron Thompson does have a rowdy guitar, and it is punctuated by screams and chugging sax.
"March Slaw Boogie" by Homer Denison, Jr. is a treat; boogie woogie piano overcut by eerie Hammond organ and a weird, cracking whip percussion. The Duals take it one further with sound effects and put real engine noise into "Stick Shift." Buy a muffler, young man! The propulsive surf beat is complemented by a delightfully crisp guitar sound and keen production. Not to be outdone, "Like Thunder" from The Rialtos has thunder FX over skittering rockabilly guitar, and the thunder does make it more memorable.
The Gee-Cees' perfect dance song "Buzzsaw Twist" features a very young Glen Campbell on wild lead guitar and a brass-heavy stomp. "Camel Walk" from The Saxons has bizarre, spoken-word interjections (why not make up a language in the studio?) and a driving rhythm. "Pick Up" by the Corvettes uses one-liners too, along with pounding piano and downright naughty sax.
It's not all obscure. Duane Eddy's "Ramrod" is loaded with twangy guitar and wild yips. Johnny And The Hurricanes' "Sheba" is a marriage of surf and Middle Eastern influences. Dreamy organ + furiously energetic beat = wildly excellent.
A bit of a departure is "Topsy Part One and Two." Cozy Cole's masterful drumming gave him a #1 Cashbox hit with "Topsy Part One." Tight and clocking in at nearly seven minutes, it seems out of place on this compilation since everything else is loose, but it is magnificent. It is as perfect a piece of music as there can be, with furious drumming and breaks for each instrument (clarinet, brass) to shine. "Topsy Part 2" with its organ and sighing horns might be my favorite.
I want to send a copy of Loose Lips Might Sink Ships—Greasy Instrumental Magic From The Vault Of Lux And Ivy to all my musically inclined friends. It is pure, giddy delight from beginning to end. These musical gems need to be heard. They need to be heard by you, your friends, and possibly Quentin Tarantino.
Loose Lips Might Sink Ships was released on Righteous Psalms through Cherry Red Records on August 19, 2013 and is available from the label's website.