Published on August 21st, 2013 in: Art, Canadian Content, Cartoons, Conventions/Expos, Feminism, Gaming, Listicles, Movies, Music, Upcoming Events |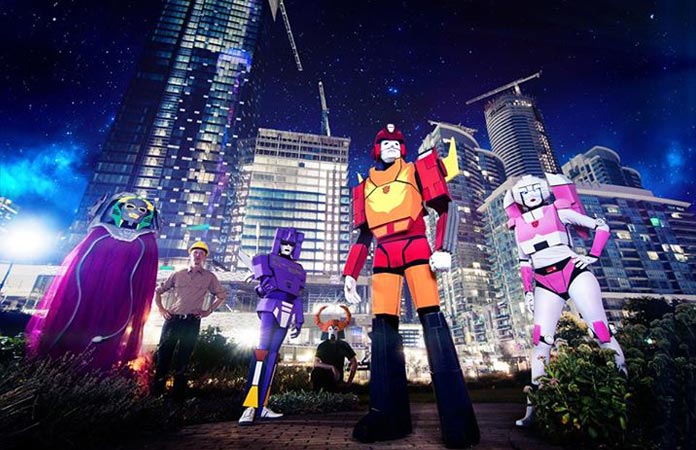 The Cybertronic Spree
Photo © Paul Hillier Photography
FanExpo Canada 2013 runs from Thursday, August 22 through Sunday, August 25 this year. The annual four-day event is crammed with stuff to do and see across multiple fandoms, like anime, comics, gaming, horror, science fiction, and now, sports. It can be a little overwhelming to plan out your days.
My favorite part of FanExpo is always Rue Morgue's Festival of Fear, but with so much to choose from, there's always a bit of crossover. I've come up with my Top Ten Picks of this year's FanExpo, which I think will satisfy all of your fandom-related urges.
For the last two years, FanExpo has been expanded to include Thursday. It's traditionally a somewhat "slower" day, but that doesn't mean it's boring. The doors open at 2:00 p.m., giving you a chance to orient yourself, figure out where everything is, and check out some of the booths. It's a good time to visit Rue Morgue, Suspect Video, and My Big Fat Independent Movie Store, but it probably won't be the last time. The folks that run these booths are fun to talk to and there are always conversations with other fans you can jump into if you're feeling chatty (I admit, I do this).
After a few hours of that, you can gear up for the first on my list, The Godfather Of Shock Rock: Alice Cooper (Thursday, 6:30 p.m., Room 105). Honestly, if I have to explain why Alice Cooper is cool, then we're going to be here a long time. If you've always wanted to know why Alice is considered a big deal, this is a great way to educate yourself.
Next on the list is the Horror Artists Workshop with Ghoulish Gary Pullin (Thursday, 8:15 p.m., Room 703). You've seen Ghoulish Gary's artwork on Rue Morgue for years and now you'll have the chance to get some tips from one of the most talented horror artists around (and a super nice guy).
You'll have to get up early on Friday, if you want to catch the Q & A with filmmaker Don Coscarelli (Friday, 11:30 a.m., Room 701B). Mr. Coscarelli has brought us great movies like Phantasm, Phantasm II (screening Saturday night at TIFF Bell Lightbox), Bubba Ho-Tep, and more recently, the awesome John Dies At The End (which I reviewed on Popshifter earlier this year).
Saturday is always the most crowded and crazy of all, which is why there are no fewer than five must-see events this year. An Hour with the Twisted Twins (Saturday, 11:00 a.m., Room 701A) should wake you right up. These two ladies not only make two killer movies (Dead Hooker in a Trunk, American Mary, the upcoming See No Evil 2 and The ABCs of Death 2), they are ridiculously smart, funny, and genuine. If you can't get up this early, you have the chance to see the Twins in action again at 12:30 p.m. at the Femme Fatales: The Women of the Genre panel (Room 713). They'll be joined by Jennifer Biehn, Alyssa Lobit, and Patricia Chica, on a panel moderated by Rue Morgue's April Snellings.
That brings us to the biggest "problem" at FanExpo: schedule conflicts. If you want to see the Femme Fatales panel, you'll miss The Sound of Splatter with Maurizio Guarini (Saturday, 12:45 p.m., Room 715). Yes, THE Maurizio Guarini of Goblin, the legendary Italian prog rock band who've scored so many of Dario Argento's films, not the least of which is Suspiria. (Don't forget that Goblin will be performing a rare show in Toronto on Friday, October 11 at the Opera House.)
If you've been reading Popshifter for the last year, you probably already know about The Black Museum, a lecture series on horror and cult films. The Black Museum's third season starts later this fall but FanExpo attendees won't have to wait that long to enjoy A Cultural History of the Zombie (Saturday, 3:45 p.m., Room 715). A sneak peek of the syllabus for this fall's classes will also be presented, and I'll think you'll be pleased.
If you've ever wanted more Canadian Horror films in your life, even the ones that don't actually exist, then be sure to visit If They Came From Within: An Alternative History of Canadian Horror (Saturday, 5:00 p.m., Room 701A). This gallery of amazing movie posters for movies that were never made includes contributions from Rue Morgue's Dave Alexander, Astron 6, Brandon Cronenberg, Vincenzo Natali, Rodrigo Gudino, The Soska Sisters, Jason Eisener, and more. "If They Came From Within" opened at Steam Whistle Brewing on Wednesday, August 7 and runs through the end of the month. Best of all, it's within walking distance of the convention center and admission is free! For a list of all the amazing filmmakers and artists who participated, check out Rue Morgue, who have shared images of some of the posters.
I know it's been a long day and you're tired, but you can't give up yet. The third annual Nerd Noise Night will take place at 9:00 p.m. at The Legendary Horseshoe Tavern. This year is bigger and better than ever, including performances from Brentalfloss, Wordburglar, More or Les, Coins, Nerds With Guitars, and The Cybertronic Spree, a band of Transformers who will be performing the soundtrack to the 1986 animated film in its entirety, and all for $10. And there are lots and lots of giveaways. Yes, this is actually happening and no, you don't want to miss it.
Sunday is the day we must sadly say goodbye to FanExpo until next year, but don't fret. The Cast of The Walking Dead—Laurie Holden, Norman Reedus, Michael Rooker, and Stephen Yuen—will be there to ease your pain (11:00 a.m., Sunday, Room 105).
I confess I'm not a gamer, but I am a feminist, and that's why I'll be attending the #1ReasonWhy: Women in Gaming Panel (Sunday, 12:45 p.m., Room 705). Moderated by the awesome Soha El-Sabaawi (@pixiemania), this panel will examine why the gaming industry is so sexist and what we can do to change things.
For a full list of schedules and floor plans, visit the FanExpo Canada website. Be sure to check out the Facebook page for updates. See you at FanExpo!