Published on August 16th, 2013 in: Current Faves, Documentaries, Movie Reviews, Movies, Music, Reviews |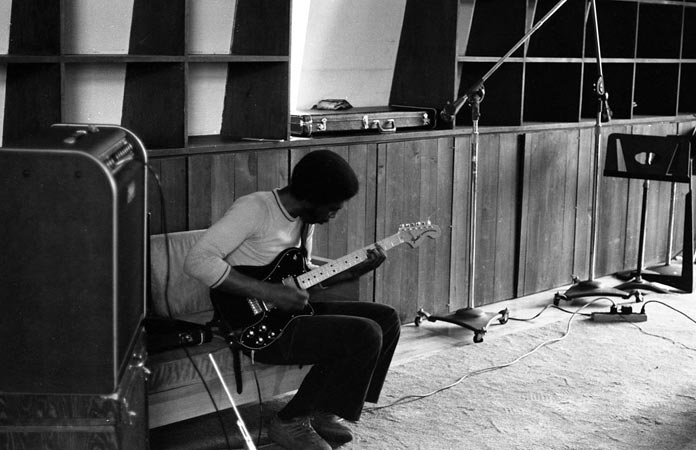 In an article on Film School Rejects, Scott Beggs points out the similarities between A Band Called Death and other recent music documentaries.
He notes that the trajectory of this film is similar to that of Searching For Sugar Man and Anvil! The Story of Anvil. Watching A Band Called Death, I was reminded of both Bad Brains: A Band In DC and also Nothing Can Hurt Me, the film about Big Star. The trajectory—unknown band, their individual and collective obstacles to fame, and their posthumous rediscovery and appreciation—is one that's repeated in all of these films.
This is not to say that any of these films are formulaic or that music documentaries are repetitive. As Beggs argues, it just means that our preconceived notions of music history might be skewed.
And so it is with A Band Called Death. At first blush, it seems impossible that it was only in the last ten years that this band got worldwide attention. Three teenaged African-American brothers from Detroit, influenced by The Who and Alice Cooper (among others), playing loud and tight proto-punk rock & roll in the early 1970s—it almost sounds like it sprung from the imagination of a Hollywood mogul.
Yet it's those very qualities that prevented Death from ever gaining notoriety until now. Of course, one immediately thinks of that other proto-punk band from Detroit, The Stooges, the only peers of Death at that time. Yet by 1973, when the Hackney brothers—Dannis, Bobby, and David—first adopted the name Death, The Stooges had just released Raw Power and were imploding. In 1973, Motown was a bigger deal in black Detroit than punk rock so it's not like their paths would have crossed.
Stereotypes and prejudice, if not outright racism, played a part in making sure that Death didn't get their due for another three decades, despite the band's massive talent and determination in the form of David Hackney, the band's guitarist, leader, and visionary.
A Band Called Death is, in many ways, not just a tribute to the band, but to David's incredible prophetic genius and unshakeable faith, not only in music, but also in God. The name Death wouldn't have caused such a stir a few years later, if the brothers had perhaps lived in New York. Although why David Hackney was so intent on keeping the name of the band, despite being urged to change it by Clive Davis in exchange for a $20K record deal, is something that might surprise you.
The importance of family and faith are themes that are perhaps more relevant to A Band Called Death than the music itself, and the music itself is pretty extraordinary. Although the film uses a lot of the same tropes as other documentaries—famous talking heads discussing the importance of the band, old photos used to recreate scenes—it doesn't dwell on personal tragedy, despite the fact that there was no shortage of it in the lives of these three men.
It's their love for each other, their families, and music that stands out the most. The candor of both Dannis and Bobby, as well as the other family members who are interviewed, is remarkable and touching and if you don't find yourself getting a little choked up at least once, then you're probably just pretending. Yes, the band was called Death, but there is enough life-affirming stuff in these 93 minutes to last for years.
A Band Called Death screens at the TIFF Bell Lightbox from today until August 22. Producer Scott Mosier will be present for a Q&A following the 7:15 p.m. screening on Friday, August 16.