Published on August 15th, 2013 in: Culture Shock, Current Faves, Music, Music Reviews, Retrovirus, Reviews |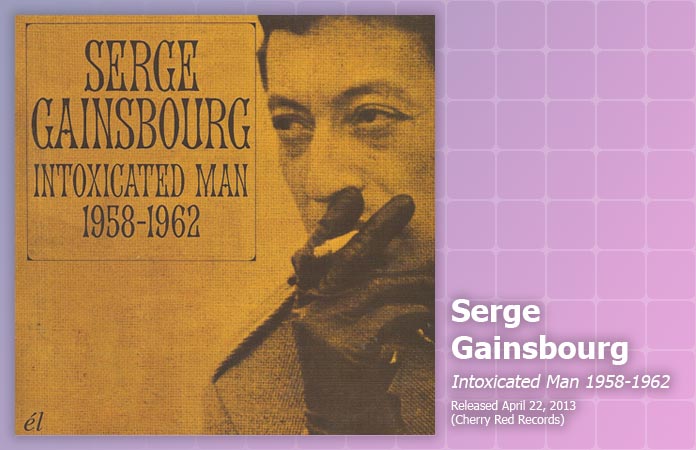 Serge Gainsbourg was a provocateur. That cannot be disputed. He wrote songs about subjects that raised the eyebrows of the world (Incest? Check. Sodomy? Check. Cigarettes? Heaven forefend, but check) and courted notoriety. Still, the man was a poet and a great wit.
Intoxicated Man 1958-1962 is a tantalizing glimpse into the origins of Serge Gainsbourg. A vast collection (66 tracks), it illuminates his early career as a chanteur, singing story-driven songs. Full disclosure: I know only the most rudimentary French. I could pick out the occasional word I understood (like window and love— he sings quite a bit about windows), so I missed some of the nuances of lyrics. It was a challenge.
From the album Du Chant À La Une! (1958) things get off to a rollicking start with the urgent "Le Poinçonneur Des Lilas (The Conductor of Lilas)," a slice-of-life song about a ticket taker in the Paris Metro. A baritone sax plays brilliant counterpoint to the vocals. The song is revisited twice, once as a stunning live version from Gainsbourg Live at "Théátre Des 3 Baudets" Paris accompanied only by a piano, and again as a cover by Les Frères Jacques, who bring interesting harmonies to it.
"La Recette De L'amour Fou (The Recipe For Crazy Love)" also gets revisited thrice. Gainsbourg's own lush take is almost upstaged by the inclusion of Juliette Gréco's playful cover. She sounds as if she has an enormous secret. Gainsbourg's live version is muted and a bit restrained.
"La Femme Des Uns Sous Le Corps Des Autres (The Wife Of One Under The Body of Another)" features an exciting arrangement by Alain Goraguer (La Planète sauvage), going from delicacy to a full-bore jazz onslaught. Gainsbourg spits out the lyrics.
From Serge Gainsbourg No 2 (1959), we follow his progression. "L'Anthracite" is powerful and propulsive. "Mambo Miam Miam" is delightful and catchy in the way a song you don't know the words to can be. "Indifférente" is very much a headphones-on song simply for the production; alto sax on the left channel, delicate piano on the right and Serge Gainsbourg at your brainstem, like the voice of your conscience.
Romantique 60 includes the unbearably delightful "Cha Cha Cha Du Loup (Cha Cha Cha Of The Wolf)," a sexy rhumba in which Gainsbourg sings "Sha Sha Sha" and it is fantastically entertaining. Also brilliant is the sassy "Laissez-Moi Tranquille (Leave Me Alone)."
The modestly named L'Étonnant Serge Gainsbourg (The Astonishing Serge Gainsbourg) features the lacerating "En Relisant Ta Lettre (On Re-Reading Your Letter)," a snarky take-down of a woman's suicide note to him, correcting all her spelling mistakes. A cover version by Jean-Claude Pascal makes an appearance later in the album (why wouldn't you want to cover such a song?). It's a serviceable take, but it lacks Gainsbourg's brooding sexiness.
"La Chanson De Prévert" is a gentle, acoustic departure from Gainsbourg's latent jazziness. "Les Oubliettes (The Forgotten)" is awash in world-weary vocals. I am probably glad that my French is awful for "Les Femmes C'est Du Chinois (Women, It's All Chinese To Me)." I would probably be annoyed by Gainsbourg's admitted misogyny, but that being said, I dug the vaguely Chinese music and flute and his easy vocals.
Gainsbourg hits his stride with 1962's Serge Gainsbourg No 4. The songs are memorable and inventive, such as "Les Goémons (The Seaweed)," which properly sounds like the mournful sea. "Baudelaire," tropical flavored with a spoken-word intro, is a little swoon-worthy. The man could certainly end a phrase with a growl. "Intoxicated Man" is sumptuous and swinging. "Requiem Pour Un Twisteur" sounds like a wreath of cigarette smoke and naughtiness.
The placement of the live tracks from Gainsbourg Live at "Théátre Des 3 Baudets" Paris after Serge Gainsbourg No 4 seems a bit regressive. After the propulsive inventiveness of No 4, these stripped down versions of his earlier songs (from 1958) are all a showcase for his singular voice and presence, but they seem out of place.
A slew of instrumental tracks follow, things from film scores. Gainsbourg's gift for memorable melody is on full display, but these songs left me cold. I'd rather hear his knowing voice than just an orchestra, I suppose.
A selection of tracks from Juliette Gréco's Chante Gainsbourg are a joy to hear. Her performances are gloriously entertaining and delightful, especially "Il Était Une Oie (It Was A Goose)" and her wistful "Les Amours Perdues (Lost Loves)." "La Jambe De Bois (The Wooden Leg)" is a fast-paced pure pleasure. The waltzing "Defense D'Afficher (Post No Bills)" is beautifully sung.
Intoxicated Man 1958-1962 is an unusual overview of the early days of an unusual, influential artist. Serge Gainsbourg's most controversial and revolutionary songs were still to come, but here we get a glimpse of what is to be. It's often bold, always interesting, and quite engaging.
Intoxicated Man 1958 – 1962 was released by Cherry Red Records on April 22 and is available on the label's website.