Published on August 14th, 2013 in: Blu-Ray, DVD/Blu-Ray Reviews, Horror, Movie Reviews, Movies, Reviews |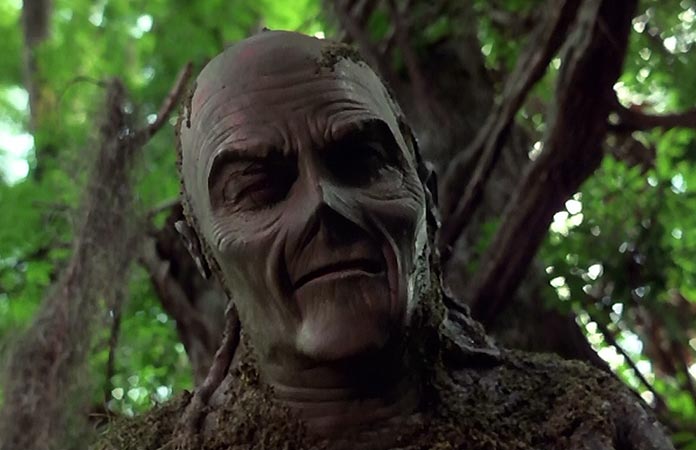 Horror buffs, film fans, and even non-die hard moviegoers know about Swamp Thing. What started as a comic book, oozed into a movie, a sequel, and both animated and live-action television series.
The story of Swamp Thing is actually pretty cool; an incredibly intelligent man (Alec, played by Ray Wise) is working on a top-secret project involving a hybrid plant that can survive and even thrive in extreme situations and environments. A group of soldiers led by a crazy doctor obsessed with immortality tries to steal the formula that Alec is working on. Guess what happens? Yep, Alec manages to get covered in the formula, and Swamp Thing is born.
This is a big release for Scream Factory, who has released quite the number of favorites among the horror community. The transfer is, true to form, visually appealing. However, let me just take a moment to say that I'm not really a fan of Swamp Thing. A big part of my dislike stems from the suit worn by Dick Durock (who plays Swamp Thing) throughout the film.
The suit ruins the film for me. Every crease is visible as the suit bends around the actor. I would think that a Wes Craven flick would have a better looking suit, and it probably looked great for the '80s, but it doesn't hold up well for me. I know countless people will disagree (and virtually stone me). Anyways, the real point that I'm making is that the transfer is so great we can see how goofy this suit actually looks. Boom! Every gunshot and explosion is an earful of awesome. There is quite the bit of action in this flick that doesn't look cheap or cheesy; they left that for suit.
The extras are pretty swell: interesting commentaries and a wonderful interview with co-star Adrienne Barbeau that includes stories about the set and behind the scenes events. Craven is an excellent speaker and gives some very interesting details during his part of the commentary, moderated by the Sean Clark, of Horror's Hallowed Grounds. Another cool segment is the interview with Reggie Batts (the kid who played Jude in the film). He spills how he got the role and his love of the comic. The disc also has the usual trailers and photo galleries.
One thing that is a little upsetting is that the R-rated version isn't included on the disc. If it is, you let me know immediately. It could be an Easter egg or something because I know Scream Factory is known for these shenanigans.
Swamp Thing was released on Blu-Ray through Scream Factory on June 8.