Published on August 13th, 2013 in: Current Faves, Music, Music Reviews, New Music Tuesday, Reviews |
By Ricky Lima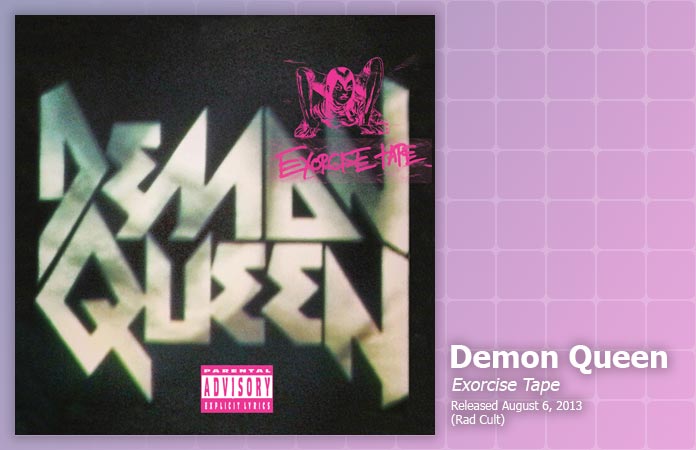 Demon Queen's first album Exorcise Tape has been officially described by lead vocalist Zackey Force Funk as "really about satanic stripper shit." I don't think I've heard a more accurate description of an album in my life. Exorcise Tape is dark, sexy, and super catchy. Zackey Force Funk is totally right; this is the kind of music they'd play in a strip club in Hell, and if that's the case, that's a place I want to go to. Zackey Force Funk and TOBACCO have knocked it out of the park in their first collaboration.
With TOBACCO taking the reins on production I was on board with this record from day one. TOBACCO's brand of music is incredibly unique, and mixed with Force Funk's vocals, it's a collaboration that meshes well. Their styles complement each other perfectly and actually liven up their individual talents. Force Funk's falsetto singing flies over TOBACCO's bass-driven synth lines like a dream. It's also refreshing because TOBACCO's vocoder vocals, while good, have been done. The new sounds coming out of the album are great to listen to and show a progression in TOBACCO's songwriting skills. Force Funk brings a greater sense of hip hop to TOBACCO's music and his vocal style adds a good texture to the album.
At times, Exorcise Tape can give a kind of satisfied, uncomfortable feeling. The album's sinister tones, mixed with Force Funk's high-pitched vocals, create an odd mixture of fun and evil. In particular, the track "Despise the Lie" shows this off perfectly. The synths in the background create an urgent feeling, but Force Funk's vocals calm things down while emphasizing the tone. It's a strange combination and I love it. Not to mention the awesome rap sections by Isaiah Toothtaker. Some other highlights on the album include the giant sounding "Lamborghini Meltdown" and driving tune "El Camino 2."
The thing about Exorcise Tape is that it blurs the line between so many genres it's really hard to place it anywhere. What I can tell you is that it's seductive and spooky. It lulls you in with its lovely synth textures and soundscapes, but still lets you know that you're not safe here. It's a great album and one that will be in rotation for me for a while.
Exorcise Tape was released by Rad Cult on August 6 and is available on the BMSR/TOBACCO website.
Tour Dates:
Wed. 8/14 – Philadelphia, PA @ Morgan's Pier (solo Tobacco date)
Thu. 9/5 – Portland, OR – Holocene (solo Tobacco date)
Fri. 9/6 – Tucson, AZ – Club Congress
Sat. 9/7 – Phoenix, AZ – Crescent Ballroom
Sun. 9/8 – San Diego, CA – Casbah
Mon. 9/9 – Los Angeles, CA – Echo
Tue. 9/10 – San Francisco, CA – The Independent