Published on August 13th, 2013 in: Comedy, DVD, DVD/Blu-Ray Reviews, Feminism, Movie Reviews, Movies, Reviews |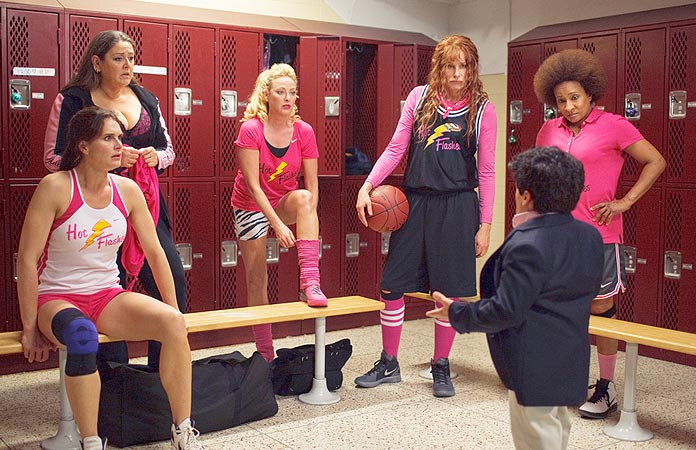 On one level, The Hot Flashes is not a remarkable film. This chicken soup-comforting feature will play as well as a basic cable favorite as it did during its truncated theatrical release. The broad sports comedy follows a beleaguered basketball team made up of middle-aged women (hence the title) who play a series of games against the current high school champions to raise money for a travelling mammogram truck. The script hits all the Save the Cat high points, all but one of the narrative guns from the first act goes off in the third, and the movie leaves its audience on a plausible high note.
Though the film has an agreeably mainstream approach, The Hot Flashes is made with care and has a winningly self-aware quality that elevates it from standard seat- and schedule-filling fare. Director Susan Seidelman made her name on edgy, feminist-minded features like Smithereens and Desperately Seeking Susan, and the goodwill she earned on those films has granted her a good audience base.
As with all her features, she works well with a cast of former leading ladies (Brooke Shields, Virginia Madsen, Daryl Hannah) and character actresses (Camryn Mannheim, Wanda Sykes), and she foregrounds the concerns and frustrations middle-aged women experience. While a subplot of an unhappy marriage runs through the film, the friendships and occasional enmity among the Hot Flashes are given more screen time. The dynamic among the women is so realistic that the "types" they inhabit (abiding housewife, cougar, stoner, lesbian) aren't always immediately obvious.
Seidelman and her cast take the subject matter seriously, but not too seriously. Any time the film seems as though it could slip into mawkish territory, she undercuts it with a pratfall or with a well-placed jab at "Lifetime Television for Women." Though the humor is broad, the film never stoops to a bad-taste banquet of bodily fluids like so many recent female-centric comedies have.
The marketing and release of The Hot Flashes could be the film's most remarkable aspect. Some Internet sleuthing suggests that the film got a perfunctory theatrical release in New York and L.A. after screening at festivals, and only reached the flyover states in home entertainment format. In recent years, Seidelman has settled into a more accessible approach to movies, and at times The Hot Flashes played like a Fox Searchlight ensemble comedy in search of a distributor. The film might not be giving Citizen Kane a run for its money, but the sweet story and light approach to heavy topics could have found an appreciable audience among women of a certain age. Here's hoping The Hot Flashes has a respectable second life On Demand.
The Hot Flashes was released on DVD today through TVA Films, and is also available on VOD and iTunes.