Published on August 13th, 2013 in: Current Faves, DVD, DVD/Blu-Ray Reviews, Movie Reviews, Movies, Reviews |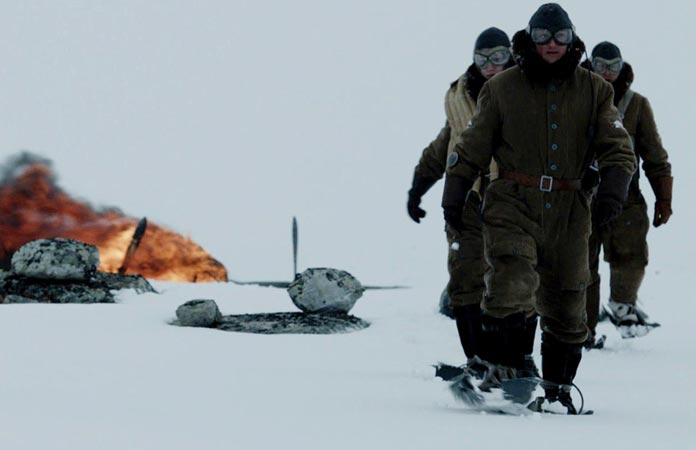 I won't lie—I was interested in seeing this film because it's one of the post-Harry Potter performances by everyone's favorite snub-nosed ginger, Rupert Grint, now quite grown up and no longer shackled to the limitations of being good-guy sidekick Ron Weasley (who, admittedly, is a vastly more tolerable character on screen than in the novels, thanks to the talents of Mr. Grint). I have yet to see the other "adult" roles Rupert Grint has done, but he more than holds his own in this admirable historical European indie.
During World War II, a German fighter plane has been shot down by British air forces over Norway. The three survivors of the crash, one wounded, search for shelter and come across an empty hunting lodge. Unfortunately for them, two British troops have also crashed their plane, and also require shelter from the brutal weather conditions of a Norwegian winter. What follows should not be a major surprise to anyone who has ever read or seen a war story concerning soldiers on opposing sides of a conflict being forced to share resources. Rather, the pleasure in the unfolding of the story comes from the slight variations that come from individual human personalities and unusual circumstances, and despite the constrained nature of the setting and the stakes being limited to the lives of five young men, it manages to be a gripping, unpredictable, and emotionally involving story, especially with the foreknowledge that the film is based on true events.
Each of the five characters develops from a stock archetype to a human being, and then an individual, as circumstances change not only the survivor's needs and desires, but also their views on humanity and ideology. Nothing so simple as "British good, Nazis bad" could ever exist in this small world that continually threatens to collapse, and all of the characters reveal unexpected depth and vulnerability as the hunting lodge is swallowed in a massive snowstorm, stores of food run low, and all of the soldiers realize that their deaths are not just likely, but imminent.
The action is so small, and so constrained to a single area, that Into the White could easily be staged as a play without losing much of its impact, and yet the astonishing exterior location shots bring an extra amount of tension and immediacy to the proceedings. The landscape immediately brings to mind the harsh environs of ice planet Hoth, as the exterior scenes from The Empire Strikes Back were filmed in Norway under similar wintery conditions, and it's difficult to imagine an escape from the overwhelming, indifferent sea of white that surrounds the characters.
Excellent performances from Florian Lukas (Goodbye Lenin) as the thoughtful German superior officer Schopis, haughty British captain Lachlan Nieboer (who played Captain Jack Harkness's long-lost brother Gray on a memorable episode of Torchwood), David Kross as the petulant Hitler fanboy Unteroffizer Josef, and especially Stig Henrik Hoff as the stolid, taciturn Strunk. Rupert Grint portrays the proud, fiery working-class gunner Smith, and it's no insult to say that he merely belongs in this ensemble and makes no attempt to rise above it, only to inhabit it, giving the role exactly as much weight as it should have.
Into The White was released through Magnolia Home Entertainment on June 25.