Published on August 9th, 2013 in: Current Faves, Music, Music Reviews, Reviews |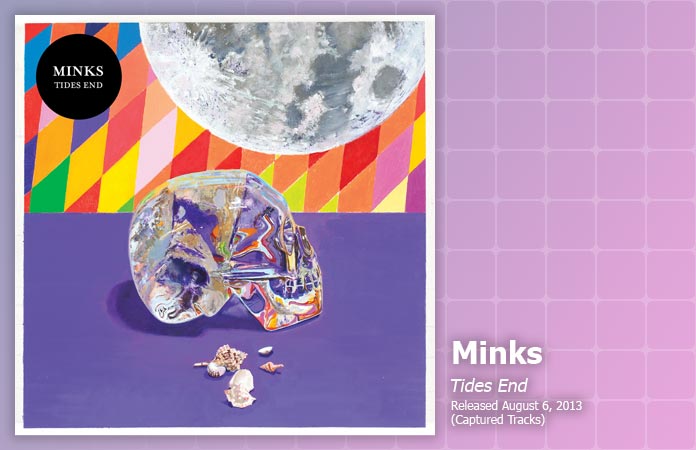 On their second album, Tides End, Minks have created a distinctively '80s UK-pop feeling. But they're not Depeche Mode or Duran Duran (not that there's anything wrong with that). On these ten songs Minks are more reminiscent of bands like The Korgis or Close Lobsters, with the quirky synth sounds of pre-Different Class era Pulp adding a unique element of modernity. There's also no shortage of New Order-esque guitar. Oddly, Sonny Kilfoyle, who is Minks on this album for all intents and purposes, lives in Long Island.
Kilfoyle has a charming, dry delivery that contrasts with the more carefree, poppy music of Minks. But it's not all sunshine and happy times. There are some darker overtones to be found in Tides End, like "Hold Me Now" or "Playboys of the Western World," where the vocals are lush and the music wistful.
The lyrics on Tides End are so specific as to be almost obtuse at times, but there is enough romantic yearning and humor in there to satisfy. "Painted Indian" is particularly exciting. There's just something about the contrast between the chorus and the verse and the repetitive lyrics that gets me. "I hear you've got your sunglasses on/and you hate everyone" is just a brilliant lyric.
"Ark of Life" is positively swoony, with a dash of nihilism that Morrissey would probably appreciate ("Because I'll probably die before I'm 25") while "Margot" includes bouncy bass and synthy handclaps for good measure. "Doomed and Cool" has an immediacy, both musically and lyrically, that's perfect for the story it tells.
The production on Tides End is impressive, too. The album opens with the euphoric "Romans," descends into a mild state of ennui before getting downright melancholic. Then the clouds lift a little before striking a nice balance of bitter and sweet. It's an album far better suited for your August-into-September than the overdone "Boys Of Summer," that's for sure.
Tides End was released by Captured Tracks on August 6 and is available on the label's website. There is special edition orange vinyl available for the first 300 orders.