Published on July 29th, 2013 in: Music, Upcoming Events |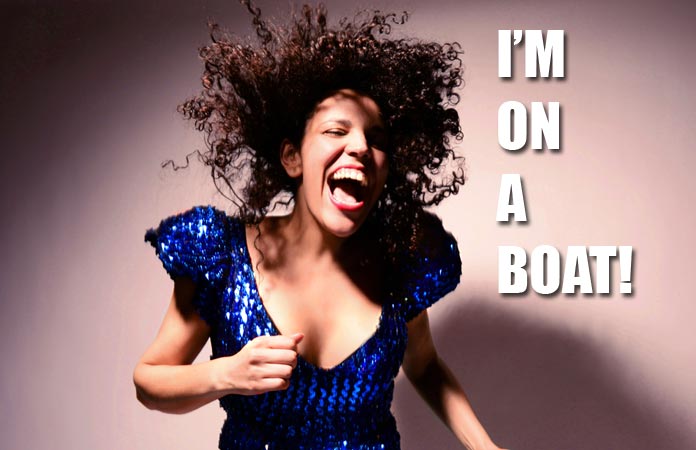 Do you like rock en español and boats? If so, we have just the show for you. Summer Splash Concert Cruise Series recently announced a show featuring a pair of Latin alternative artists with serious skill, vision, and creativity. Popshifter will be giving away a pair of tickets to a lucky New York reader. Keep reading for more details!
For over a decade, Los Amigos Invisibles have created the aural equivalent of the best vintage store you've ever visited. Tango beats pivot around ragged croons, lush tunes envelop salty lyrics, and melodic Motown basslines flirt with yacht-rock strings. Their latest album, Repeat After Me, contains some catchy, booty-shaking singles. Live shows find the band in their element, which makes this show all but unmissable.
The star of the evening is opening act Xenia Rubinos, whose debut album Magic Trix won me over earlier this year (review). Throughout her songs, Rubinos takes on the personas of marginalized women trying to find their way in the world. Her innovative songwriting and arrangements, combined with her shape-shifting lyrical personae and vocals, made Magic Trix a front-runner for album of the year. Rubinos has spent the last year opening for Lady Lamb the Beekeeper, and these performances have whetted her audience's appetite. Catch her appearance with Los Amigos Invisibles, and when she blows up you can say you saw her when.
The infinity yacht boasts four levels, decked out with plush furniture, a full bar, multiple VIP areas, over 20 LCD flat screens live-streaming the show, a state-of-the-art sound system, and an open bow and glass-enclosed sky deck that provide endless breathtaking views of New York City's beautiful skyline during its three-hour jaunt around Lower Manhattan.
We here at Popshifter have a pair of tickets available to a lucky New York-based reader. Leave a comment here for a chance to win two free admissions to what could be the event of the summer.
To enter, email us at editor@popshifter.com with a subject line of "Summer Splash Concert 2013," your name, phone number, and mailing address. The winner will be notified on Friday, August 2.