Published on July 26th, 2013 in: Assemblog, Conventions/Expos, DVD, Feminism, Film Festivals, Movies, Science Fiction, Trailers, TV |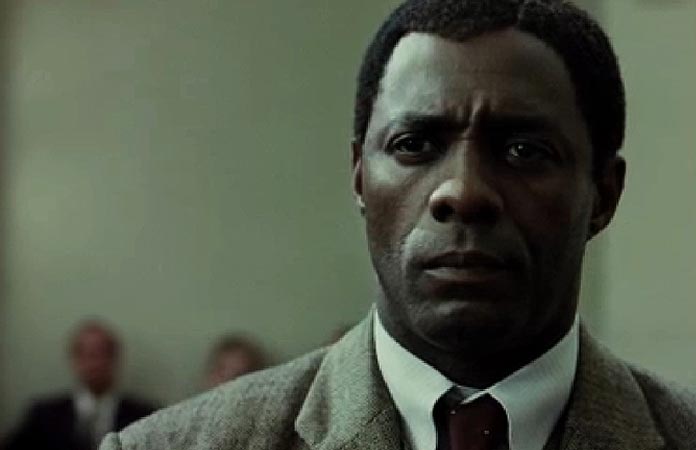 Idris Elba in Mandela: Long Walk To Freedom
New this week on Popshifter: Brad is a big fan of two new Scream Factory Blu-Ray releases: Ninja III: The Domination and The Howling; Jeff rethinks not having given Bulletboys a chance before and urges others to give the 2006 version of The Wicker Man another chance; I review the vinyl reissue of White Fence's self-titled debut as well as the splendid Lenses from Soft Metals, and marvel at the brilliant, hilarious Computer Chess.
The first waves of Toronto International Film Festival (TIFF) and Fantastic Fest titles were announced this week and there are some great movies listed. Once the full lineups have been announced, I'll make a couple of posts listing my Top Ten picks for each festival, so stay tuned.
Last week, I talked about the Jezebel post about "ladyquotas." As a sort of follow up to my argument that anyone who doesn't recognize that women are a huge driving force of geek culture is sorely mistaken, I was happy to read this piece from Indiewire, which mentions some wonderful, feminist panels that took place at last week's San Diego Comic Con.
At The Most Dangerous Women at Comic Con: Dual Identities panel, actors, producers, and cosplayers who have faced harassment from men unable to accept them as real fans celebrated the way other women can come to their defense on their online platforms. The women on the All Shapes and Sizes Welcome panel came together to share their experiences being body-shamed by agents, producers, and fans and their decisions to move outside traditional venues to a space where they can do what they love and change the dominant paradigm.
I honestly didn't realize that SDCC hosted such great panels so I think it's important to mention them.
Forbes has a compelling article detailing six reasons why we shouldn't yet hold a funeral for DVDs. It's been much discussed recently that the decline in DVD sales has impacted Hollywood in a major way. An excerpt from producer Lynda Obst's book Sleepless in Hollywood appeared in Salon last month, stating that studios are not only "terrifed" but "frozen," which could, in part, explain why so many remakes are being made these days, as those are considered safe and possibly even sure things.
Yet, as Dade Hayes argues in Forbes, the DVD "will continue to matter to media companies for many years to come." He also says the following, which echoes something I've been harping on for about a year now: "The media/industry narrative around the death of DVD and supremacy of digital doesn't match the reality of most U.S. markets outside of New York, L.A., San Francisco and a small handful of other enclaves."
This hearkens back to that Twitch article from April 2012 arguing "physical media needs to die." (I don't totally disagree with it, by the way, I just reject the short-sighted tone of it, considering the lack of availability of high-speed Internet around the world.) I think Hayes presents a compelling argument why physical media won't die despite the rampant piracy that physical media seems to allow.
Also on the digital format front, Anthony Kaufman discusses the new digital distribution model in an Indiewire article called "The Business of Ignorance." Number six on the list predicts an "indie apocalypse" because of VOD. Brian Newman, CEO of Crowd Play and former CEO of Tribeca Film Institute, says:
"As soon as Hollywood starts messing more with windows and doing day and date, imagine viewers sitting at home on the weekend, and they have the option to see the latest Hollywood movie over an indie? Then screw it: indies are dead."
This sort of goes against the grain of the theory that digital distribution is good for indie films, but it does make sense.
Trailers time!
In addition to Gravity (which will premiere at TIFF this year), filmmaker Alfonso Cuarón has co-created a TV show for NBC called Believe, which is executive produced by J.J. Abrams. It's about a child with special powers and reminds me a lot of what Heroes promised to be but never lived up to after Season One. This show, however, includes Delroy Lindo, which is a huge win. (H/T to Indiewire.)
The Veronica Mars movie now has a trailer (which premiered at Comic Con)! Watching it has got me totally pumped up for this movie. I was a massive fan of the show (though I still haven't seen the third season) and I'm super excited that I'll get to rewatch it all to prepare for the movie, which comes out next year. (H/T to /Film.)
Another TIFF premiere will be Mandela: Long Walk To Freedom, starring Idris Elba as the titular character and Naomie Harris as Winnie. What a cast. I definitely look forward to seeing this film, Oscar bait be damned. (H/T to Film School Rejects.)
—Less Lee Moore, Managing Editor