Published on July 24th, 2013 in: Music, Music Reviews, Reviews, Waxing Nostalgic |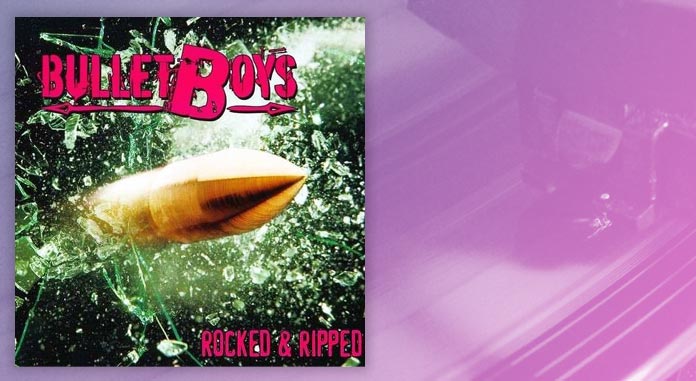 I don't know what a Bulletboy is. I might have heard one of their songs late at night while driving. Someone might have mentioned the name at a bar. That seems right, because I was more than likely drunk. I don't remember things so well when I'm drunk.
Here's the funny thing.
Now that I've listened to a cover album by Bulletboys called, aggressively enough, Rocked & Ripped, I have to go back and listen to their entire catalog. If Bulletboys is as wacky, bluesy, and just flat-out good as this record is, I have some catching up to do.
The whole thing hinges on lead singer Marq Torien's strained, cracking voice. Despite the spurious "q," his is a voice that has been around the world and maybe through the center of it a couple times before finally deciding to reside under it. It's like whiskey, tobacco and cocaine swirled around a golden fist.
The rest of the band is capable, even though there is a distinct studio musician feel to the arrangements. The music for "Dr. Feelgood" is so perfect, it sounds like a Karaoke track. Torien gets into it, though, and his been-there, done-that voice makes all the difference.
Bon Jovi's "Living on a Prayer" has always been a shallow effort at blue-collar pathos, but the Bulletboys version turns into a slinky blues tune, full of the emotion the original song never quite pulled out.
The ability of Bulletboys to rock (and also, rip) is not in question, even if the music is a little rote. What makes this cover album a standout are the music choices. Have you ever wanted to hear Accept's classic, "Balls to the Wall," sung non-phonetically? It's a little amazing. Can't bring yourself to listen to Styx, but unironically love "Renegade?" This is the album for you, friend.
It gets better. This album descends into a kind of madness we haven't seen in a long time. Some song choices that seem questionable, on the surface, turn out to be fascinating reworks. Let this sink in: Bulletboys cover "Fuckin' Perfect" by P!nk. It's good. It's just as effective and evocative as the original, if not more so. Torien's raspy voice is made for the song, filling it with a desperate yearning that almost makes the listener blush. If he says you're fuckin' perfect, you had better believe it.
Absorb this, too: Bulletboys cover Zac Brown Band's "Colder Weather." Okay, the harmonies sound canned, but over all, it's a damn sight better than what you get when other metal bands try country. Remember Metallica's Skynyrd phase? Me, too, and it puts me off my feed.
Another thing: Bulletboys cover Amy Winehouse's "Rehab." It's awful. It's awkward. It stutters and pitches. It's too slow, too weird and it's too soon. It's still a strangely brave choice, though, and it comes across as the purest archetype of the Eighties Metal mentality. Sixx A.M. couldn't have done it better, and they didn't.
Oh, there's more. By the sweet goddess of chaos, there's so much more.
Rocked & Ripped runs all over the spectrum, from Led Zeppelin to Mr. Mister and all points in between. It makes you want to hire Bulletboys for your wedding. You know if they'll record a seven minute long version of "Tiny Dancer," they're not gonna have an issue when it's time for the Chicken Dance. They'll still play the shitty arena rock and roll the drunken bridesmaids and groomsmen want to hear, too, and do it well. Be careful, though. With a voice like his, Torien may score a few minutes alone in the coatroom with the bride.