Published on July 24th, 2013 in: Blu-Ray, Current Faves, DVD/Blu-Ray Reviews, Horror, Movie Reviews, Movies, Reviews |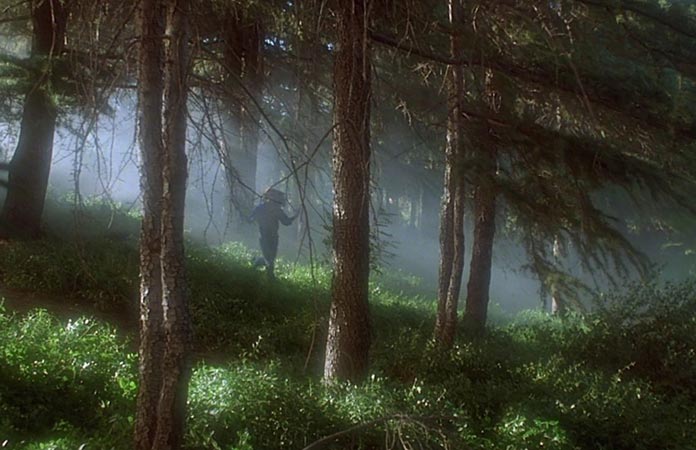 I remember asking my mother when I was ten or so why there weren't any good werewolf films. There were many vampire films and ghost stories, but werewolf films were a little scarce (still are in my opinion). My mother asked, "Have you seen Silver Bullet or The Howling?"
I later went to my All Movie Guide on my computer (before IMDb was being used regularly) and looked them both up. A few days later, my mother came home with a brown lunch bag and unceremoniously handed it to me. I held it for only a second, wondering what title it could be. My mother bought me VHS surprises all the time, in fact many still sit on my shelves, so I had an inkling of what was in the bag. Peeking inside, I saw The Howling on the Embassy label.
After dark, with lights switched off, my mother and I hunkered down in the den to witness one of the best werewolf films ever made. I was a little confused at first because there was an obvious lack of werewolf through a good portion of the film. I turned to my mother nearly halfway through and asked, "Is this really a werewolf movie?" She didn't answer; she simply smiled and continued to look forward. Then it happened, the reveal.
The other night, I got to relive this childhood experience by watching Scream Factory's release of The Howling on Blu-Ray. This crystal clear transfer brought back childhood memories of when I first saw the beast come onto the screen. Again, another transfer from Scream Factory that is so good we can see certain things we shouldn't (but I won't go into them). With this transfer the beautiful cinematography and remarkable scenery really come through. (Be sure to look for the night shots at The Colony.) From every bone crack to every howl, the 5.1 Dolby sound proves Scream Factory wants us to enjoy the film as if we are in the theater.
Though some have been pulled over from the MGM Special Edition release from 2003, the extras are a ton of fun. There is one very interesting multi-part documentary called Unleashing the Beast, which is about the making of The Howling. This in itself is worth the price of the Blu-Ray (it is an older doc from the DVD as well). Another documentary, called Making Of A Monster, contains interviews and behind the scenes footage. One thing that really stands out in the extras is Horror's Hallowed Grounds, a segment featuring the set locations. The new Blu-Ray also has the usual outtakes, photo gallery, deleted scenes (with optional commentary by Dante), and theatrical trailers.
So sit back, retire any old format of The Howling that you have (unless it is a VHS your mom gave you), and pop in this latest release from Scream Factory. Lock your doors, bolt your windows, and turn off the lights because things are about to get a little hairy.
The Howling (Collector's Edition) Blu-Ray was released by Scream Factory on June 18.