Published on July 23rd, 2013 in: Current Faves, Feminism, Music, Music Reviews, New Music Tuesday, Reviews |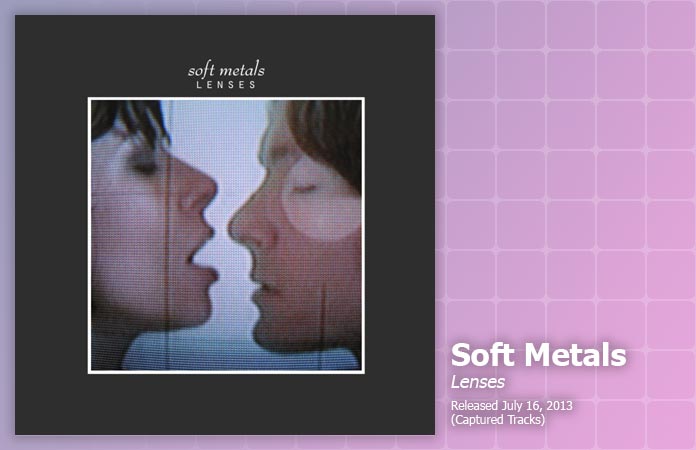 Soft Metals is an appropriate name for a band whose members initially bonded over analog synthesizers. The music of Patricia Hall and Ian Hicks has a hypnagogic quality that's both solid and liquid. Their newest album, Lenses, continues this liminal exercise with various lyrical visions of love and lust. How you interpret the songs can depend on your mood or point of view.
Rather than relying on harsh textures, the washes of synths on Lenses are mostly fuzzy, sometimes squishy, but rarely piercing, and even then, only when it's most effective. Hall's chilly, voluptuous delivery is appropriate for music that's overflowing with icy sensuality, frequently sounding like the lost soundtrack to a sci fi film from the late '70s or early '80s.
"When I Look Into Your Eyes" presents a nihilistic perspective on reproduction while "Tell Me" reveals someone on the precipice of an important relationship decision. The somewhat Depeche Mode-esque "No Turning Back" could be construed as the romantic overtures of a lover or the possessive words of a stalker. Similarly "On A Cloud" sounds passionate, but could easily veer into obsessive territory. "In The Air" has a beautifully repetitive melody and distorted lyrics that evoke visuals of sunrise or sunset.
There are two terrific instrumentals on Lenses, "Hourglass" and "Interobserver," the latter of which closes the album. Like "In The Air," it relies on minimalism but rather than moving forward, the song's depth has been flattened, but allows us to move from left to right. We feel trapped, yet comforted, which creates a remarkably hypnotic experience.
Lenses feels like cool, creeping fog after a thunderstorm or before a dip in temperature. It's a splendid album.
Lenses was released by Captured Tracks on July 16 and is available to order from the label's website. You can stream tracks from Lenses on the band's Soundcloud page.
Tour Dates:
7/23 – Sacramento, CA – LowBrau
7/24 – San Francisco, CA – Rickshaw Stop
7/26 – Seattle, WA – Capitol Hill Block Party @ Barboza
7/27 – Portland, OR – Mississippi Studios
7/30 – Boise, ID – Neurolux
7/31 – Salt Lake City, UT – Kilby Court
8/02 – Denver, CO – Larimer Lounge
8/04 – Des Moines, IA – Vaudeville Mews
8/05 – Minneapolis, MN – 7th Street Entry
8/07 – Milwaukee, WI – The Cactus Club
8/08 – St Louis, MO – The Firebird
8/09 – Chicago, IL – Subterranean
8/10 – Louisville, KY – Electric Blue
8/14 – Columbus, OH – Kobo
8/15 – Detroit, MI – Garden Bowl
8/16 – Toronto, ON – The Drake Hotel
8/17 – Montreal, QC – Divan Orange
8/21 – New Haven, CT – BAR
8/22 – Cambridge, MA – TT the Bear's
8/23 – Providence, RI – Fete (Lounge)
8/24 – Washington, DC – Comet Ping Pong
8/29 – Baltimore, MD – Metro Gallery
8/30 – Pittsburgh, PA – The Brillobox
8/31 – Philadelphia, PA – Ortileb's
9/01 – Brooklyn, NY – Captured Tracks Festival
9/04 – Richmond, VA – Strange Matter
9/05 – Charlotte, NC – Snug Harbor
9/06 – Atlanta, GA – Drunken Unicorn
9/07 – New Orleans, LA – LA Circle Bar
9/13 – Scottsdale, AZ – Pub Rock