Published on July 18th, 2013 in: Current Faves, Music, Music Reviews, Retrovirus, Reviews |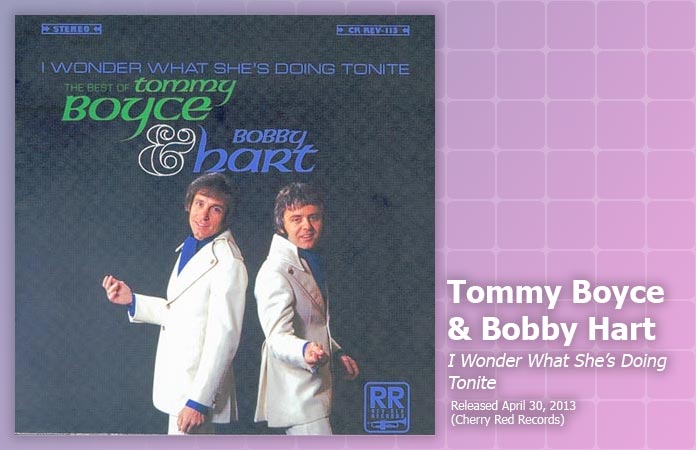 Both the liner notes and the back cover of I Wonder What She's Doing Tonite posit that Tommy Boyce and Bobby Hart's association with the Monkees hurt Boyce & Hart's legacy—that by having written for a "made-for-TV" pop band somehow diminishes their songwriting credibility. Every Monkees album, save for the soundtrack to Head, had at least one Boyce and Hart song on it. And most of those songs were perfect little pop diamonds, carefully crafted and catchy as anything.
I Wonder What She's Doing Tonite is a collection of the best of Boyce & Hart. Full of complex pop songs with amazing production, these songs will make you wonder just why they aren't revered like Goffin/King or Mann/Weil. It's pure joy in your ears.
"Out & About," with its slinky, insidious bass line and vocals shifting channels, feels like a lost "teenage symphony to God" era Beach Boys opus. It explodes into a chorus of ba-da-bahs, layered and harmonious. The harmonies in Boyce & Hart songs are spectacular, such as the ones in the clever "I Should Be Going Home," which soar, even up to the song's neat psychedelic break.
Though "Sometimes She's A Little Girl" is clearly reminiscent of their later "Teardrop City" (one might argue if the formula for the song works, why change it?), it is a crackerjack pop tune, building from the insistent guitar riff and cracking harmonies to the slow, dreamy break in the middle. When the guitar riff is picked up by the strings, it's terribly sharp. Their version of "Teardrop City" is a lighter take than the Monkees version, with the grungy guitar sound removed, but gritty vocals intact.
"Girl I'm Out To Get You" is wildly inventive. A grab bag of influences with loads of musical styles, it's complex and rewards careful listening. "Goodbye Baby (I Don't Want To See You Cry)" is a tidy subversion of pop song tropes with bubbling horns, layers and layers of vocals, and strings. It's been compared to "Good Vibrations" and in fact, Boyce & Hart were approached by Bruce Johnson from the Beach Boys to produce for them when Brian Wilson was incapacitated. It didn't come to fruition, because Boyce & Hart were very busy writing their own awesome things.
One of those awesome things? "I Wonder What She's Doing Tonite," which is as classic of a pop song as can exist, down to the handclaps and throbbing bass. "Alice Long (You're Still My Favorite Girlfriend)" doubles down on handclaps and sweetness, and throws in a hushed chorus of "Alice, Alice." Also awesome is the swinging fun of "Two For The Price Of One," a delightful introduction to Boyce & Hart, loaded with humor, horns, and harmonies.
Even the songs that aren't mind blowing are pretty good. "Pretty Flower" is bubblegum silliness, but you can't deny the songcraft. "Love Every Day" begins with a sitar, but the crazy high falsetto is off-putting. Still, the writing is so good you can't turn it off.
The Boyce & Hart catalog is ambitious. "The Countess" is a slice-of-life song with sighing backup vocals and sounds as if a secret Parklife-era Blur song married Squeeze. "P.O. Box 9847" isn't as slinky as the Monkees' version, but it's still a smart song about a man writing a personal ad rather badly. The typewriter is a nifty touch. "It's All Happening On The Inside" is a gospel-influenced rave-up with fuzzy guitar. There was nothing they couldn't do well.
I Wonder What She's Doing Tonite comes with extensive liner notes by Monkees' biographer Andrew Sandoval and lots of photos. It's a fascinating read, and Boyce & Hart were masterful songwriters and producers. I Wonder What She's Doing Tonite is a great, joyful record, full of the finest pop gems you'll ever get to fill your ears with.
I Wonder What She's Doing Tonite was released via Cherry Red Records on April 30 and is available on the label's website.