Published on July 17th, 2013 in: Music, Music Reviews, Reviews, Waxing Nostalgic |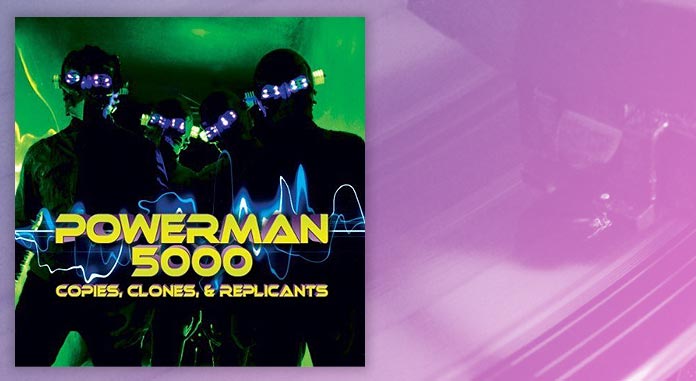 When you die and go to hell, and Satan forces you and the other souls doomed to eternal torment into an aerobics class, the only album your sadistic demon instructor will ever play will be Powerman 5000's cover album, Copies, Clones & Replicants. You will scream in agony and beg for relief. It will not come.
What Powerman 5000 has done to the songs on this album is not really cover them. They have tied these songs to a straight-backed chair positioned underneath a single, bare light bulb, and performed reassignment surgery on them, without anesthesia. If a song originally had balls, rest assured the boys from P5K have cut them off. Tunes that had no stones to begin with have been fitted with a mockery of testicles, two mirrored disco balls that clang together, threatening to shatter with each thumping beat. The listener is left with music that is soulless, heartless, and confused, kind of a Glen or Glenda? of rock and roll.
The album starts with a cover of T. Rex's "20th Century Boy." All the jovial leering of that song is sucked out by vocalist Spider, who insists on talking the lyrics, like Ron Burgundy doing vocal exercises before a newscast. "The arsonist has oddly shaped feet." This is also the furthest into the past P5K reaches; the rest of the song choices are relatively modern. That's not a good thing.
Eddy Grant's low-fi reggae classic, "Electric Avenue," takes a pretty savage beating, as does The Fixx's "One Thing Leads to Another," which is almost unrecognizable. Their cover of Devo's "Whip It" certainly helps prove the theory of devolution, by replacing all of that song's manic energy with dissonance and boredom.
There is no sense of rebellion in their cover of Twisted Sister's "We're Not Gonna Take It," and their version of Van Halen's "Jump" may as well be called "Nap."
Every song is layered in so many beeps and boops, it sounds like R2-D2 getting a colonoscopy. It's a mating call for sequencers. This approach does work well for one song, a cover of M's "Pop Muzik." If anything, Powerman 5000's version is even more heartless and condemning of the wasteland that is Top Forty radio than the original.
To an extent, every cover album is self-indulgent. For an artist to look back over the annals of music history, choose a piece of music and say, "I would like to irrevocably link my name with that song," is egotistic, to say the least. It is highly doubtful that Powerman 5000 held a band meeting and decided to take some decent songs and curb-stomp them like Ed Norton in American History X. That's what happened, though, and Copies, Clones & Replicants leaves some good tunes toothless and choking on their own blood.
You have no one to blame but yourself if you listen to this album. To quote the movie Event Horizon, "Libera tete ex infernis."
Translation: Save yourself from Hell.