Published on July 16th, 2013 in: Current Faves, Music, Music Reviews, New Music Tuesday, Reviews |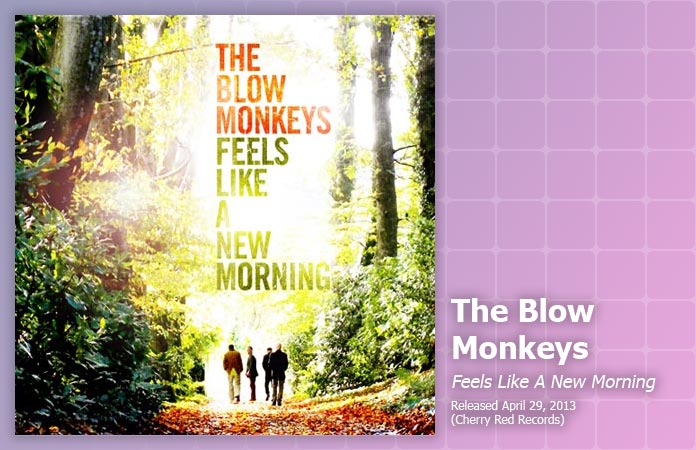 The Blow Monkeys have returned and I didn't even know I'd missed them. The aptly titled Feels Like A New Morning is a collection of hopeful songs, sung by a man who is clearly at a crossroads, and who sounds pretty damn comfortable with himself. I dig it.
In the eighties, The Blow Monkeys were known for their jazzy, poppy confections with thought-provoking lyrics (and Dr. Robert's hair, because that was amazing). Now older and wiser, Robert Howard is still writing thinky lyrics, and knows his way around a hook. But these songs aren't confections; they're a bit more savory.
Feels Like A New Morning kicks off with "Oh My," a rumination on wasted time and a boatload of regret, highlighted by spare and effective production. It's bookended with the title track, a song of rebirth and hope with a driving beat. Robert Howard is in fine voice throughout the album; "Cover Me" stands out thanks to his raw, heartfelt pleas.
"Chained" is a mixed bag. I wasn't a fan of the echoey refrain of the title, but aside from that there are gorgeous, silky vocals and a nice bit of sax by Neville Henry. I wasn't terribly fond of "That's Not Right," either. It felt anthemic and that it should have been building to something, but it really didn't go anywhere. "Icarus In Flames" is a bit workmanlike, but Howard's expressive vocals buoy it. All of these songs are lyrically revealing and confessional, without being maudlin. In the hands of a lesser lyricist, they could be dreadful. But they're not.
I loved "Said Too Much" with its Caribbean rhythm, funky bass line, and soul-drenched vocals. "In No Time At All" is jazzy as hell, and echoey vocals work here. It's unusual and experimental with syncopated drumming and loose guitar. It's bold in the best way. "Shake It Off" is a rollicking, rumpusing affirmation.
The beautiful "Hold Everything Dear" closes out the album. A cosmic heartbeat, with unadorned voice, it's just lovely.
And if that wasn't enough, the gorgeously packaged Feels Like A New Morning comes with a bonus disc of Dr. Robert Plays Acoustic Blow Monkeys. I wasn't familiar with much of their back catalogue; most of these songs were entirely new to me. It was a nice surprise.
"Digging Your Scene" becomes a simple, goosebump-causing song. Though he doesn't reach for the high notes on this, it is still fantastic. "Come On Down" is a thoughtful, angry song in the vein of "Dear God" by XTC. He fairly spits out the word "faith."
It seems flukey that The Blow Monkeys' big hit (at least in the States) was as benign as "Digging Your Scene" when it seems their stock in trade was political commentary. "Springtime For The World" is a plea for equality with a simple arrangement and Dr. Robert's passionate vocals. "Choice" is another raw, socially conscious piece. I quite loved the hypnotic "Slaves No More" as well as "Limping For A Generation" which sounded like a lost The The song.
Feels Like A New Morning is such a hopeful record. It's the kind of album you could give to a friend that is going through a dreadful time and make them feel better, just for a bit. It's heartfelt and honest and if you'll excuse me, I need to go buy the Blow Monkeys' back catalogue now.
Feels Like A New Morning was released on April 29 through Cherry Red Records and is available to order through the label's website.