Published on July 12th, 2013 in: Current Faves, Music, Music Reviews, Reviews |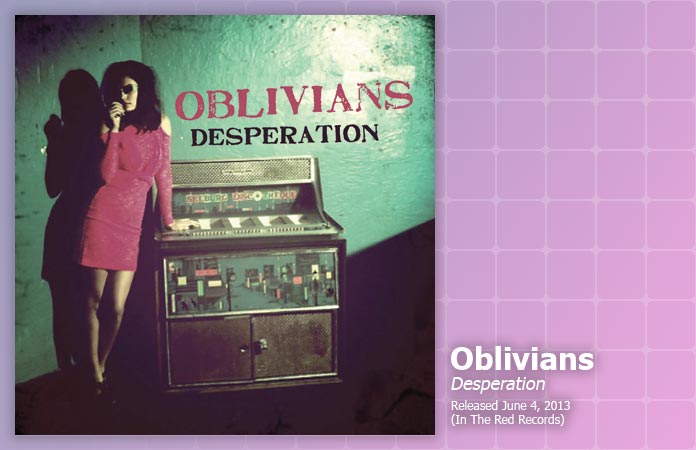 Although it was spectacular, the last Oblivians album was technically a collaborative effort with Mr. Quintron on nine tracks of cover versions and traditional songs. Desperation marks the first release from the band since 1997. The quality of the songs on the album reveals that the various musical endeavors of the trio (Eric Friedl, Greg Cartwright, and Jack Yarber) in the interim has paid off in a huge way.
The first few songs serve a reminder (as if anyone has forgotten) of what the Oblivians have always done best. "I'll Be Gone" almost sounds like a tribute to Jay Reatard, which is fitting considering his long history with Friedl. "Loving Cup" conveys why people went to see the Oblivians live. For all their garage punk roots, they've always been a band more conducive to dancing than moshing. "Em" is another track in the classic Oblivians vein—wild, distorted vocals and hot, chugging guitar—but feels sharper and more focused than before, including more assured vocals.
From there, Desperation gets even better. I went to see the Oblivians open for Jon Spencer Blues Explosion once and since I'd only come to see them, I was leaving after their set. A well-known New Orleans scenester/fool wondered why I loved them so much since they sounded "just like The Ramones." "Woke Up In A Police Car" is about as close to The Ramones as the Oblivians get.
"Call The Police" is straight-up fun. It's a perfect blend of New Orleans and Memphis, which is how I'll always remember the band. It's raw but incredibly catchy. Another surprisingly poppy track is "Pinball King," and its awesome guitar hook should prove that these guys are the real deal.
The incredibly tight and fast "Run For Cover" has an almost British punk feel and is the most surprising song on the album. It's amazing. There's also the raunchy "Come A Little Closer" and the sleazy "Back Street Hangout," which veers towards the psychedelic. If these songs sound familiar it's because you've spent the last 15 years listening to other bands rip off the Oblivians. Their influence cannot be denied.
"Oblivion" (and its correct spelling) includes sinister guitar and bass riffs and an outstanding vocal performance. I didn't love "Fire Detector," "Little War Child," and the title track as much as the rest of the album, but give me some time and I'll probably change my mind.
"Mama Guitar" sounds like it could have come from one of the band's earlier releases. It's a nice bookend to an album that shows where the Oblivians came from and where they are now. They still kick ass. Desperation is obviously a must have for fans of the band, but it's definitely going to make converts of those unlucky enough to have never heard them before.
Desperation was released by In The Red Records on June 4 and is available on the label's website. Be sure to like the Oblivians on Facebook to keep up with news on the band, including tour dates.
Tour Dates:
Friday, July 12 @ Neumo's – Seattle, WA
Saturday, July 13 @ Empty Bottle – Chicago, IL
Friday, Aug. 16 @ Bell House – Brooklyn NY
Monday, Sept. 2 @ Exit/IN – Nashville, TN w/ Ex-Cult
Thursday, Sept. 5 @ Hopscotch Music Festival – Raleigh, NC