Published on July 12th, 2013 in: Concert Reviews, Music, Music Reviews |
Toronto, ON
July 4, 2013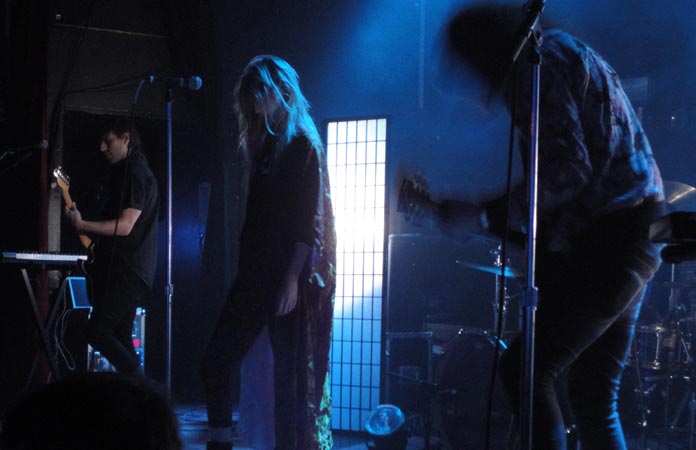 Io Echo's Ministry Of Love is shaping up to be one of my favorite new releases of 2013, so I was looking forward to witnessing their particular blend of post punk shoegaze in a live setting.
Blue and purple lights, room dividers, and smoke machines set the tone for the band's set. Singer Ioanna Gika has an androgynous physicality that was enhanced by her long blonde hair and black and gold kimono. Her voice is even more impressive live than on the album. This woman has got talent. She seemed to truly enjoy herself, jumping around the stage and dancing with the band members, who aren't too shabby themselves. They performed a few songs from their debut and a couple I didn't know: "I'm On Fire" and "Doorway." Both were fantastic: sparse and spooky. I'm looking forward to their next release and hopefully a headline tour so I can spend more time enjoying their live set.
When CSS took the stage, I wasn't quite sure what to expect. I'd just listened to their newest album Planta that day (review), so I knew they'd provide the crowd with fun, energetic pop, but I had no idea how mesmerized I'd be by lead singer Lovefoxxx. If that name seems familiar it's because she sings on Kavinsky's "Nightcall" from the Drive soundtrack. Don't mistake Kavinsky for CSS, however, as their styles are very different, especially Lovefoxxx's quirky vocals that frequently veer into rap and hip hop territory.
It's impossible to take your eyes off of Lovefoxxx while CSS performs. This isn't a knock at the other band members, all of whom are great. It's just that she's so charming. She has an incredible head of hair, for one. I also don't think I've ever seen someone enjoy themselves as much as she does when performing. It's the perfect synthesis of person and occupation.
Besides the various costume changes (including an enormous gold lamé cape and scarves attached to sticks that she swirled around like wings), she literally never stops moving, never stops having fun, never stops engaging with the audience. Several times she even laughed and messed up her lyrics, whether due to some private joke or someone in the audience, I'm not sure.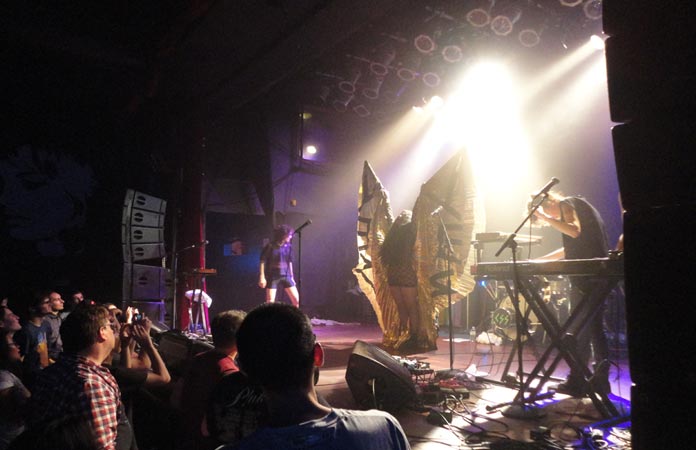 By the end of the night, my face hurt from smiling and laughing. Do not miss CSS on their current tour and be sure to check out Planta, too.
CSS Tour Dates (with MNDR):
July 16 – Baton Rouge, LA – Varsity Theatre
July 17 – Houston, TX – Fitzgerald's
July 18 – Austin, TX – Emo's
July 19 – Dallas, TX – House of Blues
July 20 – San Antonio, TX – White Rabbit