Published on July 11th, 2013 in: Book Reviews, Books, Current Faves, Movies |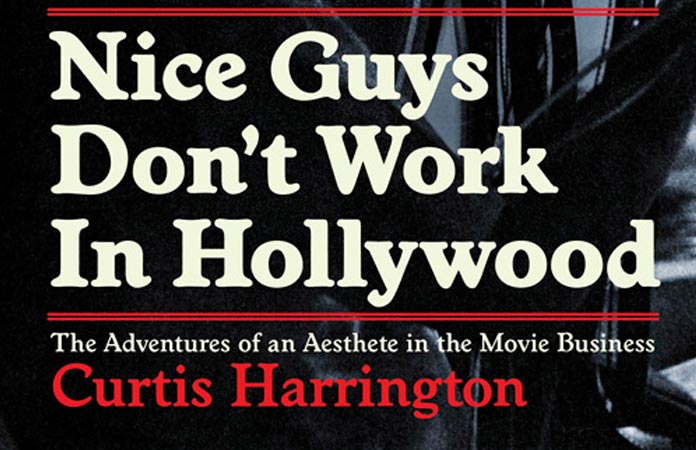 Before Guy Maddin, there was Curtis Harrington. Like Maddin, Harrington made byzantine features that served as a love letter to early cinema at a time when it was mildly unfashionable to do so. He frequently cast dwarf actors and other nontraditional talents alongside the kinds of grandes dames that Hollywood forgot. His films incorporated outmoded narrative and technical elements that, when used well, could hypnotize audiences. Unlike Maddin, who is recognized by his peers as a true visionary, Harrington had worked his way through the studios during the New Hollywood era, when the kind of work he was doing was on its way out, and he never got the recognition he quite deserved.
Harrington's posthumously published memoir Nice Guys Don't Work in Hollywood reads a bit like history as told from the perspective of someone who had the talent and drive but not the aesthetic. Though Harrington would hate the phrase "lovable loser," his point of view and self-deprecating sense of humor mitigate any pity one might feel towards his series of near misses.
The breezy, conversational tone Harrington uses throughout the book makes readers feel like they're perched in his pocket, watching his ascendance through the ranks. The narrative opens on Hollywood Boulevard in the 1930s, and Harrington describes his movie madness as a tiny tot. From a film theory perspective, learning about his upbringing in Los Angeles helps us understand why so many of his films are inspired by or set in the early talkie era.
Throughout the book, Harrington makes readers feel like a guest to his film sets. He imparts a great deal of wisdom about working with actresses who came up through the studio system, like Shelley Winters and Gloria Swanson, and he devotes a fair number of pages to his jobs as a TV director. However, the book also shines a small light on his personal life. He speaks candidly about his sexual orientation, both regarding it as "natural" and speaking of the heartbreak he experienced as a teenager struggling with his sexual identity. His stories about his covert love for a high school quarterback found me blinking back tears.
Though Harrington writes the way he talks, Nice Guys is a surprisingly dense read. He assumes readers are familiar with many of the names he mentions, and his frequent references to Old Hollywood personalities made me rush to Wikipedia to better understand what he was saying.
Fans of 1970s cinema should seek out Nice Guys Don't Work In Hollywood, since it gives a different perspective on the Easy Riders/Raging Bulls era and allows readers to understand the work that went into making movies. Though I had a passing familiarity with Harrington's work, his irresistible prose inspired me to check out some of his other films.
Nice Guys Don't Work In Hollywood was published by Drag City Books on June 18. It is available to order from their website.