Published on July 9th, 2013 in: Current Faves, Music, Music Reviews, New Music Tuesday, Reviews |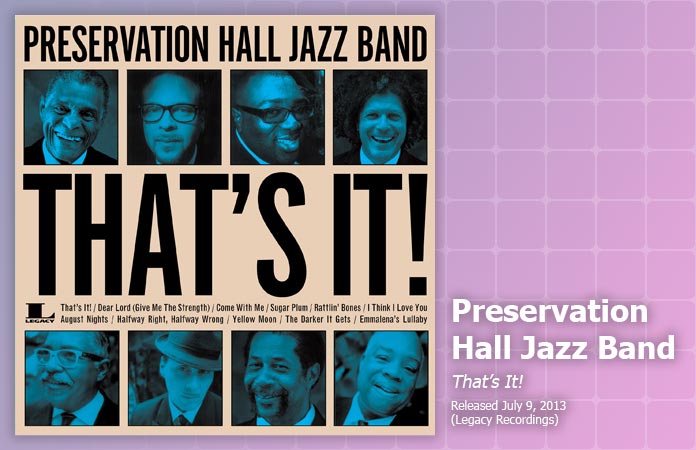 An important fact that not everyone knows is this: If a band has a tuba player in it, it is generally worth going to see live. This goes double for the Preservation Hall Jazz Band. The Preservation Hall Jazz Band was founded in 1961, dedicated to promoting traditional New Orleans jazz. Their new album That's It! is their first album of entirely original music in their entire 50-year history. Produced by My Morning Jacket's Jim James and Preservation Hall's Creative Director, Ben Jaffe, That's It! is an album of future standards.
That's It! starts in the best way possible; the title track has a thundering rhythm section and blistering horns with a fierce tuba backbeat. Mark Braud on trumpet is like controlled fire. Preservation Hall Jazz Band is chock full of some of the greatest players in jazz today.
They do instrumentals exceedingly well. The angular "Sugar Plum" has a spot-on trumpet and furious tenor sax. "Yellow Moon" is mysterious and exquisite, the instruments blending gorgeously. The exotic album closer, "Emmalena's Lullaby" is a slightly eerie piano piece, like a soundtrack to a shuddersome scene.
Their most amazing strengths, though, are the vocals. While the Preservation Hall Jazz Band boasts brilliant musicians, the fact that they can sing so well is extraordinary. Tuba player Ronell Johnson takes the mic on "Dear Lord (Give Me Strength)," his expressive, passionate voice showcased here alongside cheery piano and a punctuating clarinet. He also turns in "Halfway Right, Halfway Wrong," a funk laden, samba-ing groove with scorching, soulful vocals. If you have an opportunity to catch them live, keep an eye on Ronell Johnson. He's a born showman.
Reed man Charlie Gabriel has a marvelous, lived-in voice and the elegant, string bass propelled "Come With Me" is swoon worthy. He's backed by Jim James on "I Think I Love You," a honey of a song with a propulsive Caribbean beat and Gabriel's silky smooth vocals.
"Rattlin' Bones" is a showstopper live. Trombonist Freddie Lonzo supplies gritty vocals on this haunting graveyard stomp. Mark Braud's moaning trumpet is a highlight.
The sultry and evocative "August Nights" is a striking song that should be sung on a lonely fire escape in the middle of a heat wave. Clint Maedgen's voice is a revelation here. He's backed by muted trumpet and tidy brushwork from drummer Joe Lastie, Jr. It's so atmospheric, it hurts.
That's It! is stunning and a pleasure to listen to. It's joyful and astonishing and needs to be heard. It's at once current and authentic, a testament to great players who work well together. And always, always, give bands with tuba players a chance. You won't regret it.
That's It! is out today via Legacy Recordings and is available via the band's website.
Preservation Hall Jazz Band will also be appearing on Late Night with Jimmy Fallon for two consecutive nights this July, first as the featured performers on July 8 and with select band members sitting in with The Roots for the entirety of the show on That's It!'s release day of July 9.
Tour Dates:
July 9: The McKittrick Hotel, New York, NY
July 10: The McKittrick Hotel, New York, NY
July 11: The McKittrick Hotel, New York, NY*
July 12: The McKittrick Hotel, New York, NY
July 13: The McKittrick Hotel, New York, NY
July 14: Red Wing Music Festival; Mount Solon, VA
July 19: 2013 Jazz and Rib Fest; Columbus, OH
July 25:Copley Square; Boston, MA
July 26: Copley Square; Boston, MA
July 31: Festival Des Arts De St. Sauveur; St. Sauveur, Quebec
August 1: Huntsville Festival of the Arts; Huntsville, ON
August 3: Maine Lobster Festival; Rockland, ME
August 7: Steve Martin/Preservation Hall Jazz Band/Madeleine Peyroux at Hollywood Bowl; Hollywood, CA
August 9: Bankhead Theatre/Livermore Valley Performing Arts Center; Livermore, CA
August 10: The Center for the Arts; Grass Valley, CA
August 11: San Jose Jazz Festival; San Jose, CA
September 22: Life Is Good Festival; Canton, MA
November 16: The Apollo Theater; New York, NY
December 2: Birchmere; Alexandria, VA
December 11: Charline McCombs Empire Theatre; San Antonio, TX
December 15: Davies Symphony Hall; San Francisco, CA
December 19: Roy Thompson Hall; Toronto, ON
December 21: The Music Hall; Portsmouth, NH
*Additional show added due to re-scheduling of the Apollo Theater performance