Published on June 28th, 2013 in: Assemblog, Conventions/Expos, Film Festivals, Horror, Movies, Music, Science Fiction, Trailers, Upcoming Events |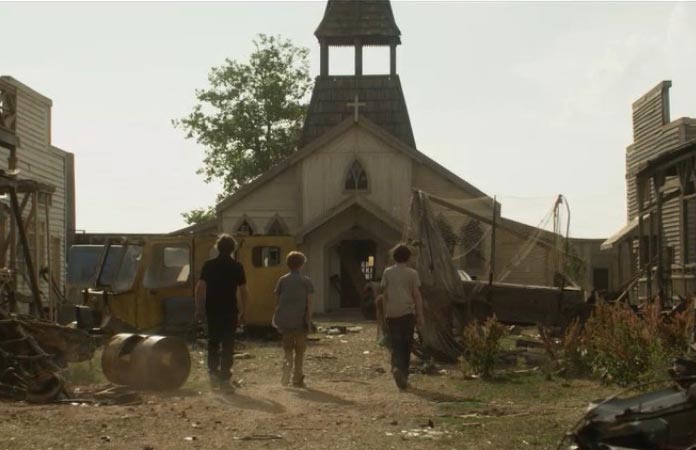 Among The Living (image from Twitch)

New this week on Popshifter: Chelsea reviews new albums from Dessa and Bosnian Rainbows; Julie puts the music of Dream Affair into a musical context; Paul explains why Christy Moore's "Delirium Tremens" has multiple meanings; Jeff lifts up his lighter for Styx's Big Bang Theory; Cait reminisces on Big Star and their soundtrack for the movie Nothing Can Hurt Me; and I try to describe the somewhat indescribable film The Rambler.
When I was in college and just becoming addicted to vampires thanks to Anne Rice, I read a short story called "Drink My Blood" by Richard Matheson. I learned about his novel I Am Legend on the UCSB library computer and knew I had to have it. Trouble was, it was out of print. In those pre-Internet days, finding used books was difficult and I honestly don't even remember how I managed to score a paperback copy for $20 (then, a small fortune), but I did. The book affected me deeply and Matheson soon became one of my favorite authors. His death this week at age 87 is a huge loss for the literary world. Hopefully, those who have never read his works will seek him out and we'll see a resurgence of interest in and reissuing of his many amazing short stories and novels.
Chelsea has a great interview with Bosnian Rainbows' Teri Gender Bender in Boxx Magazine. Check it out.
There is good news: filmmakers Julien Maury and Alexandre Bustillo have met (and exceeded) the crowdfunding goal for their new film Among The Living. I'll be posting news when it's available so stay tuned!
Another highly anticipated film is Steve McQueen's Twelve Years A Slave, whose December release date has been moved up to October 18 in select theaters. There are rumors that the film will also play at TIFF but that hasn't been confirmed yet. (H/T to Indiewire.)
Goblin, the Italian prog rock outfit best known for scoring various Dario Argento films, will be embarking on their first North American tour this fall. Original members Claudio Simonetti, Maurizio Guarini, and Massimo Morante are in the lineup. Check out this Earbuddy article for tour dates.
Montreal's epic Fantasia Festival begins July 18 and the first wave of titles has been announced. The film will open with James Wan's The Conjuring and close with Edgar Wright's The World's End. Indiewire has synopses of the first wave titles and there are some extremely promising films scheduled.
I realize that San Diego Comic Con has become the mecca for movie and TV announcements, panels, and guest stars, so the news that Hannibal creator Bryan Fuller, producer Martha de Laurentiis, and star Hugh Dancy will be in attendance is not that surprising. I can't help but wish, however, that the show's Toronto-based filming would have meant that Fuller and company—plus Mads Mikkelsen and Caroline Dhavernas—might make an appearance at FanExpo Canada this August. I can still hope, can't I? (H/T to Fangoria.)
I don't know if I have the energy to read the hundreds of comments on David Edelstein's Vulture article about texting and talking in movie theaters, but the ones about the piece on Videogum were pretty awesome. I can't even believe that we are still having this conversation and the problem is still not any better. Until theater owners and managers step up and promote a zero tolerance policy, these rude idiots will still feel free to be rude idiots and the rest of us will still become enraged when they do what they seem to do best.
There are three trailers I'd like to show you and they couldn't be more different.
Ridley Scott's The Counselor is a film that sort of snuck up on me. It stars Javier Bardem, Michael Fassbender, and some guy named Brad Pitt. Plus Penelope Cruz and Cameron Diaz. This is just a teaser trailer, but considering the screenplay was co-written by Cormac McCarthy, I'm damn excited.
It's been suggested (by Twitch's Jason Gorber) that Guillermo del Toro's upcoming Pacific Rim is going to need to distinguish itself from the other summer blockbusters to make a dent with critics and audiences. I have heard very little about the advance screenings, but what I have heard was overwhelmingly positive. So I feel like I need to remind everyone what a great cast del Toro has assembled and what a fantastic director and all around super cool dude del Toro is to help distinguish Pacific Rim from the pack.
Please enjoy this trailer and share it with those who might be shitting on this movie before they have even seen it. (I hope I never hear the phrase "tracking poorly" ever again as long as I live.)
Adore, originally titled Two Mothers, screened at Sundance and looked like a film that would cause a lot of chatter. Two women, best friends since childhood, fall for each other's teenaged sons. Did I mention the two women are played by Naomi Watts and Robin Wright? This looks juicy.
—Less Lee Moore, Managing Editor